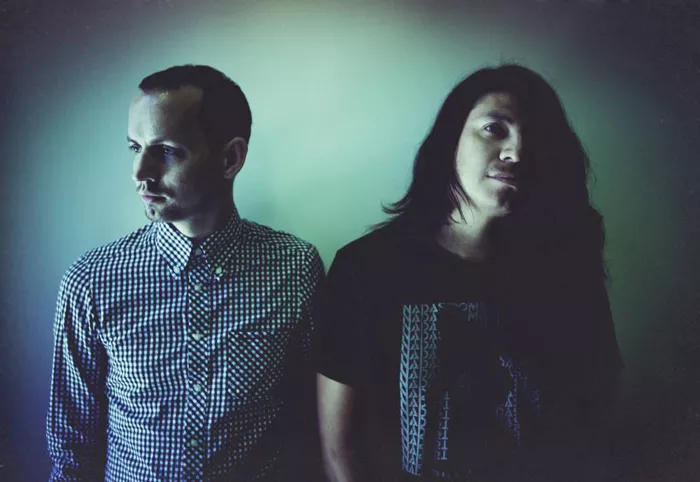 There's a lot going on with Nadastrom. The Washington, D.C.-born (but L.A.-based) duo, composed of Dave Nada and Matt Nordstrom (see how they came up with the name?), refer to themselves as producers, DJs, and a comedy duo extraordinaire. The producer and DJ bit we get just fine, but comedy? There are some funky samples thrown in among their low-end frequencies, but they're hardly a laugh-a-minute.
The group insisted on doing this interview via email, which is never our method of choice, but we relented in this case because we were very keen to get the guys into the MT. Nadastrom have been evolving into a force in the electronic music scene since its birth more than a half-decade ago.
The official line is, "When Nada and Nordstrom came together in 2007, the chemistry was instant and the music was colossal. The group signed to Switch's Dubsided label where their debut EP, Pussy, immediately topped the charts on Beatport. Since then, Nadastrom have produced tracks for a slew of artists, including Kid Sister, and have done remixes for Kid Cudi, Benny Benassi, Christina Aguilera, Waka Flocka Flame, the Death Set and Alex Clare."
Now the music they call Moombahton (a fusion of house and reggaeton) has taken on a life of its own, and Nadastrom are the subgenre leaders. Here's what they collectively had to say about Friday's show at Elektricity
Have you played Detroit before? Any particular memories? Do you like the place?
We have a big crush on Detroit actually. And yes, we've visited a few times in the past. We've played Movement Festival in 2012 and at Magic Stick following that. Both awesome experiences.
Are you fans of Detroit techno?
Of course. It's almost impossible for us not to be influenced and inspired by the greats such as the Belleville Three, Jeff Mills, Carl Craig, Theo Parrish, DJ Assault, Disco D, and, of course, Moodymann.
You mention J Dilla on Facebook as an artist you like. What was it about him that drew you in?
His style is just something we connect with and love dearly. Funky, soulful, and raw — you can't beat that.
What can we expect from your set this weekend?
We're gonna push a lot of new material we've been working on. And since we'll be in the D, we're definitely gonna break out some Detroit records.
What's next for you this year, after this tour?
Just working on new music and looking forward to releasing it this year via Friends of Friends and Dubsided.
Nadastrom plays with Lucky Date at 9:30 p.m. on Friday, May 9, at Elektricity, 15 S. Saginaw St., Pontiac; 248-599-2212; $10.