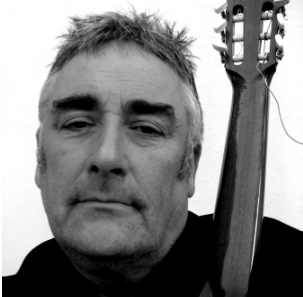 Experimental music icon Fred Frith will be performing solo at Trinosophes this week in what will be the multi-instrumentalist's first Detroit performance in his decades-spanning career. Since redefining the electric guitar on his pivotal 1974 recording Guitar Solos, Frith has continually challenged musical conventions with his vast set of compositional and improvisational techniques. We managed to grab a word with him during the first leg of what's sure to be another busy year for this relentless artist.
1. How have you kept your work exciting — both personally and for the listeners — after nearly six decades of writing and performing?
I never think about whether it's going to be exciting or not. I'm trying to learn. As Francis Bacon said: "I'm just trying to make images as accurately off my nervous system as I can. I don't even know what half of them mean." Except in my case, it's not so much making images but telling stories with sound.
2. Does the idea of "pushing boundaries" ever come into play in your work, or is this a natural occurrence?
I often wonder what that means, "pushing boundaries." I don't want to push boundaries; I want to step over them. They're mostly imaginary anyway.
3. With this being the first time you'll be stopping in Detroit, one has to wonder why you've never come before and why now.
Whenever I came through in the past, I was invited to Ann Arbor to play at places like the Ark. There apparently weren't many options in Detroit in the '80s. Now I read that Detroit is the new hipster capital of the USA (apparently it used to be Oakland until last year). Joel Peterson was trying for a couple of years to get me to come, so when the other gigs looked likely to happen it kind of fell into place. I'm very pleased and excited.
4. Have you visited the city for any other reason? And if so, what was your impression?
When I came through with Hans Reichel in 1986, we both visited the Henry Ford Museum, which I have vivid memories of. But that's about it, I'm afraid. I don't really have an impression based on anything except Michael Moore movies, Motown records, and the Tigers losing a lot of baseball games in 2003. Sorry, couldn't resist.
5. What can we expect of your performance at Trinosophes?
Well, it will likely be incredibly boring, the same stuff I've been churning out for years except probably not as good as it used to be. You know how it is.
Fred Frith plays at 7:30 p.m. Saturday March 1, at Trinosophes (TREEN-o-soafs), 1464 Gratiot Ave., Detroit; 313-737-6606; $12-$15.