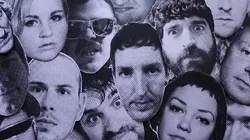 Local festivals are akin to science experiments: Instead of different chemical reactions in a lab, you have the collaboration of different artists inside a venue. The results are often phenomenal — artists who would otherwise not cross paths meeting on tours and finding real success by complementing each other's set.
MT's two Blowout weekends kicked off what local artist-musician Lisa Poszywak calls "Fest Season" in Detroit, and she hopes the two-day May Days Music/Arts Festival only encourages more to happen. In scientific parlance, that is this city's music scene; Poszywak, who is both the gallery manager at Corktown Studios and half of the synth rock duo Rogue Satellites, says "… more fests just means more collaboration."
Lofty notions of collaboration are great, but singer and videographer Natasha Beste is more direct: "Right now, collaborating is the way to succeed." Beste co-manages local production company Gold House Media and she sings in post-punk quartet Odd Hours. According to Beste, Detroit's D.I.Y. ("Do-It-Yourself") community is really "… a 'Do-It-Together' community."
Fittingly, singer-songwriter Jeff Howitt, who is producing the show, approached the booking of May Days under the auspices of "it not being under any one flag, but being made up of its collaborators."
Friday, May 10, is the opening of May Days at Woodruff's Bar in Ypsilanti. The show is featuring nine local bands, an interactive video installment and (limited) free cassette mixtapes. Organizers run the creative gamut: musicians, bloggers, gallery managers, videographers, a local record label and couple of arts-music collectives.
Indeed, Howitt said, it's much more than just another show with bands jacking off. "Detroit is a different beast than five years ago," he says. Howitt, who sings and is the guitarist of local psych-blues quartet Duende, recalls May Day's origins as an experimental dual-stage set up, with a dozen dueling bands ping-ponging performances back in 2006 at the Masonic Temple — a show that ostensibly launched his loose music collective, Loco Gnosis.
The festival matured with the help of renowned writer and poet John Sinclair, back in 2009, while he was serving as poet-in-residence at the Bo House arts gallery. Howitt called it "an attempt to represent the most current pantheon of motherfuckers kicking out the jams in Detroit." That year's May Days had lightshows, sculptures and hanging exhibits, poetry readings and three stages, staggering performances.
In praising Sinclair's influence, Howitt noted how the May Days shows echo the unifying sentiments from Sinclair's mid-'60s counterculture collective known as the Detroit Artists Workshop.
The second day of the festival happens at the Park Bar in Detroit — featuring nine more local bands that are embracing a healthy, edgy vibe of one-upmanship Howitt calls "Headhunters-style."
Michael Charles Patrick Jr. runs the Checkers Record Collective (a cassette-centric local label) and helped book the event, "looking to diversify it by mashing genres."
"Maybe you can cross-breed audiences and start getting hip-hop crowds going to rock shows," Patrick says, "There isn't enough mixing between these regions, without festivals, so we're trying to pepper a bit of Detroit into Ypsi and vice-versa."
Mostly, "It's a summit," Howitt says. "But, with more of a house party ethic to where the stages feel almost like in your living room. It's designed to showcase but also attract doers, doubters and shout-it-outers; where you can hang with Oz behind the curtain, the lines between audience and performer don't exist or are experienced together in a sweaty synergy."
Friday, May 10 > Woodruff's Bar; 36 E. Cross St., Ypsilanti: Doors at 7 p.m. Lineup includes: All The Wild Children; Odd Hours; Pewter Cub; Doc Waffles; The Philter; At Willoughby; Pretty Ghouls; Ryan Racine & Gas For Less; The Beggars.
Saturday, May 11 > Park Bar; 2040 Park Ave., Detroit; Doors at 7 p.m. Lineup includes: Sheefy McFly; Disinformants; Lord Scrummage; High Arrow; Superbomb; Old Empire; Rogue Satellites; Revoir; The Jesus Chainsaw Massacre; Electric Fire Babies.
Jeff Milo writes about music for Metro Times. Send comments to [email protected]