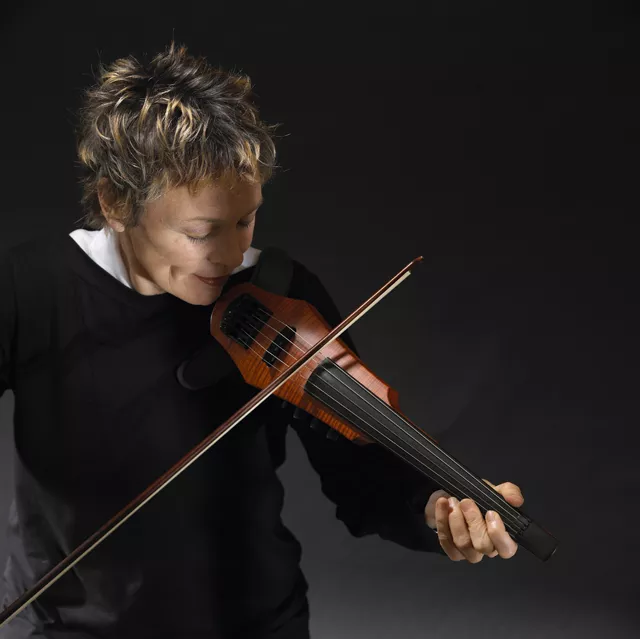 Laurie Anderson's Delusions premiered a year ago at the Vancouver Olympics and is winding down with its last North American shows in Ann Arbor and a short European tour in May (although there may be South American or Asian performances later). It's a work described by The New York Times as "more theatrical than musical, driven by an amalgam of text, wordplay and imagery ... about [among other things] the porous border between history and myth." From her studio in New York City's Tribeca neighborhood, the genre-bending artist talked the other day about the show, her mother's death, Buddhist teachings and being nominated for a Grammy — as a pop instrumentalist, no less.
I always love doing Delusions. I really love the music, and it's a world that I enjoy being in. I can't remember feeling that way about any other tours that I've done. Once I do it a few times, it's like, "Ahhh, enough." It becomes a job, and I enjoy doing it technically, but I don't sink into the material. With Delusion I sink into the material, and I really feel it each time. It just feels very much like telling people some stories, and I get really involved.
It's 20 stories, and they're autobiographical, and some of the things are kind of extended sorts of riffs rather than stories. I would say it's not so much about myth as just the stories that you tell yourself about who you are so you can go: I'm a so-and-so. I'm a student at the this, and I'm going to go on and marry that kind of person, and I'm going to do that and live in that kind of house — that's my story. That's not to say that we don't need those stories. I use them too. I'm an artist who does this kind of stuff, and I realized: Wait a second, what does it mean to tell that story, and what does it do to the way you see the world?
One thing about Delusions is its sadness. It's also in parts very funny, I think. But it has a strain of sadness going through it. One of the things that I've tried to teach myself is something that I learned from a Buddhist teacher who said, "Listen, you don't have to be sad in order to feel sad." I don't want to be a sad person, and I don't want to then just kind of cut myself off from feeling that. So that distinction is something that I've tried to really focus on: not to push things away that are sad, but it doesn't have to overwhelm you. Your shoulders don't have to droop, and you don't have to start crying, thinking of yourself as down in the dumps, but you can let sadness fill you and let it move off, and that's what I'm trying to do in this piece. Part of the way I'm trying to do that is through imagery and sound.
One of the things that I'm using in this is the deathbed speech of my mother. She was a person who was very, very strong. She sort of, she died very quickly and — sort of like I imagine Voltaire — she was very rational. And as she gave this speech — and we're all standing around her bed, and it was almost like she was fracturing and using a microphone and talking to history and the world and her family and the country she came from and trying to address all of that. And then it just kind of kept breaking into little pieces, and then she started talking to all the animals that were on the ceiling that she saw. And it went back and forth between those two worlds. And I thought that's so incredible. I want to try to get that feeling into something that I make so this is dedicated to her and that speech. I had been working on it before but that focused it for me.
I don't find that most video adds to things so I've been reluctant the last couple years to use it at all, but now it's gotten a lot more beautiful and better. I don't have to just project into a rectangle behind the music. I can use it in more subtle and weird ways. The pictures are projected onto a lot of different surfaces: into a corner, onto a crumpled piece of paper, onto a couch. It makes the whole piece much more animated; your eyes aren't glued to that one little rectangle the way they are all day to your computer screen.
The violin can be really sad, and that's my kind of sad sidekick in the piece. And I have been making a lot of software for the violin to more or less make the sounds that only a violinist can hear audible to the audience, for example little scrapings harmonics overtones that when you have your ear next to the instrument you can hear really well. So that's become a kind of signature sound for Delusion, the violin.
One of the pieces is going to be one of the main parts of the soundtrack for a new film by Julian Schnabel called Miral and that's a little violin piece from the last record Homeland ... which got a Grammy nomination, which was really crazy. It got a nomination as Best Pop Instrumental. It's just one little solo violin, and it was called an instrumental because of all these filters that give it a kind of eerie sound that surrounds the instrument and a very melancholic tone. I was very happy; the Grammies aren't known for picking the sad and mournful solo violin piece.
All of the work that I do is all related. It's all kind of arbitrary when you say now it's this thing and now it's that thing. Sort of like when 2010 turns into 2011. It's supposed to be this magical new thing, and it's just kind of like two weeks ago really. I wish years had names instead of numbers. It just seems too much like money or something — 2011. It would be nicer to have a name for the year.
Laurie Anderson's Delusions is presented at 8 p.m. Friday and Saturday, Jan. 14-15, at the Power Center, 121 Fletcher St., Ann Arbor; 734-764-2538; ums.org. Anderson returns to the area on Feb. 16 for a lecture as part of the Detroit Instiute of Arts' Arts and Minds series.