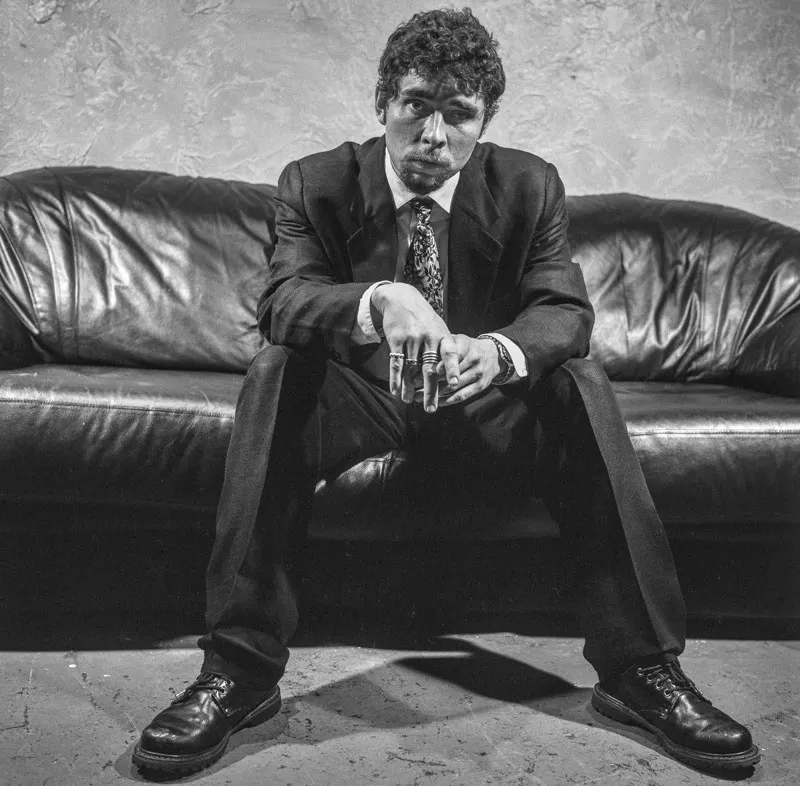 The local music community was shaken last week by the death of guitarist Phil Dürr, a brilliant and beloved mainstay of the Detroit rock scene for more than 35 years. Dürr died following a massive heart attack on Jan. 11 while visiting family in Germany, a few weeks short of his 54th birthday.
That Dürr was a phenomenal guitarist — whose formative influences ranged from Daniel Ash to Jimmy Page to Eddie Hazel — was really the least of his gifts. More importantly, he was a cherished friend to basically everyone he ever crossed paths with, that rare man about whom there is nary a bad word to be said. His sweetness, generosity, humility, and good humor (usually self-deprecating) charmed anyone he encountered; I would bet that there are no less than 50 people spread across several continents who considered him their BFF at various points in their lives. He was that kind and priceless of a fellow.
But don't just take my word for it. Consider instead Jon Fine, the former guitarist of the Oberlin, Ohio, band Bitch Magnet, who shared a testimonial on Facebook about what happened in 1990 when that group's gear got ripped off in London after the initial gig of a six-week European tour. Desperate, Fine bought a crappy guitar to muddle through, but then met Dürr in Germany, who loaned him a gorgeous wine-red Gibson Les Paul Standard for the rest of the tour. Dürr "entrusts me," wrote Fine, "a more or less total stranger whose band he sort of knows, with a very nice instrument, and basically says, 'Here. Use it well. Do your thing. Just send it to me in Michigan when you're done with the tour.'"
Anyone acquainted with Dürr hearing this story would immediately reply: "That's so Phil."
Dürr was born in 1965 in Stuttgart, then part of West Germany, the only child of Thea and Reinhold Dürr. Phil was raised outside of Mexico City until adolescence, speaking Spanish as his first language before learning German and eventually English after the family moved to Birmingham, Mich., in his early teens. His first night in the states, he dreamt that the giant Uniroyal tire was chasing him as he ran down I-94. At Birmingham's Seaholm High School in 1981 he met fellow 10th grader Rob Miller, and the two soon formed their first band, the Wood Butchers. "Our long-suffering parents had to endure an unholy racket in their basements as we tried to learn our instruments," Miller recalled in a blog post on the website of Bloodshot Records, the Chicago-based underground roots label he founded in 1994. "Phil succeeded in this. I certainly did not. As the saying goes, 'Those that can, do. Those that cannot, start labels.'"
Though self-taught, Dürr's guitar skills eventually reached virtuosity, and while his riff-driven resume would include records with acts like Luder and Giant Brain, as well as serving as lead guitarist in Big Chief, his first notoriety came via his earlier work with the psychedelic punk sextet Tom Gemp, the most interesting post-hardcore band in Detroit and Ann Arbor during the mid-1980s.
"In a recording studio Phil was a firehose of ideas," recalls former Big Chief bassist Matt O'Brien. "When it came time to record overdubs, he'd be in the sound room, a cigarette in his mouth, a cigarette in the peg head of his guitar, and a cigarette in an ashtray on top of his amp, all burning. He'd lay down a perfect take — he was a first-take dude — and then he'd hit whatever cigarette was closest to him and say, 'Open up another track,' and then he'd lay down a counterpoint to what he had just put down, and it would be perfect. And then he'd just keep doing that, and we only had 16 tracks, so at a certain point, we'd have to be like, 'Phil, stop, there's no more tracks.' The hardest part of mixing a Big Chief record was figuring out which Phil track to use."
Big Chief released four albums, including 1993's Mack Avenue Skullgame on Sub Pop and 1994's Platinum Jive on Capitol, all featuring the distinctive artwork of guitarist Mark Dancey. After Big Chief's dissolution, Dürr, O'Brien, and Big Chief drummer Mike Danner recorded and toured with blues diva Thornetta Davis. Dürr would later form Luder with former Slot bassist Sue Lott, releasing two albums on Detroit-area indie Small Stone Records. In recent years, Dürr worked with producer Al Sutton at Acme Audio and was a member of blues-steeped stoner rock outfit Five Horse Johnson.
"He helped shape me into the musician and person I am today," says Five Horse Johnson singer Eric Oblander. "Every day with him was a gift, I always felt a little bit cooler, braver, and smarter when I was with him. Phil was one of the handful of people that, when I was with him, it felt like what I assume it must feel like to have a brother."
Dürr always remained a voracious explorer and fervent champion of new sounds. "Being around Phil changed the way my mind works," says former Necros guitarist Andy Wendler, a longtime friend. "I think that's the most you can ask for from any person you encounter in this life. He always drove me to like music that was outside my comfort zone. When we first met in the early '90s I only listened to metal and hardcore punk, and after hanging with him I'm suddenly into trip-hop like Massive Attack's Blue Lines. Even today, when I'm not listening to Kyuss or Black Sabbath, I'll play some Leikeli47. If I didn't know Phil I'd never push myself to hear the new jams."
Dürr's vast network of old friends and touring colleages like ex-Kyuss bassist Scott Reeder have been taking to social media to grieve the loss of a good man gone too soon. In his blog post, Miller recounted the 1997 recording of the Volebeats' countrified cover of Funkadelic's "Maggot Brain," on which Dürr contributed the exquisite lead guitar solo that captured the essence of Eddie Hazel's elegiac masterwork.
"Do me a favor," wrote Miller. "After you've listened to 'Maggot Brain,' reach out to someone like this from your past. Text them, give them a call, send an email or a stupid picture. Re-connect. Stay connected. Trust me, the time and the distances will just melt away. If they seem surprised at hearing from you, tell them 'Phil sent me.'"
Dürr's friends are planning a memorial from 7-11 p.m. on Tuesday, Jan. 29 at the Magic Bag, 22920 Woodward Ave., Ferndale, which would have been his 54th birthday. In keeping with his generous spirit, any and all are welcome.
Stay on top of Detroit news and views. Sign up for our weekly issue newsletter delivered each Wednesday.