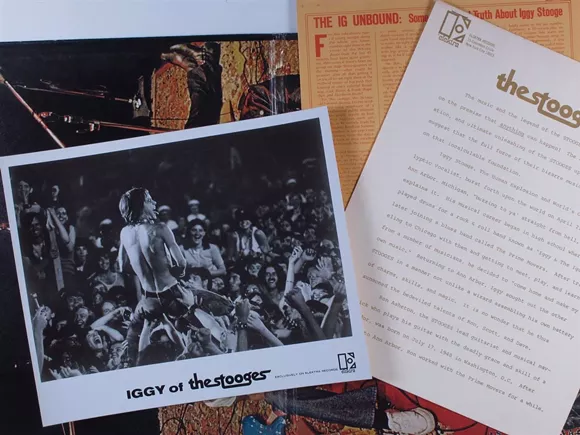 UPDATE: The auction closed just after 3 p.m. today Monday, Feb. 29. The final sale amount, before shipping and insurance?
A whopping $2,604.54.
The original post on the item follows.
——————————————————————
Currently stalled at just below $666, there is a very nice copy of the Stooges'
Fun House
up for auction now on eBay
.
It's a promotional copy of the first pressing of the record, with not only the gatefold cover, but a full press kit including photo, and a huge poster of the cover image. Now,
Fun House
just might be the greatest single album of the rock and roll era. And if we were obsessive collectors with an inexhaustible supply of cash, we'd totally go for it.
The auction, run by
St. Louis' Funk You! Sounds
, appears to be from the collection of Orlando radio pioneer
Bill Vermillion
, and features many
promotional pressings
and other specialty type items. Vermillion, who passed away seven years ago, was highly revered and known as "Weird Beard."
One of the reasons that test pressings and promotional copies are of so much interest is that there is a cult of classic rock listener that wants to get the earliest pressings possible of the records they love. Those copies are the very first ones that are run from the stampers once they are struck. If a test pressing is not approved, it might contain a different mix or entirely different songs, thus becoming super sought after (
as with the "New York" version of Dylan's Blood on the Tracks
).
There is a cult of something called "
hot stampers
," which, though largely ridiculed by most people who buy records, is a real (and ridiculous) thing. I'm not sure how else to explain this sale of
Hendrix's Electric Ladyland
for over, $1,1100. I mean, that's a record that sold hundreds of thousands of copies, and krikey that's a lot of dough.