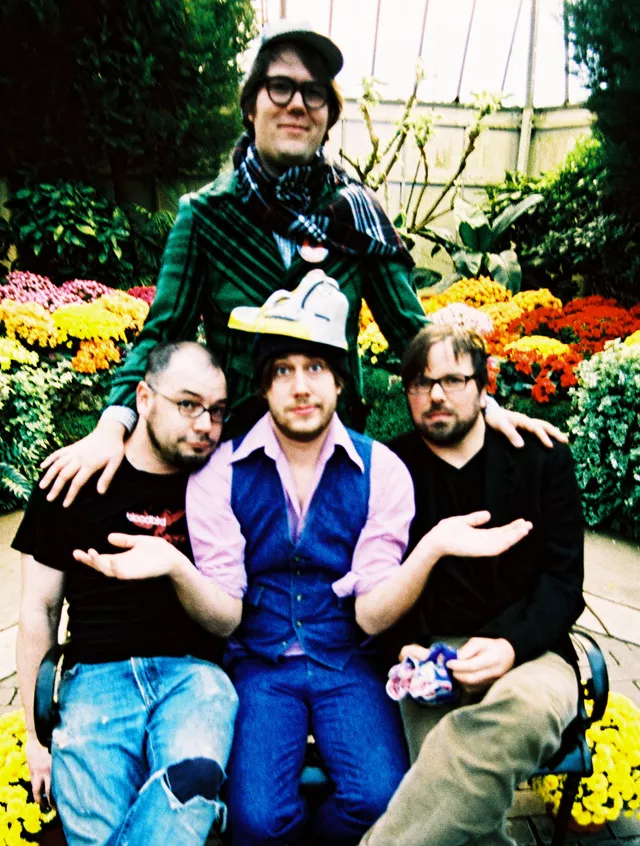 Last winter, art rockers the Oscillating Fan Club very nearly called it quits. They'd just finished recording their second album, George Washington's Teeth, but what should've been celebration time turned into a bout of mud slinging and bottle throwing. How very rock 'n' roll. Thankfully the four men who are OFC (guitarist-vocalist Ray Thompson, bassist-vocalist Jon Biernat, guitarist Pierce Reynolds and drummer Robin Veresh) have mostly put the arguments behind them — though mention the troubles and there's nervous laughter and some barely discernible tension as we sit down in their Ferndale band house.
The place is much how you'd picture any house inhabited by band dudes. A coffee table's covered with beer bottles, ashtrays and magazines. The walls are covered with slick pop art and the windows are strategically blocked with soundproofing for the benefit of their neighbours. Best of all is Batman, an adorable young German shepherd who spent much of the interview gently chewing on this reporter's hands and neck. "It's good that you're a dog person," Veresh says, as if it's a way of gauging trust in another person.
The Oscillating Fan Club formed seven years ago when Veresh moved into the band house and met Thompson, who was living next door. Veresh and Biernat had been friends for years, as had Thompson and Reynolds. "Pierce and I went to high school together," Thompson says. "We weren't actually friends, we were adversaries."
Toward high school's end Thompson and Reynolds became pals and began playing music. It evolved from there. "We had an idea of taking all of the songs we'd written and getting guest musicians to play around us," Thompson says. "But it never worked out like that. We showed Rob some of the songs and he hated most of them but liked one of them. ... Then we started with a singer for the first year, as a solid band, but we got rid of the singer and Jon and I started singing more."
In the next few years the band had found its sound and released the debut album, Feverish Dreams as Told By ... . Their style, which the band says is a combination of psych, surf and '60s, but with some Euro-pop, Latin music and a slight hint of New York art rock, has evolved between then and now in that, Thompson says, "this album is a lot more manic than the first one. It's a lot more extreme, on both ends. Also, on the first one we have a lot of piano and organ stuff, guitar overdubs, sitar, and things like that. This one is basically two guitars, drum, bass and vocals."
Reynolds agrees. "We took our sweet time with the first album and there's, like, 16 tracks. A lot of production. With this one, we wanted less production, more like what we do live, but still bring out the nuances that make us who we are."
So the big question must be, if the new album was recorded just how the band wanted it recorded, what was the genesis of drama that nearly killed the OFC?
"I don't think you can blame the album," says Veresh.
Please elaborate, boys.
"It's a relationship but with three people instead of two," Thompson says, grimacing. "Honestly, we never really fight or bicker that much, so we just let everything build up."
As stuffed resentments are wont to do — all the negativity came to a head one night last winter, when the album was nearly completed.
"I wasn't necessarily sober at the time," Thompson says. "I'd drank about a fifth of Jameson. That didn't help. Pierce was pretty drunk too. So it was just a big, messy bottle throwing thing."
Veresh sheds more light: "I actually missed it," the drummer says, with a nervous smile. "I instigated it in the sense that Pierce would complain and I didn't want to hear it, so I would say, 'Talk to Ray, I don't care.' Boy, did that work out. All I got was a text that said 'band meeting' — and that's never good. I was at a bar, and that gave me another reason to just get another one. By the time I showed up, there were Pierce and Jon ... and apparently Ray had already stormed off. I got there and Jon was like a sad puppy."
Biernat points out quickly that he did speak his mind that night. "Everybody has their own version of what went on that night, and my version's a little different to theirs. I have several different opinions that people ignore. Thus, we're here and people are expressing opinions about that night that actually didn't occur."
Whatever tension's left over is only good for the quartet — look at the Who in the late '60s! "I don't think there's any doubt that the tension helps," Reynolds says. "I think you need to have a certain amount of struggle to make something a little bit more real and vibrant and interesting."
Thompson concurs. "As far as contrasts between us emotionally, that's necessary just to play shows and get things done," he says. "Everyone's got a different idea of what they want the same song to sound like. You all start at that point, and then you break off and it becomes what it needs to be."
So it is that OFC is back on track, though in the last year they've only gigged sporadically. "We really didn't talk or play for about a month or two after we finished recording the album, and then we realized that we still had a Blowout show," Thompson says. "We went and played the Blowout and we had a lot of fun. We remembered why we did this, then a week afterwards ... We didn't really play after that. I went on vacation for about a month. ..."
Still, Reynolds is sure the break revitalized the band. "In anything, people rarely think, 'I think I need to take a break from this,'" the guitarist says. "Taking the conscious effort and making it happen helped, giving us a small respite of doing normal things and not being like 'we've got to go out and play this show, we've gotta play the East Coast'."
George Washington's Teeth, recorded by Jim Diamond, will be released Dec. 11 via Bellyache Records. After what must seem like an epic journey, the band can't wait for everyone to hear it. "Coming back to the album, it was like hearing it for the first time," says Thompson. "We probably could have released it nine months ago, but because we're releasing it now, it's more exciting."
Biernat looks up, grins, and says, "We let it breathe, like a fine wine."
Oscillating Fan Club release show: Saturday, Dec. 11 at Loving Touch, 22634 Woodward Ave., Ferndale; 248-546-3644. Wildcatting is supporting.