As a child, I would attend St. Paul's Lutheran most Sundays and get lost in fantasies, sometimes in a way that would result in a fear undeserving of redemption when we would kneel in prayer. The sound of the bells, and the organ, were the currents that carried me through. Sometimes when I sang in choir, notes wouldn't come out of my mouth. I was convinced I couldn't hit those high sopranos because I wasn't close enough to God. I couldn't tell if the occasional evanescent relief I'd feel on these Sundays was Jesus forgiving my sins, or the acoustics and my body being renewed in vibration and sound.
I won't let you down,
I will not give you up.
Gotta have some faith in the sound,
It's the one good thing that I've got.
At the time, I believed that redemption would lead to freedom. But I was so wrong. I believed (before I knew the saying) that I could pray away the gay. Except I was in such denial I would just shake my head and say "dear God forgive me and save me from being a gross pervert." George Michael sang two different freedoms, one from his duo pop group Wham! with Andrew Ridgeley in 1984, and another from his second 1990 solo album titled
Freedom! '90
. Both freedoms prove it's a concept ever-changing, different to everyone including time.
The '84 single was about not wanting freedom from a woman, because "girl, all I want right now is you." Around this same time, Wham! became the first Western pop band to tour communist China. Their music video for the '84 single "Freedom" shows footage of their experiences in China, including footage from their live performance. The '90 version feels more intimate, more like a reconciliation, addressing Michael's public and private life. The music video to "Freedom" is still my favorite. I still have disposable photos I took of myself at age 12, trying to recreate those smoky eye makeup looks on supermodels like Naomi Campbell and Christy Turlington.
The girls I thought of often and simultaneously loathed around this same age, after I ostracized my best friend (not coincidentally after she came out as bisexual) — I seemed to make sure none of them were my out-of-school friends. People would speculate and accuse me in a cruel way of being gay behind my back. But being told what my sexuality was made me go further away from it. During the '80s when Michael was with Wham!, tabloids speculated about his sexuality, and he later said how this only made him stray further from it as well. Coming out to myself at age 24 was like my brain and my body finally fully functioning, whole.
But today the way I play the game has got to change, oh yeah,
Now I'm gonna get myself happy.
Michael's first solo album,
Faith
, came out in October of 1987, and was still topping the charts when I was born at the end of 1988. It won a Grammy for best album in 1989. The beginning of George Michael's single "Faith" sounds like the organs of my church life past. It's an organ sample of Wham!'s '84 "Freedom." This song could trick even the most biblical of grandmothers into singing along, whether or not she knew or acknowledged Michael's publicly questioned sexuality. In the beginning of the music video, just before the organ, is a sample of Michael's 1987 single "I Want Your Sex" playing from a jukebox; it's him singing "don't need no Bible just look in my eyes."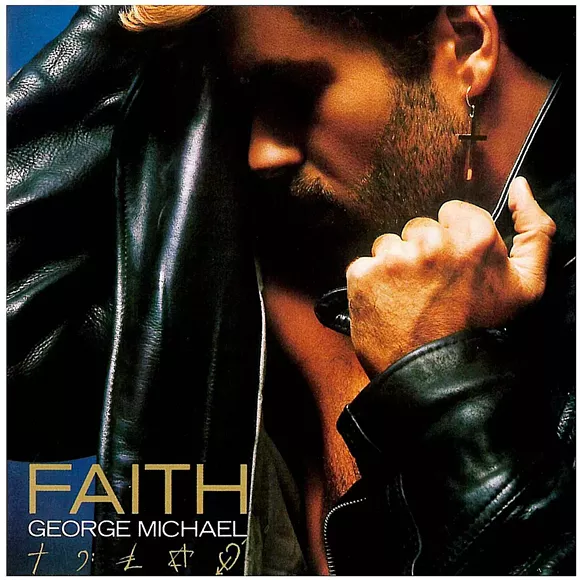 On the cover of Michael's album
Faith
, underneath the title is a cross, a bass clef, the Star of David, and a heart with an arrow running through it. Faith uses spiritual iconography and this religious musical heritage that is oppressive to some, as a bridge to their own liberation. Same play with the chorus echoing FREEDOM in that '90 track, his singles The Edge of Heaven and Cowboys and Angels and Jesus to a Child, and wearing his signature cross earring.
Trying to quit God was hard because of the ritual, so it seemed only natural to move my worship onto love and other kinds of freedoms. As a teenager, inspired by the VH1 series
I Love the '80s
, I would watch throwback videos of Michael in Wham! like "Wake Me Up." With Michael and Ridgeley wearing those Katharine Hamnett "Choose Life" t-shirts, which pro-lifers in America grossly misappropriated to fit their own beliefs. Around this same time, pro-lifers were covering cars near my high school with baby blue flyers with photos of miscarried fetuses. That's around the time I fell in love with my favorite pop song, Wham!'s "Everything She Wants." I hear it, and I think of choices: "And now you tell me that you're having my baby, I'll tell you that I'm happy if you want to."
I think there's something you should know,
I think it's time I stopped the show.
There's something deep inside of me,
There's someone I forgot to be.
My entire life, George Michael was there, like this subtle but persistent guardian angel. I think of Prince and David Bowie like this too. Since Michael's death on Christmas, we're reminded of stories of his incredible generosity. Wham!'s "Last Christmas," one of the best holiday songs because it isn't about the holiday per-say, but the heartbreak ensued around the season, and about finding a more special love.
With these major icons in queerness dying, I wonder, who will be responsible for guiding the future toward their whole selves? It's hard to imagine. For me the magic was in being in my bedroom alone, with the radio. With the radio I couldn't choose these songs, or these artists, so sometimes it felt like they chose me. Nothing visual to distract me except for the idea of God and my stuffed animals. Sometimes when I was lonely, dreaming of being anywhere but here, I would say: "Dear God, please let the DJ play 'Club Tropicana.'" It would come on, and I'd know some kind of angels exist in the radio.