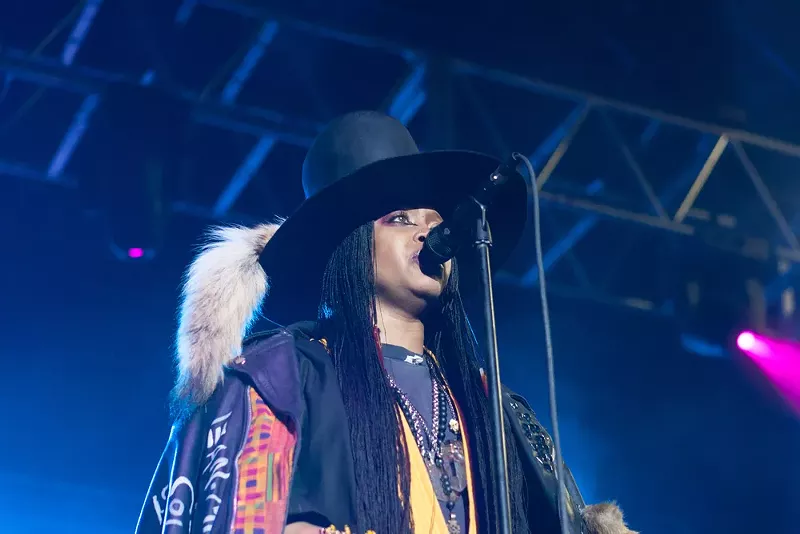 Bag lady, please don't miss your bus because our goddess and savior Erykah Badu is coming to Detroit this summer.
The Grammy-award-winning artist, who is sensitive about her shit, is embarking on her 25-city "Unfollow Me" tour with yasiin bey and it stops at Little Caesars Arena on Sunday, July 2.
Who is yasiin bey? He's the prolific Brooklyn hip-hop artist formerly known as Mos Def, though for some reason we're not supposed to actually say that.
A disclaimer from the tour announcement reads, "It is expressly and implicitly agreed that collaborators or media outlets do not use the name 'Mos Def' (a United States federally registered trademark the license of which to use is NOT granted) in the promotion and marketing of any performance, appearance or participation unless otherwise approved. Likewise he requests that the acronym or phrase 'Professionally Known As' or 'PKA' anything similar not be used."
Anyway, back to the gig, the tour promises "an out-of-this-world surrealist atmosphere" in a press release and we don't doubt it given Badu's brand of consciousness-expanding neo-soul and avant-garde fashion.
In the tour announcement, she offered this message to fans, "Don't follow me; chart your own path."
Tickets for the Little Caesars Arena show go on sale Thursday, April 20 at 2:22 at 313Presents.com and Ticketmaster.com. That's very on-brand for Badu to release her tickets at an angel number time.
For more info, see UnfollowMeTour.com.
Coming soon: Metro Times Daily newsletter. We'll send you a handful of interesting Detroit stories every morning. Subscribe now to not miss a thing.

Follow us: Google News | NewsBreak | Reddit | Instagram | Facebook | Twitter