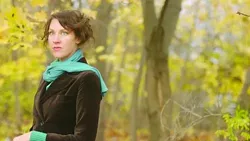 Audra Kubat is a striking woman when first you meet her, and she is a mass of contradictions. Her height gives the impression that she might be ungainly, but rather she is delicacy personified. She has a tendency to glare, yet the lyrics to her mostly-acoustic tunes are pretty, poetic and subtle. More pertinently, she's quiet-spoken but will jump at the chance to take part in such events as the Dirty Show and this weekend's Erotic Poetry Festival at the Corktown Tavern in Detroit. The woman whom local poet Jimmy Doom describes as a "lanky, goofy but 'sneaky pretty' girl" definitely has her cheeky side.
Kubat said that she discovered an affection for playing music when very young. "I liked to play on the piano but I didn't pursue it," she says. "When I was about 18, I had a boyfriend with a guitar. Prior to that I was writing a lot, poetry. I didn't really think I was good at it. I bought a guitar, taught myself to play and that was it."
One of the joys of Kubat lies in the fact that she is next to impossible to define in basic genre terms. She has won honors as a folk artist at the Detroit Music Awards, presumably because she plays acoustic instruments and writes poetic lyrics. "I'm a wandering minstrel who wants to always be singing and sharing it with other people," Kubat says. "Either when I'm walking down the street, or I'll bring my ukulele when I'm at a party and I'll just start playing it. It's almost all the time. I just wander and sing."
Kubat says that Joni Mitchell had a big impact during her fledgling-guitarist stage. "I was listening to her a lot when I started playing guitar," she says. "My parents were into Motown, so growing up I would listen to old records like that and Ray Charles. I haven't gotten into much new music, but I love good songwriting."
The singer-songwriter is currently working on her fifth album and aiming for a fall release. "I've gotten better at what I do," she says. "It's been since 2006 that I put out my last record. I've been playing live since then and I've gotten better. I feel like the music and melody are becoming a part of the words, and the words are becoming part of the melody."
Kubat's previous two albums were released via the now-defunct Times Beach Records, a venture started by fellow musical troubadour Ethan Daniel Davidson. The label also featured blues rockers Gold Cash Gold, one-man-band Man Inc. and Americana group the Deadstring Brothers. It was an odd and eclectic bunch, but it worked. Sadly, as a business, the label didn't. "I did two albums with Times Beach, the last in 2006," Kubat says. "I was really hopeful about Times Beach. Both those records I did with them are awesome. I'd love to work with Eric Hoegemeyer [Gold Cash Gold / Charm Farm] again. He's incredible."
So why such a big gap between the fourth and fifth albums? By the time the new one surfaces, nearly seven years will have passed. "I think I struggle a little bit with feeling down about where I am," Kubat says. "I just want to keep playing music. I've written so much."
If Kubat does suffer from the blues on occasion (and let's face it — we all do), then the perfect antidote is a couple of weeks of cheeky, erotica-themed fun. Kubat has spent the last week-and-a-bit appearing at the Dirty Show, and she'll be following that with the Erotic Poetry Fest. "When I do this side project, it's not so much erotic but it's flirty fun," she says. "I have this side to me — like a class clown. It's not sensual to me, it's just playground fun. It's Marlene Dietrich, dress-up fun. I do a song that I wrote where I wear white feathers and I sing with a ukulele, and it sounds very bohemian, like something you'd hear in Eastern Europe."
According to Jimmy Doom, who will be at the event showcasing his own brand of sex-fueled poetic humor, Kubat will fit in just fine. "At the EPF, people expose some intensely personal stuff on stage, on camera, and there's nowhere to hide," Doom says. "Years ago, a woman who was well into her Social Security years read poems about her 'Adonis young lover.' She was dressed in red lingerie, and she was pouring it out. Some of the other performers, myself included, thought it was completely fabricated fantasy. Then, as she closed out her set, some bodybuilder in his mid-20s sweeps her off the stage and makes out with her. I'm more than a bit of a cynic, but in the moment it was perfect. To be honest, I always look forward to some new person I've never met, have no idea why they got booked and then they hit me with something I wish I would have written. The Impaler, while he's hosting, is always good for some impromptu hilarity. And there's belly dancing. There's not a whole lot to dislike about belly dancing."
Of his set, Doom says "I've been working on a new spoken word collection — and by working I mean being a lazy ass with notebook pages strewn about my room — so I'm planning on debuting and recording some of that for the new CD. And people seem to love the improv stuff. I pass out little scraps of paper for the audience to write erotic or sexual ideas on, then I just riff on it off the top of my head. It keeps people engaged and lets them become a part of the show. No one wants to hear a third poem about me pleasuring myself to a Price Is Right model in a bikini on a jet ski … they want to express themselves. So I give them that opportunity."
Another performer, artist Tara Lazaroff, says, "I don't want to let the kitty out of the bag. … I have a new music partner I'm working with, Ken Suer and he will be tearing it up on guitar."
Sounds intriguing, right?
Doom says that Kubat "used to sit at my bar when I was slinging drinks in the Shelter. She wasn't a ruthless self-promoting type. I had no idea how much talent she had. And she did it — and still does it — the Detroit way: Here it is, motherfuckers. I wrote it, I created it, and I'm playing it. She makes me proud."
Doom has hit the nail on the head. Kubat has committed conventional career suicide on plenty of occasions, and she's still here. She stopped recording for years — because she wasn't ready to record. She'll do this her way or not at all. Besides, this city loves her, and she knows it. "I love my city and I really feel like my city loves me," Kubat says. "In that sense, I know that I've got people who've got my back around me. Those people will check [the new record] out. Everything's changed and it's all digital. It's hard to play bars with the kind of music that I do. I want to make my own spaces and maybe do something more innovative. I don't know, but Detroit doesn't forget so quickly."
No, ma'am, it does not.
The 26th Erotic Poetry and Music Festival is on Saturday, Feb. 23, at the Corktown Tavern (1716 Michigan Ave., Detroit; 313-964-5103), with Audra Kubat, ChrissyChaoss, Olive Jus, Jimmy Doom, Blue Dogma poet Dena Luckett, Abida Blaze & Blazing Belly Dance, Tara Lazaroff, Scott Boman, Jason Peters, Victoria Frick, and Say Yes Ma'am.
Brett Callwood is a staff writer for Metro Times. Send comments to [email protected]