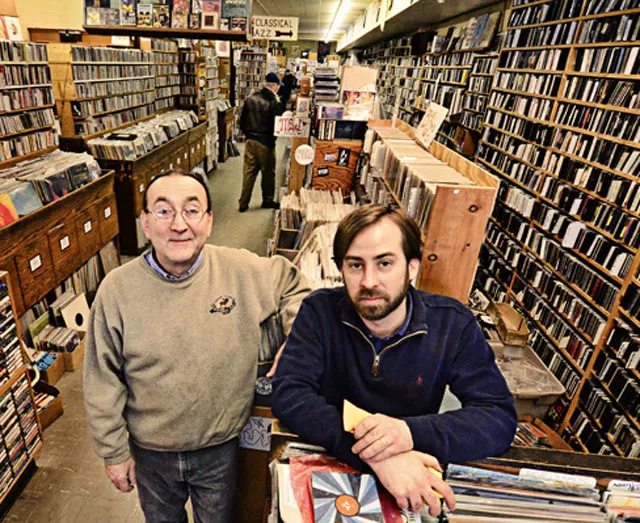 It's simple: If you're into music and you've stepped foot in southeast Michigan, you know about Encore Recordings. The Ann Arbor store's selection is one of the biggest and best in the state, er, country. Hell, Rolling Stone even rated it recently as the seventh best used-record store in the United States. Its cramped, floor-to-ceiling array of recorded music from all decades, from around the world, have supplied Ann Arbor (and Detroit) with used diamonds-in-the-rough for nearly two decades now. So when a rumor hit about its doors closing, it was enough to strike fear into the heart of even the most casual record listener or collector.
The truth is, Encore is here to stay, at least for now. Its longtime owner Peter Dale is set to retire in August, at the latest, when the lease is up at Encore's Liberty Street location.
A veteran of all things black, round and waxy, Dale's been in the record business since '66, and he has basically seen it all when it comes to recorded music: 8-tracks, cassettes, 78s, CDs, downloads (to which he lost untold customers) and vinyl's return happened on Dale's watch.
Some backstory: Dale sold his first record store, Car City Classics in St. Clair Shores, in 1989.
But Dale put a huge stamp on buying music in Washtenaw County with Encore Recordings, when he purchased what was then Liberty Music in 1992.
After all of this time in the used-record biz, Dale isn't hanging up his work boots and kicking back just to play bingo. The guy's heart is as large as his store's inventory and work ethic as strong as his shelves — Dale is planning to spend his time post-Encore helping out in Detroit.
"I'm feeling like I want to do more to help the city." Dale says, "To do that, I can't be distracted by my business. I work here six days a week. I like this business. It's fun, I meet lots of interesting people, I make some money. I'm certainly not getting rich, but I make a living. But I decided that as I'm 62 and I could maybe realistically expect 10, 15 years max of good health, where I'm strong and capable and so on, I'd like to spend those 10 to 15 years doing good for people who are really suffering."
Dale is a Quaker, and makes it out to Detroit a few times a week to meet with his group, the Detroit Friends Meeting. He's had strong religious beliefs for a while, but owning a record store is too time consuming when you're looking to give back to the community in a big way. His is what he calls a spiritual "leading," and he sees the end of his lease as an opportunity to put his beliefs into motion.
"I'm a Christian, and I feel like it's part of my duties, so to speak," Dale says. "Put up or shut up, you know? And here I am. I'm fortunate enough to have a wife who is willing to just let me do these things."
So, what happens to the wonderful store that Dale created back in '92? The owner says that if everything goes right, he'll turn it over to his employees, who are currently totaling up the costs of inventory for purchase. And if they can't, Dale will liquidate it in August.
"They're just waiting to see what the figure is going to be, and see what they can come up with between themselves and their families," Dale says. "I really want the store to continue. There's been a store in this location since 1960."
But to Dale, there isn't really that much up in the air about Encore's future. "It would be totally incorrect to say that this store will disappear." Dale says. "I'm 90 percent that this store will go on."
In the end, Dale feels like his employees deserve the store. They're musicians, and dedicated enthusiasts. Saturday Looks Good to Me's Fred Thomas, Wolf Eyes' Aaron Dilloway and Nomo's Elliot Bergman are just a few of the local giants who've manned Encore's checkout counter. (Metro Times photographer Doug Coombe was a longtime employee there.) Dale says it'd only be fair to leave Encore Recordings to the people that helped build it — the employees who've developed lasting relationships with customers.
The store would keep its name, and would probably have a similar layout, but Dale understands that, like anything, Encore won't stay totally the same. "Stores like this reflect their owners," Dale says, "So their vision of what the store should be changes."
But record collectors will probably still have their little niche store in Ann Arbor. And these dedicated, repeat customers come from all over, Dale says. In the week leading up to Christmas, he's seen customers from Japan, Colorado, Toronto and Georgia, and these are just a few of the people he talked to personally.
Even with his exit looming, Dale still has a soft spot for the store, his employees and all things that go with record culture. But the thing he'll miss most is that feeling of people bonding over the music.
"The thing that makes me happiest, the thing that I remember is when people come in and they meet here and they will spend an hour talking to each other, right here. They may just talk about old times, but they often end up talking about the music."