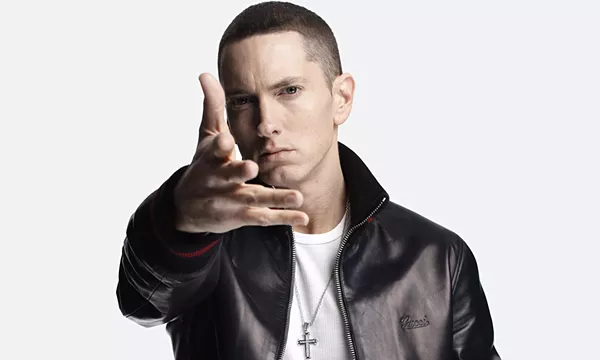 Eminem has achieved another career milestone, racking up more than
100 million Recording Industry Association of America song awards
to become the second-most successful artist in the world, in terms of singles. Em surpassed No. 3 Taylor Swift for the honor and landed just behind Rihanna, who is No. 1.
It's a big deal. For context — the RIAA's other list of top artists, as determined by number of
albums sold
, is dominated by the likes of the Beatles and Elvis Presley (and, much to the surprise of the non-country heads among us — Garth Brooks).
The latest set of digital song certifications by the RIAA, the organization behind the famous
"Gold" and "Platinum"
sale distinctions, puts Eminem up to 107.5 million song units moved.
Eminem is the first rapper to cross the 100-million mark. The win comes on the heels of a successful start for his latest album,
Revival
, which debuted at the top of the Billboard 200 chart and sold more than 260,000 units in its first week. It was his
eighth-consecutive No. 1 debut
on the album chart — an industry record.