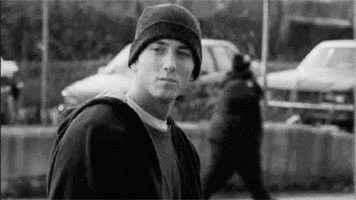 Objectively, "Lose Yourself" is Eminem's most famous track. With its iconic guitar lick and placement in his hit 2002 movie
8 Mile
, "Lose Yourself" is a
Billboard
No. 1 record, an ubiquitous workout playlist staple, and a reliable
meme-generator
some 15 years after its release.
Today, the track played in a New Zealand court to a judge and nine lawyers, who according to the
AP
listened "politely." Eminem's music publisher is suing New Zealand's conservative National Party for ripping off the track in a 2014 re-election ad spot.
Em originally filed suit in 2014. The National Party says the spot's soundtrack — titled "Eminem Esque" — was obtained from the Australian production music library Beatbox Music. The party's campaign manager has said he thought the use of the song was
"pretty legal,"
and that Eminem was "just having a crack and a bit of an eye for the main chance because it's an election campaign."
A spokesman for Eminem's publishers told reporters they would have "never permitted the use of the song in any political advertisement," according to the
AP
.
He added, "We are Americans and we don't know about politics in New Zealand."
Listen to both tracks below:
And, of course, "Lose Yourself":