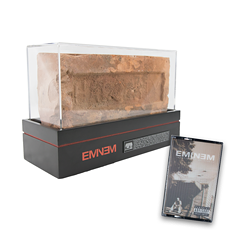 Need a little something for your home to give it that extra pop? A focal point to draw the eye in, maybe? Whatever the case may be, rapper Eminem is cleaning out his closet by selling bricks from his childhood home in celebration of the 16th anniversary of
The Marshall Mathers
LP
.
And yes, we are just as confused as you are.
According to
Pitchfork,
Eminem has 700 bricks that he will be selling, and each brick comes with a display stand, a case, a cassette reissue of the album ( ... ), a certificate of authenticity (again, why?), and the cherry on top, Eminem's handwritten signature engraved on the brick. Oh, and if bricks aren't really your thing, you can just get the cassette plus dog tags made from salvaged wood from the house (so very artisan chic, Em!).
The house was torn down due to structural damage in 2013, and it seems like Eminem has been holding on to these memories for a very special reason. The house is featured on the artwork for the album, as well as the 2013 sequel. A portion of the proceeds will benefit the Marshall Mathers Foundation, which provides funds for organizations working with at-risk youth in Michigan. So that part is nice, at least.
If you're feeling some type of way, you can purchase a brick
here
, but it will cost you, as the bricks are going for a whopping $313.
Now enjoy this Eminem throwback, because sometimes we all need to get a little white boy crazy and feel some things. Enjoy!