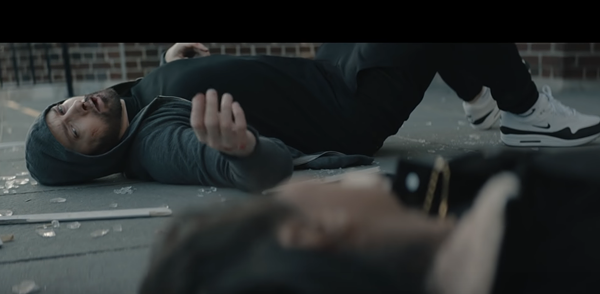 Eighteen years after Eminem detailed the gruesome and fictional murder of his real-life ex-wife Kim on The Marshall Mathers LP, Em is finally getting a taste of his own medicine in the video for "Good Guy," released Friday.

Guessing by his lyrical track record, Eminem has some major relationship hangups and the latest track to drop from his tenth record Kamikaze is a continuation of unresolved infidelity issues or, like, fragile masculinity. Or so we're guessing.

The video opens with Canadian pop singer Jessie Reyez frantically digging her way out of a freshly covered grave only to emerge in the kitchen of Eminem's seaside subdivision chateau as he's innocently pouring cereal. The stand-off finds Reyez and Em grappling and tumbling until Reyez fends him off by throwing a wine glass, a rose-filled vase, eventually grabbing a kitchen knife and making a few swipes before successfully biting and stabbing the middle-aged rapper.

Em barrels up the stairs and Reyez throws him out of a window, both landing on a cement patio where she rolls to kiss him and (pysch!) chokes his ass out before dragging his plastic-wrapped body into what we can only assume is her grave from the opening scene. There, she joins her dead lover and cradles his half-buried body, crying, either a.) because she is bummed out or b.) she pulled her back out dragging his petty ass. Either way, the melodrama of Eminem's romantic life continues and we are reluctantly here for it.

Watch Jessie Reyez go head-to-head with Eminem— and win in "Good Guy":
Stay on top of Detroit news and views. Sign up for our weekly issue
newsletter
delivered each Wednesday.