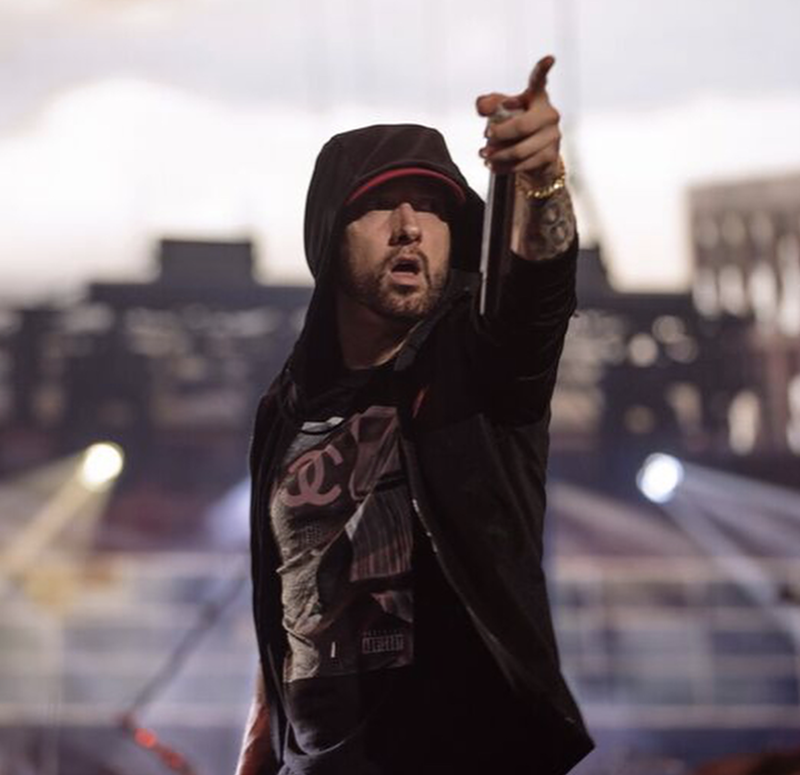 What do president Trump, vice president Mike Pence, Harvey Weinstein, Lil Pump, Drake, and the Grammy-Awards have in common? All are targets on
Kamikaze
, Eminem's tenth album which dropped without warning at midnight.
Though curious timing, considering the album release falls on the eve of the funeral for Detroit's Queen of Soul, Aretha Franklin, the 45-year-old rapper dropped the album art, an obvious homage to Beastie Boys'
License to Ill,
via social media with the caption, "Tried not 2 overthink this 1… enjoy."
"I feel like I wanna punch the world in the fuckin' face right now," Em confesses during the album's first 20 seconds. As a follow-up to 2017's dimly received
Revival
— a heavy-handed album that put shit-talking on the backburner and found the cantankerous rapper grappling more with legacy than status,
Kamikaze
is a return to his signature record-speed ruthlessness.
On the album opener "The Ringer" Em claims that Trump, referred to as "Agent Orange" may have taken the rapper's freestyle attack on the president during last year's BET Awards seriously: "sent the Secret Service to meet in person / To see if I really think of hurtin' him / Or ask if I'm linked to terrorists" going on to say, "I empathize with the people this evil serpent sold the dream to that he's deserted."

During the course of the Dr. Dre-assissted 13-track album, Eminem slaughters 2018's affection for Soundcloud rap, society's oversensitivity, and the many corrupt powers that be. Em doesn't just stand on his own two legs though, the Detroit-made rapper collaborates with Joyner Lucas, Royce Da 5'9, Jessie Reyez, and Bon Iver's Justin Vernon. The album also features a song titled "Venom" which will be featured in the upcoming Marvel-inspired film of the same name starring Tom Hardy set for an Oct. 5 release.

A throwback to Slim Shady days, Kamikaze is peppered with "skits" appearing here in the form of voicemails exchanged between the rapper and his manager Paul Rosenberg: "Are you really going just to deride everybody who, you don't like what they have to say about you or the stuff you're working on?" Rosenberg says, "I don't know if that's really a great idea, it's like what's next, 'Kamikaze 2,' the album where you reply to everybody who didn't like the album that you made replying to everybody that didn't like the previous album? It's a slippery slope, I don't know if it's really a good idea."

In keeping with Eminem's wheelhouse, he remains unfazed by whether something is a good idea. The rapper is trending and the consensus on social media has made it clear: Kamikaze is fire.

Eminem pull a Thanos and killed half the rap game to create balance #Kamikaze pic.twitter.com/2XhfgowL9W

— Izzy Echeverria (@CutieIzzyyy) August 31, 2018
Nobody wants to come at Eminem cause it's the rap equivalent of euthanizing a dog you grew up with

— Human (@DomMcLennon) August 31, 2018
Lil pump and lil xan listening to 'The Ringer' #kamikaze #eminem pic.twitter.com/j1tWKsluUB

— Wigs Pushed Back (@WigsPushedBack) August 31, 2018
.@Eminem just dropped an album for grown ass people who still like rap without lean, purp & ice without being a shit factory, pumping out terrible music for yachts. Thank you Em. Seriously. #KAMIKAZE

— David Smalley (@davidcsmalley) August 31, 2018
The first song on #kamikaze got me like pic.twitter.com/RNRLLcNaL7

— Bobe Kyrant (@DevvDaDude) August 31, 2018
While Em lost some folks long ago.
Eminem dropped an album? pic.twitter.com/nmQBMQqhlq

— Sid (@ASVPROQY) August 31, 2018
This is what Eminem's music looks like pic.twitter.com/ubslqHmytt

— Rich Russell Fan Account (@UltralghtScheme) August 31, 2018
I haven't looked at Eminem since he said

"That's an awfully hot coffee pot, should I drop it? Probably not"

And I'm going to keep it that way

— Gopnik Goat (@GoatGrab) August 31, 2018
Stay on top of Detroit news and views. Sign up for our weekly issue newsletter delivered each Wednesday.