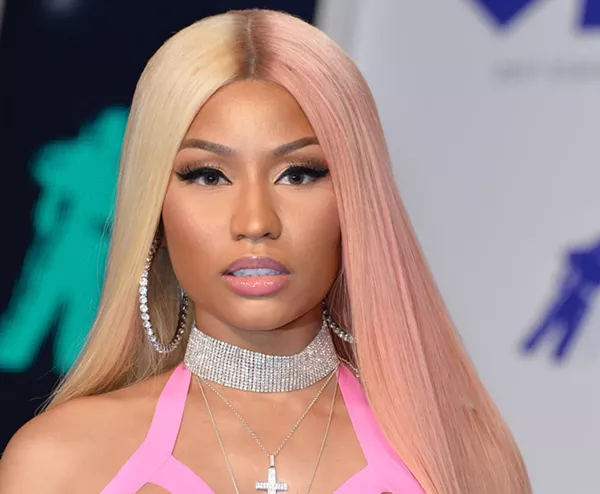 Cancel the florist and call off the truffle butter cake. Stanaconda is not happening. Not yet, anyway.

What at first seemed like well-written fanfic quickly became a believable rumor — that Eminem and Nicki Minaj were in a full-blown relationship. The chatter began on Friday, May 25 when YG dropped his stacked single "Big Bang," featuring 2 Chainz, Big Sean, and Nicki Minaj.

"Told them I met Slim Shady, bag the Em/ Once he go black, he'll be back again," Minaj raps on the track. The "Barbie Tingz" rapper then posted an Instagram video lipsyncing her verse. This is where shit starts to unravel.


A follower commented, "You dating Eminem???" To which Minaj replied with "Yes." Further fuel for the rumor mill: Buried deep in the replies was a response from Slim himself, who
wrote
"girl you know it's true..."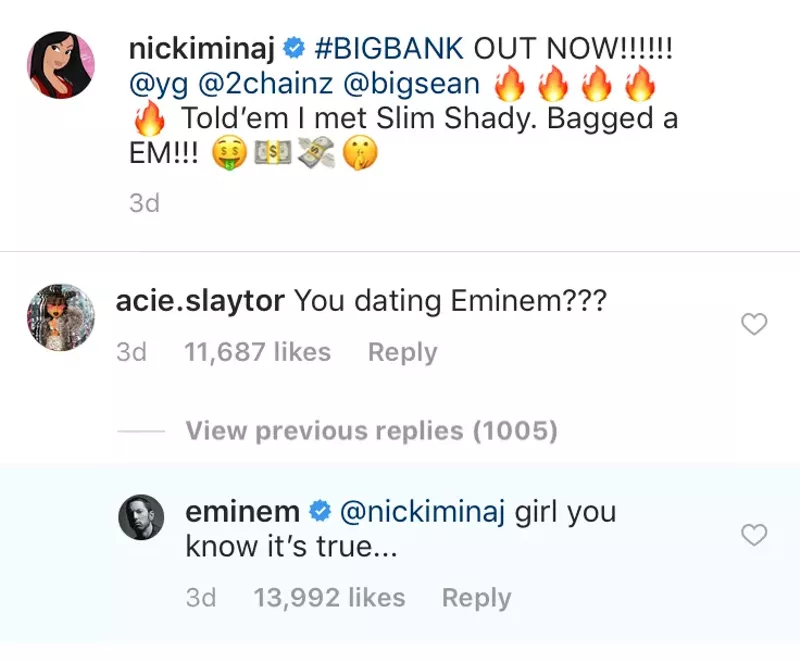 But wait. This is the same Eminem who told
Vulture
last year that he has struggled with dating after his second divorce from ex-wife Kim Mathers, which was finalized in 2006. He also revealed that he uses Tinder, Grindr, and frequents strip clubs. So, a high-profile romance being dragged out over IG comments doesn't fit Slim's M.O.
Minaj, on the other hand, has a history of dating rappers (and maybe
Zac Efron?
), announcing her split with Meek Mills in January. Mills has since referred to her Em-
fatuation
a
"thirsty" and "basic" attempt
to rally publicity for her upcoming album
Queen,
due out next month.
But it wasn't until Eminem's headlining set at the
Boston Calling Festival
on Sunday, where the rapper took a moment to tease the relationship a bit more before breaking our gossip-loving little hearts.
"I want to take this time out right now to give a shoutout to my bae, Nicki Minaj," he said, "Sweetheart, I'll be home tonight and we'll figure this shit out."
"Boston, how many of you want me to date
Nicki
Minaj?" The crowd cheered. "Well,
god dammit
, me too," he said. "Nicki, if you get this message, just text me later, we'll talk about it."
Minaj took to Twitter to applaud his goofing while extending an invite for a date/recording sesh.
LMFAOOOOOOOOOOOOOOO. The fact that he's silly & a goof just like me😩. Love him so much. Em we need you on the #Queen album. That's where our 1st date will be; at the studio while I gaze into ur beautiful eyes as u write ur verse. 😭🤣😩😭😭 https://t.co/iFYi0OlzXQ

— Chun-Li (@NICKIMINAJ) May 28, 2018
In other words: this could be us but you playin' each other.


Stay on top of Detroit news and views. Sign up for our weekly issue newsletter delivered each Wednesday.