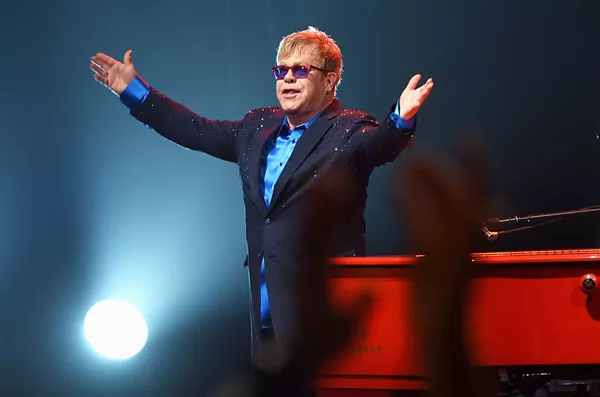 Today, Elton John announced his "Farewell Yellow Brick Road" tour, a 300-date victory lap to cap off a nearly 50-year career. John will make a stop at Little Caesar's Arena in Detroit on Friday, Oct. 12, just over a month into a tour that will span three years.
"Performing live fuels me and I'm ecstatic and humbled to continue to play to audiences across the globe," John said in a press release announcing the tour. "I plan to bring the passion and creativity that has entertained my fans for decades to my final tour. After the tour finishes, I'm very much looking forward to closing off that chapter of my life by saying farewell to life on the road. I need to dedicate more time to raising my children."
John will go out in style, singing anthems like "
Tiny Dancer
," "
Candle in the Wind
," "
Philadelphia Freedom
," and songs from the
Lion King soundtrack
— performing a setlist spanning his entire career while rocking a wardrobe exclusively designed by Gucci. Brush up on some of his greatest hits before the show on
Spotify
.
American Express card holders will be able to purchase pre-sale tickets between Thursday, Jan. 25 at 10 a.m. and Monday, Jan. 29 at 10 p.m., Ticketmaster verified fans can starting buying pre-sale tickets on Tuesday, Jan. 30 at 10 a.m. until Wednesday, Jan. 31 at 10 p.m. Tickets go on sale to the public on Friday, Feb. 2 at 10 a.m. Find tickets at www.eltonjohn.com or www.ticketmaster.com.
Elton John has
performed in Michigan
more than 50 times, beginning in 1970 at the Eastown Theater in Detroit and most recently at
Van Andel Arena in Grand Rapids on March 23, 2016.
While he has headlined many venues throughout the state, John's most famous Michigan-linked performance is perhaps his duet of "Stan" with Detroit's Eminem at the 43rd Grammy Awards in 2001. Watch their chilling performance here:
Anthony Spak is an editorial intern with Metro Times and a recent graduate of Oakland University's journalism program. Spak spends most of his time in Detroit playing music or eating gyros at Golden Fleece.