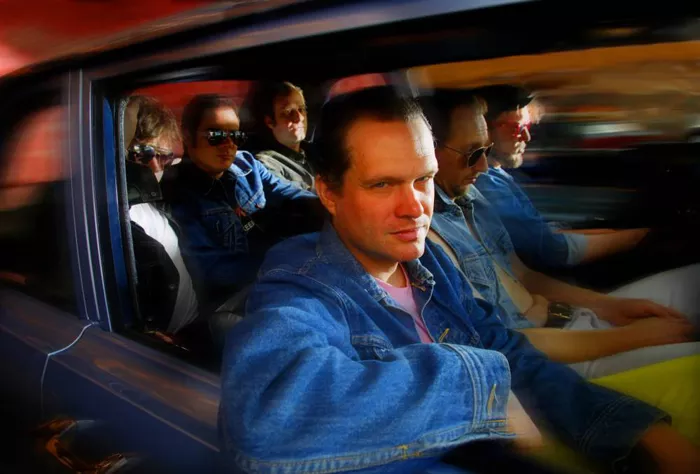 Electric Six frontman Dick Valentine fondly recalls the inherent enthusiasm and unpredictability at past Blowouts. The singer-songwriter and sharp satirist performed the first two years fronting the Wildbunch, which reformed as Electric Six in 2001 and released its breakout single "Danger! High Voltage."
E6 is completed by bassist Keith Thompson, drummer Mike Alonso, keyboardist Christopher Tait, and guitarists John Nash and Dave Malosh. The van that's dutifully transported them around the continent for every tour since 2001 died last week in Edmonton. When MT called Valentine, refueling a rental before a show at the Blind Pig in Ann Arbor, he spoke with a tinge of bereavement. But we soon switched to their latest album, Mustang, and his latest batch of biting, sarcastic lyrics, as well as how the Detroit music scene's changed since those first few Blowouts.
Metro Times: With the van dying and with how much touring you guys do, it got us wondering where that ranks on the list of "worst road experiences."
Dick Valentine: That's not the worst. Mostly, I feel bad for the van more than us; we've had it 13 years. It's probably not even a van anymore, probably been crushed up and turned into a dishwasher by now. But we've had a great run of luck; I can't think of truly awful things. I got eaten by bedbugs in Grand Rapids at the beginning of the tour, but that was a personal demon I had to deal with, not anyone else. Problems are gonna happen; that's all part of it.
Keith Thompson: It was terrible. The van had 360,000 miles on it when the transmission died. Touring as much as we do, you become desensitized to many things. We got a U-Haul and ended up making our show.
MT: Before your next Mustang tour, you're performing Blowout. Thoughts on how that festival's changed over the years, particularly with last year's expansion into Ferndale?
Valentine: Obviously I don't spend a lot of my off-time thinking about "Blowout," but, certainly glad to see it last this long. It is amazing. Detroit is really unique in terms of the local music. I was just talking to Keith yesterday, that it just seems everybody's starting their own Fest at the Loving Touch and that's beside the Blowout, now. There's not a town in the States where local music thrives like Detroit; there's no place like it.
MT: What were those first two years like?
Valentine: Those were a lot of fun; packed houses. I remember the first one — we didn't load in until just before we were going on and the place was crammed, loading gear through a crowd like that's not fun. I also remember, once, I thought it'd be funny to have my stage prop be a crowbar. They stopped me at the front door, walking in with a crowbar and I said: 'Don't worry, it's a stage prop.' And, they let me go. So, all you had to do to get a crowbar into a club then was just say: 'I'm in the band.'
MT: Mustang's lyrics mock dude-bros vainly buying shampoo brands invented by the devil and millennials eating any crap from a box, late at night. Has this overt social satire been like your career-long thesis, lyrically? And who were your key influences?
Valentine: Well, first, no, I'm not an angry person about things in society or consumerism; I guess I have my take on it, but I'm not making a statement. I listened to a lot of Mark Mothersbaugh and David Byrne. David Lowery [Camper Van Beethoven] is probably my favorite lyricist. Their unique elements of cynicism, that's kinda where I stoked my forge.
MT: Everyone asks about lyrics, but what about musical influences on E6's brand of "dance-rock"?
Valentine: I'm a fan of music, interested in playing instruments, but I was never a music geek. To this day I don't know which brand of guitars to buy or what amp's best; fortunately, people in the band know, so it works out. I'm a songwriter, not a musician, so the musicians get to be musicians and I get to be the lyricist.
MT: One constant, whether your sound leans toward metal, or pop or new wave or even funk, it's always got a danceable beat. Why was that important?
Valentine: Right, a lot of our songs have the word "dance" in the title too. That started early, in the Wildbunch, back to, from my perspective, when I was a bit more of a spazz, going to dance clubs and thinking it was funny. I'm commenting on how weird dancing is, I see people on a dance floor and imagine it without the music. Back in the '90s, especially in Detroit, there were a lot of nightclubs, and we were commenting on that idea that someone can dance harder than somebody else. We try to write songs about that, poke fun at it.
MT: Your van's death, the bedbugs, the long tours — what keeps you motivated?
Valentine: I've killed my résumé; I don't have one now because of this band. But, also, I had my whole 20's working in cubicles and coffee shops to know that this is a really good job. You get stuck on the side of a road or after six weeks you want to kill each other, but it's still a great job and I recognize that; that's a motivation.
MT: Keith, how'd Mustang come together, and what were you guys aiming for?
Thompson: It was arranged in bedrooms, hotel rooms, studios, vans, dressing rooms, Florida rooms. Each record's its own special process, but I honestly can't remember what our plan was …
MT: What about a plan for a new record?
Thompson: It'll be the 10th studio album.

Valentine: Yes, releasing in September or October.
Thompson: Looking at about 11 songs of dance-rock and experimental sounds. Should be a good one.
Electric Six plays the Metro Times Blowout, April 30-May 3; mtblowout.com.