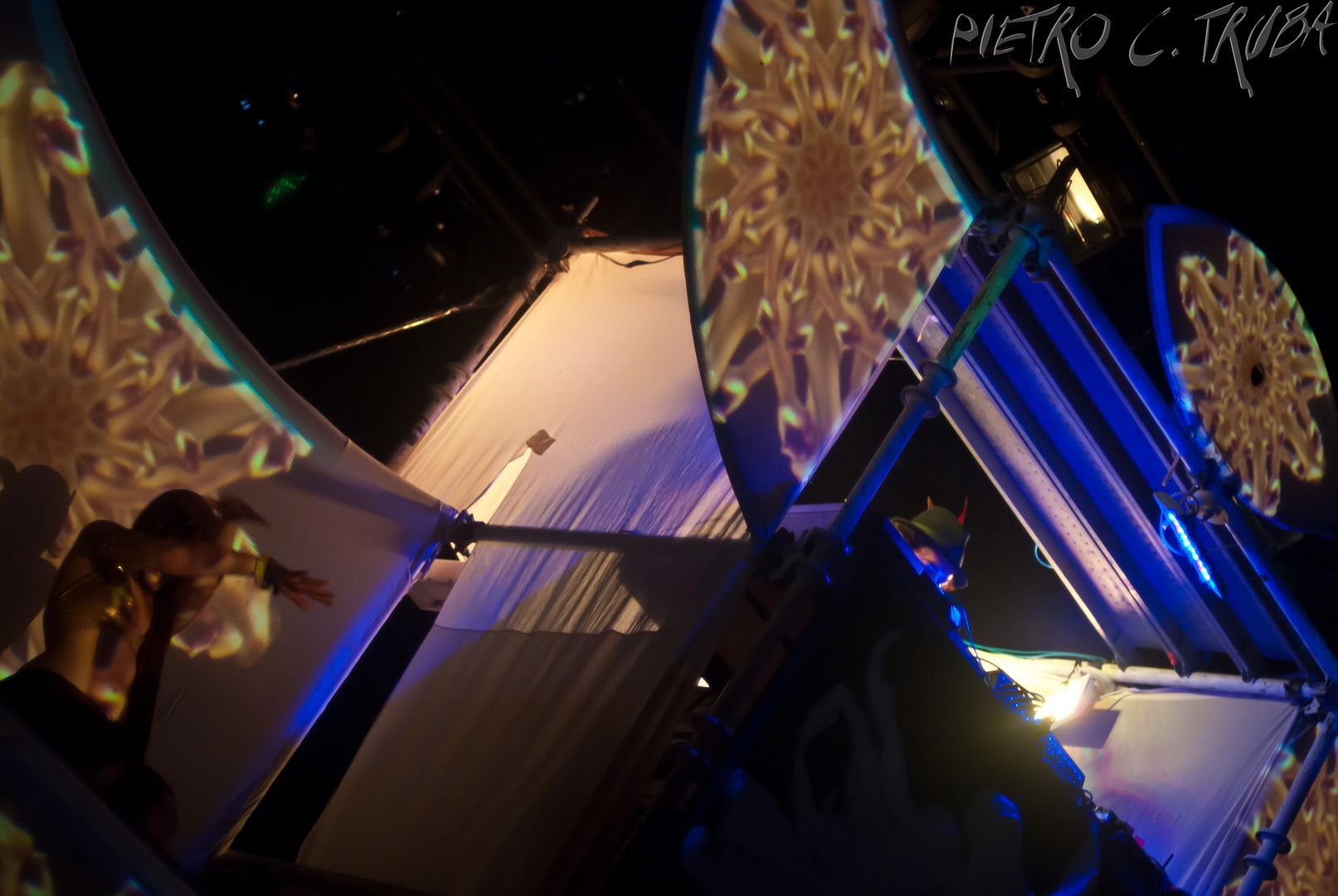 Check out past posts leading up to Electric Forest 2011 tagged here.
Putting into words what happened at the Double JJ Ranch over the past three large-scale music events they've hosted isn't quite easy, so in part that accounts for some of the delay in this recap blog post. (Along with the fact that many of the accompanying pictures are still in transit. Thank you Michigan State Police for finding and getting me my camera, the check is in the mail.)
In the meantime check out some pictures from our friends over at Docufest in the picture wall below, click the arrow for a full screen wall. Check back for more pictures from Electric Forest and feel free to navigate the red clickable text for some videos of the weekend.
Thursday:
Torrential downpours are always a headlining act at nearly every hippeh gathering since the beginning of time, and this was no different as early rain delayed a few shows, even cutting short Greensky Bluegrass. When the rain stopped, Kaskade took the Ranch Stage with some glitchy electronic while throwdown sets from Karl Denson's Tiny Universe and Lotus closed out the Sherwood Court. Pretty Lights' compadre Michal Menert rocked the tiny saloon stage of the Wagon Wheel.
Friday:
Wisconsin's Steez opened things up at Tripolee in one of the best surprise sets of the weekend, especially energetic for a 2pm set from any band. Over at Sherwood Court Reverend Payton's Big Damn Band (and by big damn, I mean 3 people) slammed their honkey tonk set with songs like "Your Cousin's On Cops" and "Two Bottles of Wine."  At dinner time, Stephen Marley manned the Ranch Stage, while The New Deal grabbed bassist Robert Mercurio from Galactic to fill in for their hour long set. As they would for all three nights of their headlining slots, the String Cheese Incident found their own noodley sweet spot, where even a devout hater as myself had to at least acknowledge that they were consistently getting there. They finished up their second set with a go at Rush's "Tom Sawyer."  For the late night heroics, Dragon Wagon finished up a bluegrass sweatbox stomper inside at the tiny Wagon Wheel saloon stage and Galactic finished their signature 'Nawlins funk set with drummer Stanton Moore taking his drum sticks and soloing on all of his band member's  instruments.  World club trance master Tiesto took over the Ranch Stage amidst a slew of graphics scrolling across the screen behind him like "VIP!!!!!!!" "BOTTLE SERVICE" and "IBIZA!!!!!" but hey sometimes the crowd should be reminded to get "NEXT LEVEL!!!!!"  Over on Sherwood Court Break Science finished up things around 3am.
Saturday:  Saturday midday sets included Mat McHugh, of The Beautiful Girls and Ann Arbor's the Ragbirds on the Tripolee stage before the 5:30 set from REO Speedwagon at the Ranch Stage.
After REO, 2/3rds of the jazz trio Soulive joined some friends for their funk side project Lettuce at the Sherwood Court. For their second headlining night String Cheese brought out the parade. An actual parade of gigantic floats of a racecar driver and a shark were floated over the crowd as they busted out covers of "Kashmir" and  "21st Century Schizoid Man."
String Cheese's encore led into a slew of huge late night sets divided by the Sherwood Forest. Over at Sherwood Court, Colorado duo Big Gigantic beautifully ran the line between the electronic thud beating through the whole weekend and the crests of flowing sax solos from Dominic Lalli. Check some of their set here 1,2,3. Over at Tripolee, Two Fresh had the power pulled on them as they closed a thrashing set fueled by drummer Colby Buckler at 2am.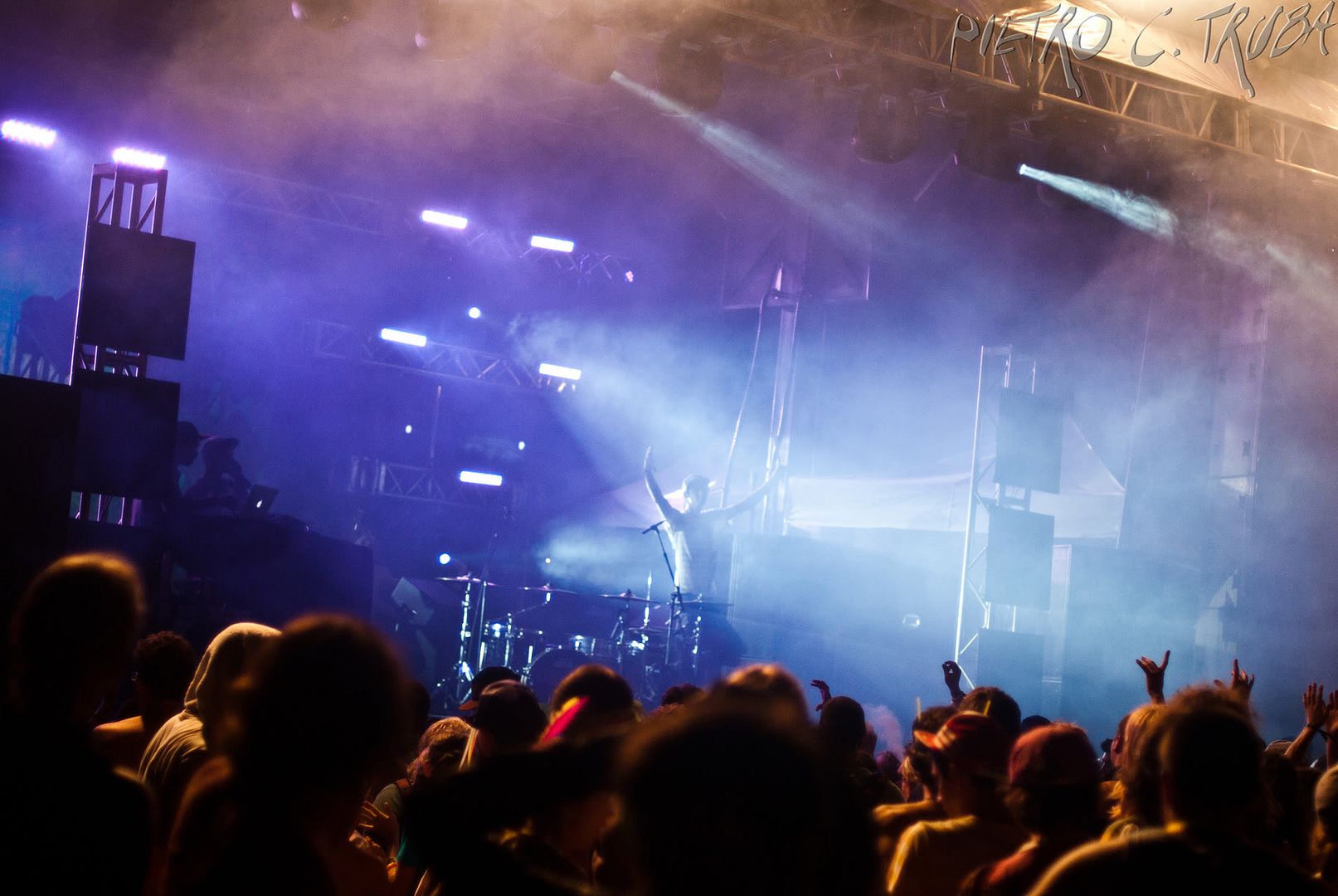 At the Ranch Stage, and later at Tripolee, dubstep reigned supreme with sets  from Bassnectar and later an apparently lit up  Skrillex finishing out each stage respectively.  Meanwhile over through the woods, British producer Simon Posford brought his Shpongletron Experience. For those looking to get weird, you have reached the ceiling.  Probably best that I'd plead the fifth here and let the videos do the talking.
Shpongle 2, 3, 4, 5 (opening segments 6,  7in Eugene,Oregon)
Sunday: Check the Macpodz here riling up the crowd at Tripolee as they started things off.  Adam Deitch reunited with  Derek Vincent Smith of Pretty Lights for an impromtu set at the tiny Forest Stage, just hours before Pretty Lights would take over at the Ranch Stage. Later an unlisted set from Tennessee rockers Cherub at the Forest stage proved to be one of the best of the weekend, as this duo knows how to throw a goddamn party. In addition to their festival set they trucked in their own PA and collaborated for the late late late shows, setting up guerrilla sets in the VIP campgrounds and at the Work Exchange Team tent at the entrance of the venue to play with whoever wanted to come by. Check the videos below of their late sets.
For their final set of the weekend, String Cheese was joined by a slew of musicians onstage for a first set bluegrass roundtable with members of Railroad Earth, Infamous Stringdusters and Greensky Bluegrass sitting in for the bulk of the set. Check a video of their cover of the Talking Head's "This Must Be The Place (Naive Melody)". After getting warmed up at the tiny Forest stage earlier, Pretty Lights closed out to a massive crowd at the Ranch Stage with a remix of Pink Floyd's "Time"
Cherub and others late night:
At the 2008 inaugural Rothbury, among about a million other musical moments, there was the hinting that the greatest live band in the last 20 years would reform. (A year later they did, and if you aren't a Phish fan, or into that type of music for that matter, then that may be inconsequential to you. But it's not. Anyone who was at Phish's most recent DTE show knows that they've still got it.)
While Phish didn't return to play the festival in 2009, Bob Dylan and The Dead (playing their only summer show) along with countless others came to the Double JJ for the second incarnation of Rothbury. Now there were a million musical moments in between those two, but fast forward to 2010, with the Double JJ in legal limbo, Rothbury takes a year off.  Madison House , who produced the first two Rothbury's with AEG, found a new partner, Insomniac (of the Electric Daisy Carnival) and the Electric Forest Festival was born. There is that frequency that all music tries to tap into where all the tumblers fall into place, whether it's a tight two minute pop song or a 25 minute improv and Electric Forest was a shining example of that. For whatever reason 4th of July weekend things just seem fall into place in Rothbury.
Despite the loss of the big name headliners, the atmosphere wasn't too vastly different from the two years prior. In large part it was because one thing was kept constant, the production team behind EFF put the festival goers first, a major necessity when putting on a festival of this magnitude. At festivals like these there are always going to be over the top fans as described in the WSJ earlier  this week or as fellow MT scribe Dylan Lawrence called it, "leagues of weird." Now I'll be completely honest, I've grown immune to these leagues of weird. I'll let it be known that each night I slept in the Sherwood Forest until I (like most people in there) was politely escorted out by police at 4-5am. Now, whether this was music, people, hammocks, drugs or none of the above, there was some concentrated energy again generated by the leagues of weird in those otherwise mundane rows of trees. Attendance was reported  by the Muskegon Chronicle at around 13,000. For other stats and check their mlive post here.
If you were there this past weekend, then there isn't really anything else I can say to you that you don't probably already know. I know I've missed more than a few musical moments of this year, if you're reading this far down you have your own stories of endless shenanigans and no blog post, youtube video or photograph will really grab what happened this past weekend for a lot of people. Please feel free to share your links to your favorite shows or memories of your favorite shows.