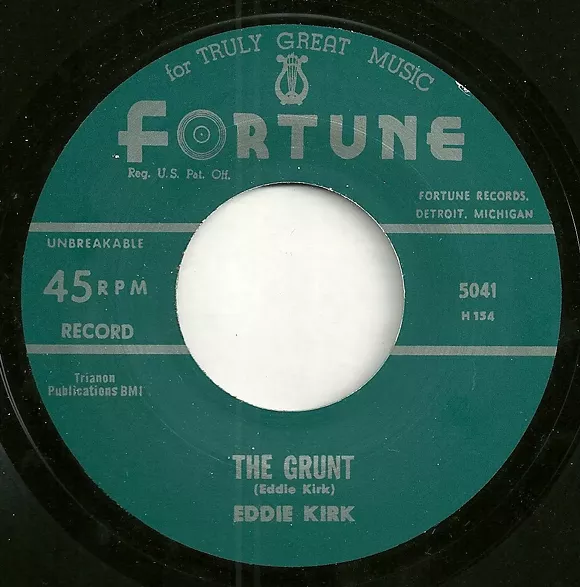 Turn Hump Day into Grunt Day with Eddie Kirk's raw 1968 track "The Grunt," the flip of the Fortune Records 45 "Every Hour, Every Minute (I Wanna Be With You)." The infectious dance number has elements of jump blues and New Orleans soul, but it's slathered in lovely Detroit grit.
Eddie Kirk here is none other than frequent John Lee Hooker collaborator
Eddie Kirkland
, using the sublimely lazy alias he also used on a 45 for Volt.
Norton Records has either deadstock or greystock of the 7-inch for only $10, should you want to have your own physical copy of the 7-inch; they are available for purchase
right here
. Norton refers to the track as an "ultimate blown-out masterpiece," and we are not arguing. Also, judging from what this record usually
goes for
, these are most likely not originals.
Hamtramck's Michael Hurtt (who's
written for us about Fortune
in the past) is collaborating with Brooklyn's Billy Miller (co-honcho for Norton Records, along with Miriam Linna) on a book about Fortune Records, a mom-and-pop operation most active int he 1960s which remains many garage/R&B heads' favorite Detroit record label (if not favorite label, period). Both Miller and Hurttt had health setbacks in the last two years, but thankfully they both seem to be fully on the mend.