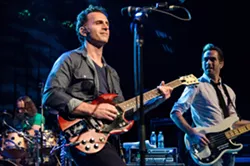 Dweezil Zappa's Tuesday performance at the Royal Oak Music Theatre was, in a word, delightful.


From faithful readings of some of his father's most avant-garde material — from albums like Freak Out! and 200 Motels — to soaring guitar solos and a lighthearted, marathon medley of 1980s songs, the concert captured the essence of the late Frank Zappa's music.


Dweezil acknowledged his struggle with his father's estate from the stage Tuesday. This summer's outing was renamed "50 Years of Frank: Dweezil Zappa Plays Whatever The F@%k He Wants — The Cease and Desist Tour" after an ongoing battle with the Zappa Family Trust — administered by younger siblings Ahmet and Diva after the death of their mother, Gail — over the use of the family name.


"I know it's been a little confusing as of late in terms of knowing what we're about and what we call ourselves," Zappa said. The music far overshadows the dispute, though, and the new tour name provided the opportunity to purchase a memorable concert T-shirt.


Zappa smiled as his band nailed the zany vocal parts, rapid-fire, cross-talk lyrics, and unorthodox changes on compositions like "It Can't Happen Here" from Freak Out! The first Mothers of Invention album celebrates its 50th anniversary this year, and Dweezil compared a teenager bringing home the record in 1966 to "bringing home a wild animal and saying, 'can we keep it?'"


The band was game for all of it, taking advantage of the strangely danceable nature of some numbers and faithfully recreating complicated studio parts. Ben Thomas "not only sings but blows on brass things, hits stuff and strums some thingys too," as Zappa's website says. That's true, and Thomas' voice also comes hauntingly close to Frank's narration of songs like "Dinah-Moe Humm" — Tuesday's encore, and a song that many in the crowd, hilariously, were able to sing along to word-for-word. New vocalist Mikki Hommel showed impressive range and knowledge of the material.


Zappa's show, like his father's catalog, elicits smiles for its demonstration of serious musicianship as much as its witty lyrics. Zappa, 46, is a virtuoso guitarist in his own right, and had an undoubtedly customized Gibson SG in hand all night. His solos on "Inca Roads," from 1975's One Size Fits All, and "Doreen," from 1981's You Are What You Is, were goosebump-inducing.


The last piece before Tuesday's encore was an epic 1980s medley of dozens and dozens of songs — we stopped writing them down after the first 25. "Whether you liked (the 80s) or not, we're going to relive the whole fucking thing!" Dweezil said. As the mash-up wore on, with snippets of Rush, Michael Jackson, Van Halen (multiple times), Whitney Houston, Styx, Motley Crue, Irene Cara, and every other 1980s artist imaginable, it became a display of the band's versatility and ability to remember countless cues, words, and chords.


The Zappa patriarch died of prostate cancer in 1993 at the tragically young age of 52 after a groundbreaking, genre-bending career of experimentation in rock, jazz, classical music, film, more, with a brilliant wit running through the 62 albums released during his lifetime.

In the climate of a tense, toxic election year, it was wonderful to see a nearly full house in Royal Oak jump to its feet as freewheeling, uncensored tracks like "Catholic Girls," "Half A Dozen Provocative Squats," and "The Illinois Enema Bandit" were brought back to life by Frank's oldest son.


The compositions and humor sound as fresh as ever in 2016, and Dweezil's interpretation is a wonderful thing to witness, lawyers be damned.