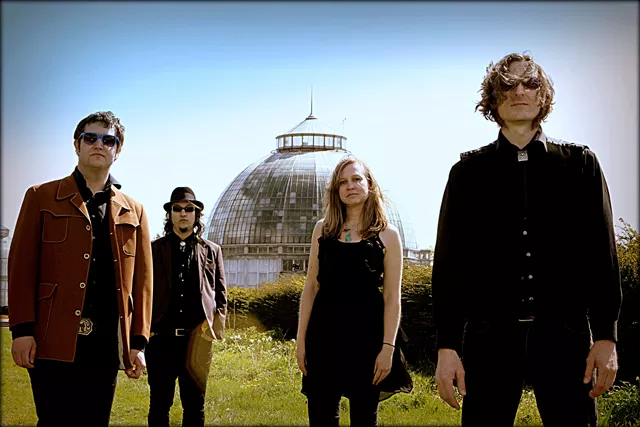 Duende performs at the Loving Touch in Ferndale every first Wednesday, as part of their monthly "Duenseday" local music showcase. They play on Saturday at the Dally in the Alley at 5 p.m. on the "Alley Stage."
Suddenly, Jeff Howitt realized they had to make sense of it all.
The singer-songwriter's band, Duende, was winding down a 48-hour recording spree for its fifth album. Assembled with them at Dave Feeney's Tempermill studio were four soulful singers, two eloquent rappers, an esteemed R&B keyboardist, a funk-minded percussionist and rock-minded trumpeter, plus the bass, two guitars and drums. There were only two hours left for everyone to figure out the second-half of a half-realized song.
More specifically, those assembled in the studio included accomplished arranger-songwriter McKinley Jackson on keys, recent Kresge fellows Passalacqua ("Blaksmith" aka Brent Smith & "Mister," aka Bryan Lackner) rapping bars, four-part harmony from the Babini singers (LynShannon Denise, Rah Fraser, Lisa Stocking) and Pewter Cub bassist-singer Regan Patricia Lorie; more harmonizing came from trumpeter Chris Krez (of the Questions and Electric Fire Babies) and percussion from Eric Kacir (of funk collective Will Sessions).
That packed party bolstered the regular Duende crew: Howitt, drummer Laura "The Boom" Willem, guitarist "Jelly Roll" Joel McCune, bassist Scott Sandford.
Somehow they figured out how to complete the song, the A-side of Duende's forthcoming 7-inch single "Detroit J / Boss Radio" out Oct. 5, on Bellyache Records.
Howitt has learned a lot about pulling disparate bands and eclectic musicians together these past seven years, having run a record label and music cooperative known as Loco Gnosis. He's coordinated numerous releases and regularly organizes mini-festivals, so take his word for it when he says this local scene is getting to "a place beyond genre."
"There's camps hunkerin' down around the scene, sure, over in Woodbridge, Corktown, Ferndale. But still, people aren't so hung up on explaining themselves. There's a lot of different, diverse things going on, and we're letting the music do the talking." And that's just what the assembled performers did at Tempermill. "Just musicians," Howitt said looking back on the crowded night of "Detroit J," "just playing together."
Likewise, six years on, his flagship band, Duende, spans diverse styles: country, blues, garage-rock, juke-joint, psychedelic-folk. And their fifth album seeks that "place beyond genre." To their detractors, they're just all over the place.
"We look like this, but we're playing this, and we sound like that. As a band, we needed to come up with something that was beyond our reach," he said of the goals of the new albums.
And he admits there's a certain "gang mentality" at work, with the band wearing a bit of a chip on its collective shoulder and "fighting to make our name."
This album, out early next year, is a reassessment and readjustment, Howitt says.
"A lot a bands break up after five years and some very relevant bands only need two to say what they need," he says. "But with us, we've been hit with a serendipitous shift or great new opportunity coming along just at those hardest parts. Where it looks unsure, something always comes along, keeps us going."
Keeps them going in their in their "all-over-the-place" aesthetic, that is.
Or as Mister (Lackner ) raps on "Boss Radio": "Eclectic sounds / Deep in our hearts and souls / Around these parts / don't have to look too far ..."