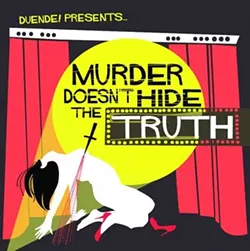 Detroit's Duende have proven to be effective musical chameleons. There's no proper way to pin them down — torch songs, ghost story folk ballads and trashy strutting punk rattles — which is kinda the point.
Their perennial adaptability is best exemplified through their years of hosting a live series at the Loving Touch in Ferndale. The monthly event purposefully mingled and mixed them with a wide range of rotating bands from rock to folk, psychedelic to hip-hop, blues to post-punk — any of which could qualify as the quartet's sound. For good measure, add in some Southwest-scorched, psychedelic-infused blues and mythically reverent spaced-out murder ballads (by way of, say, a Velvet Underground). They carry themselves with the stateliness of troubadours on Murder but show no trepidations over dipping down into the punk-muck, or getting down-and-dirty with head-swimming psyche jams. Half of this record was written in the studio, birthed in a moment when the muses seemingly encouraged the close-knit band to embrace the fact they're all over the place.
Murder casts a wide net, and in the process becomes one of those rare albums where cohesion, clarity, and intrigue are retained throughout — despite each successive song sounding nothing like its preceding track. —Jeff Milo
Duende's Murder Doesn't Hide the Truth LP Release Show starts at 9 p.m. Saturday, March 23, at the Old Miami, 3930 Cass Ave., Detroit. Also appearing will be Outrageous Cherry and the Blueflowers. For more info see duendedetroit.bandcamp.com.