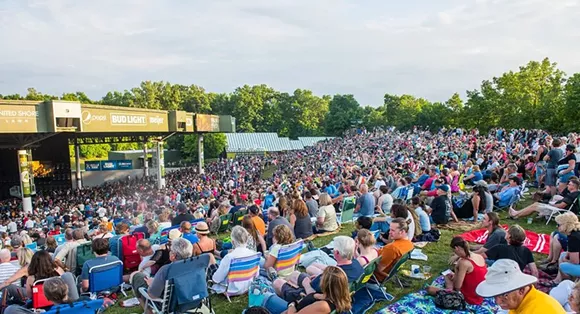 The outdoor music venue known as a place you can see a show whilst lounging casually on a blanket has implemented a firm NO BLANKET (or chairs or bags) rule for tonight's show.
No lawn chairs, blankets, or bags of any kind will be allowed at tonight's show. Small clutches or wallets will be permitted.

— DTE Energy Music (@DTEEnergyMusic) August 12, 2016
Which seemed kinda weird to us, so we we looked up who was set to take the stage tonight.
TOMORROW we're going to be Young, Wild & Free because @SnoopDogg and @wizkhalifa are taking over! #AllSummerLong pic.twitter.com/VM90SbAiqv

— DTE Energy Music (@DTEEnergyMusic) August 11, 2016
Ohhhh, ok! So the show DTE is selling as a chance to be 'Young, Wild, & Free' (a nod to the triple-platinum, Grammy Award-nominated single by the duo) is actually subject to a
different set of rules
than other concerts and events?
According to its Facebook page, the banning of comfort items was made at the request of the tour, but since the venue is a glorified grassy knoll, it has some concertgoers pretty pissed.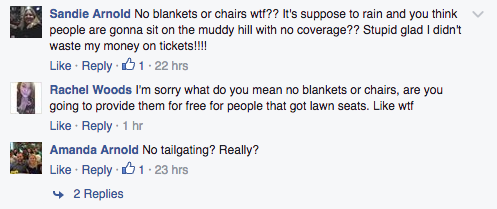 This isn't the first time DTE implemented tight restrictions on concertgoers. The venue
did the same thing in 2009 for Blink 182
(no dangerous glow sticks either, gasp!).
When asked why the need for a blanket ban, DTE responded via Twitter that "Ultimately, anytime items could create a safety risk when briefed by the tour at our security briefing, we discourage the use of those items for our guest's safety.."
Alright, sure. Someone could smuggle something sinister in the folds of a quilt, but as one angry metal head pointed out in her
'Letter to DTE Music Theatre'
, the safety of guests may not be only motivator.
She writes of her experience at Rockstar Mayhem Festival 2014:
When we were getting checked by security, we asked the gate attendees if they were looking for liquor or guns, as a joke. One smirked and said "liquor," and his buddies agreed. The crowd then made the joke that DTE Energy Music Theater can't make a profit from guns, but liquor gets them revenue. Everyone, including staff members, quickly agreed.
So maybe it's capitalism, maybe it's the time-worn practice of adding security measures for
certain
kinds of events and audiences, but either way, it's caused some eyebrow raising.