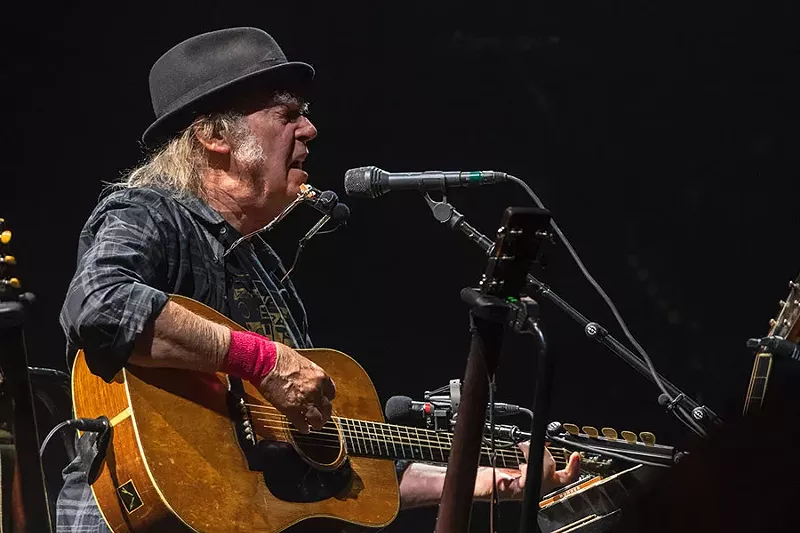 Neil Young brought his brief six-date solo acoustic tour to Detroit's Fox Theatre on July 3, choosing the venue in part
because of his love
for the city and the venue.
He took the stage surrounded by a circle of guitars, a banjo, and a ukulele, and launched into a batch of primarily early '70s chestnuts on string instruments. Then, atypically, he took a spin playing a number of songs on the three different pianos and pump organ on stage. Among the spare keyboard interpretations he offered Detroit a rare performance of "Broken Arrow." In between songs he genially shared stories about playing the Chessmate and hanging out with Chuck and Joni Mitchell when they lived just off the Wayne State campus.
You would think the entire audience would have been raptly listening to such a special, intimate performance in a gorgeous venue that was the perfect room for the fragile beauty of Neil's voice.
You would be right for about 95 percent of the audience.
But the other 5 percent bellowed song requests and "Neil!" so loudly they caused him to abandon sharing some of his Detroit stories, leading to loud verbal altercations heard throughout the theatre and to Young sarcastically asking the audience who was the loudest man.
Thankfully, the haunting piano versions did seem to stun the grey-haired bros into brief silence. But even though we live in an age when any intelligent person can hop online and see the likely setlist, aging bros reliving their bong-ripping college days bellowed out pointless requests for "Rocking In The Free World" and "My My Hey Hey."
It prompted Young to write a note titled
"ROUGH NIGHT"
on his website:
"Because the St. Louis and Chicago crowds were all real listeners, the type of crowd I have come to love with the NYA shows, (shows where all tickets were bought through NYA and there was no advertising), those three shows were free and easy and I had the unbridled ability to lose myself in any song when the moment came.

In Detroit, we had something going against that. It was the fourth of July holiday and some folks were celebrating, already high when they arrived at the show. Because it was a holiday, I could see it coming. They were focused on their celebration, kind of like a festival.

Any subtle solo performance of songs is very challenged under those conditions. Of course, if I had a band, I could just blast out the show and rock on. So I came away from Detroit a bit mentally bruised and battered, yet still happy that so many people enjoyed the performance that I had tried to give them, even though they were somewhat short changed by circumstance.

The St. Louis and Chicago crowds were distinctly different from the commercial shows I have been doing for the past years. At those commercial public shows. I have come to expect that people are as interested in celebrating their connection to the music as they are in actually listening. These are the people who yell out titles as loud as they can, during, or in between songs, or while I am talking, trying to tell a story about the music and where it came from or what it meant to me at one time or another.

On night's like last night in Detroit, It seems that the yellers are not with me. They are interested in celebrating their love of the music in another way. There is nothing wrong with that for them. They are having the time of their lives out there. Unfortunately for the audience, everyone else misses out on what might have happened while I am distracted by those celebrating their favorite song titles, yelling them as loud as they can.

I could slip deeply into a song if not distracted, but I am just relegated to the surface while fighting off distraction, and so is the rest of the audience. Likewise, I may have told a story that sets up the experience of listening to the song, if I was not interrupted while trying.

In St. Louis and the two shows in Chicago, I had the time of my life! It was so great to be able to lose myself in the music, sharing my experience with the audience, telling the stories of the songs to set them up, both for me and for the audience.

There were some songs that shone through in spite of the obstacles and I am very happy they did. The Detroit audience got everything I had to give that I could get through to them. That said, I hope to return to Detroit someday and give them what I was able to give St. Louis and Chicago. Every time I got through this type of experience, part of me does not ever want to go through it again, yet it is a risk taken every time I walk out to a solo stage.

Detroit was an NYA live stream so we may show it again for member subscribers in the Hearse theater. Like all of our Live-Streams it could return in the future. There were some very fine and engaged moments. 'After The Goldrush' on pump organ, 'Angry World' on the White Falcon, 'Broken Arrow' on the Burnt Grand, 'I Am a Child' on the Martin D45.

Big thank to the crowd. I always appreciate you."
Audio of the show is available below.
Get our top picks for the best events in Detroit every Thursday morning. Sign up for our events newsletter.