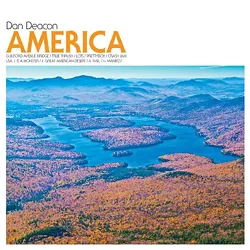 Muddy Waters & the Rolling Stones: Live at the Checkerboard Lounge Chicago 1981 (Eagle Rock): The Stones spent an off night in Chicago during their Tattoo You tour by checking out a show by veteran bluesman Waters and his band. Before long, Mick Jagger, Keith Richards and Ron Wood were onstage, jamming with the legend on several of his classic songs (including "Mannish Boy" and "Got My Mojo Working"). It's a loose set, perfectly captured on this DVD and CD combo.
Dan Deacon: America (Domino): The centerpiece of electronic-music freak Dan Deacon's first album in three years is a four-song, 22-minute "USA" suite that employs nearly two dozen classical-music players who travel the landscape, sonic and otherwise, with the Baltimore multi-instrumentalist. But first Deacon checks in with smaller-scale, but no less panoramic, snapshots like "True Thrush" and "Lots." America is deep, dark and abundantly ambitious.
Art Garfunkel: The Singer (Columbia/Legacy): Paul Simon's erstwhile partner didn't have much of a solo career once the duo broke up. And for good reason: Simon wrote all of their greatest songs and provided grounded harmony to Garfunkel's angelic choirboy voice. That's not to say that the 34 songs on this two-disc career overview are bad; they just don't have much force without Simon. The handful of Simon & Garfunkel hits on The Singer are the highlights.
Dierks Bentley: Country & Cold Cans (iTunes): Appropriately, the four new songs on this five-track EP were fueled by a couple cases of beer in the studio. The titles say it all: "Cold Cans," "Grab a Beer," "Tip It on Back" (which originally appeared on the Home album earlier this year). Country & Cold Cans is Bentley's loosest record, a collection of songs about drinking away long summer days. There's nothing essential here, but the country star makes you pine for hot Friday nights.
Swans: The Seer (Young God): Two years ago, these NYC post-punk heroes returned after a 14-year break with one of their all-time greatest albums, My Father Will Guide Me Up a Rope to the Sky. This follow-up is a bigger, more expansive undertaking. Eleven songs spread out over two discs, with two reaching the 20-minute mark and one even clocking in at more than half an hour. But frontman Michael Gira (with help from Karen O) keeps it all under control, gloriously.