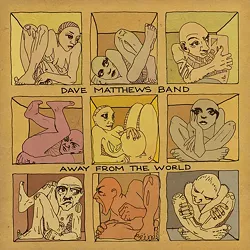 Dave Matthews Band: Away From the World (RCA) The last time Dave Matthews Band made an album, 2009's somber Big Whiskey & the GrooGrux King, they paid tribute to their late saxophonist LeRoi Moore, who died the year before. On Away From the World they return to the amiable but repetitive bro-rock of their early records, even calling back producer Steve Lillywhite, who worked on their first three LPs. Songs like "Broken Things" and "Mercy" sound ripe for onstage explorations.
The Avett Brothers: The Carpenter (Universal Republic): On their 2009 breakthrough album I and Love and You, North Carolina's Avett Brothers abandoned their DIY roots, packed up their acoustic guitars and banjos, and headed to Rick Rubin's Los Angeles studio, where the guru-like producer helped shape their most ambitious record. On the follow-up, the Avetts' seventh album, they once again work with Rubin, who adds some heft to the group's most personal set of songs. Musically, The Carpenter is a tuneful record, with Scott and Seth Avett's tight harmonies, flickering solos, and occasional classic rock-style approach to folk music filling in the empty spaces. But on songs like "The Once and Future Carpenter," "Live and Die" and "February Seven," the band recalls softhearted old-timers, getting all misty-eyed and mushy as they look back on love and life. It's a midlife collision of their heads and hearts.
Metronomy: Late Night Tales (Late Night Tales): Mixed by Joseph Mount, frontman for the British electronic quartet Metronomy, the latest Late Night Tales compilation throws together 20 songs — ranging from Outkast to Cat Power to Kate & Anna McCarrigle — for a super-chill set that doubles as a comedown from your after-hours clubbing. Most tracks are obscure enough to blend into their surroundings; only the Alan Parsons Project's 1982 Top 5 hit "Eye in the Sky" disrupts the flow.