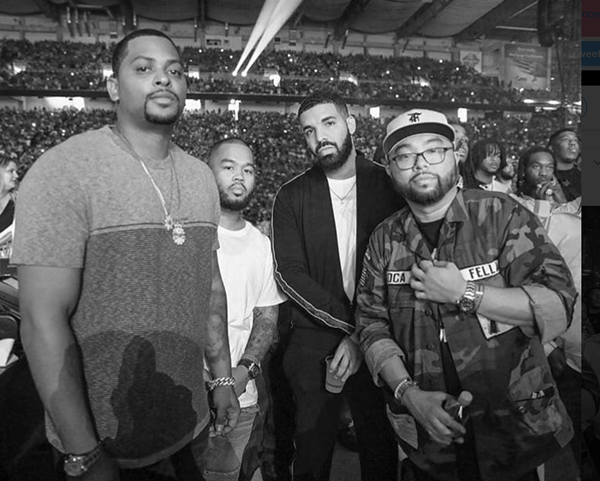 We had a sneaking suspicion that this might happen.

The curious timing of a long-awaited Detroit appearance from America's royal family, Bey and Jay, just so happened to coincide with back-to-back shows of our beloved Champagne Papi, Drake. The result? For a couple days, we can pretend that Detroit is the new Coachella.
In a video posted by the Beyonce Legion Twitter account, Drizzy himself was spotted side-stage of Beyonce and Jay-Z's On The Run tour stop at Ford Field. Here he is pointing, shaking hands, and being all kinds of lowkey amazing.

.@Drake is attending Beyoncé & JAY-Z's show in Detroit tonight.

Get tickets: https://t.co/m47AMvyWCv #OTRII pic.twitter.com/dY84dsffMy

— BEYONCÉ LEGION (@BeyLegion) August 14, 2018
And here's a GIF of Drizzy hugging it out with Jay in what feels to be a super intimate embrace that screams "we out here!"
JAY-Z and Drake hugging it out last night - Detroit, MI. #OTRII pic.twitter.com/Iai5BjjHRf

— JAY-Z Daily (@JAY_Z_Daily) August 14, 2018
And here he is practically gliding alongside
DJ "I don't eat pussy" Khaled.
Drake spotted at the #OTRll Detroit show with Dj Khaled. pic.twitter.com/lgfHxxP51e

— Drizzy Source (@DrizzySource) August 14, 2018
Here he has his singing along with his back turned to Jay because he can do that.
Drake last night at #OTRII in Detroit. pic.twitter.com/4elntvq0qE

— Word On Road (@WordOnRd) August 14, 2018
But wait. We've got a celebrity conspiracy theory.
Will Bey and Jay stop by LCA? Was this the plan all along? Seeing that their next performance is scheduled for Thursday, Aug. 16 in Columbus, Ohio – a mere 3-hour and 29-minute drive from Detroit – the likelihood that they will attempt to return home or stay holed up in a hotel room or tour bus is slim. Will they be flying above the crowd in a floating Ferrari because, spoiler alert, Drake legit does that? Does LCA have throne seating? Will they collab? Is this the end of the world that those dang Mayans were always warning us about?
What the next 48-hours holds for Bey, Jay, and Dray is anybody's guess. But Detroit is totally here for it.
.@Drake doing the absolute most with a floating Ferrari during his set. 🔥

🎥: https://t.co/HaqRBpRw5k pic.twitter.com/tFMYl8jkE3

— Highsnobiety (@highsnobiety) August 14, 2018
Get our top picks for the best events in Detroit every Thursday morning. Sign up for our events
newsletter
.