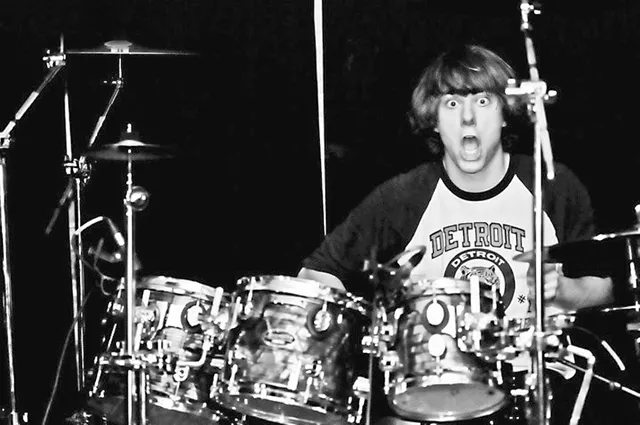 It's a cool Friday evening in April at the Hayloft in Mount Clemens, and Trixter is playing, the New Jersey cock-rock band that formed in '83 but didn't put out its debut album until 1990, and is now long past their statute of limitations.
Often, when nostalgia acts such as Trixter, Stryper or Ratt play at the Hayloft, or the Token Lounge in Westland, or Harpos in Detroit, the venue owners-managers will slap hapless local bands on the bill who are forced to sell tickets ahead of the show if they want to play and later boost their Facebook bio with words like "opened for Lizzy Borden."
Oftentimes, little attention is paid to whether these bands fit the bill, and nobody cares anyway, people are still drinking in the parking lot or contemplating receding hairlines in the mirror at home. An L.A. Guns and Faster Pussycat support band at Harpos a few months back played wretched covers ranging from Godsmack to the Drowning Pool. Excruciating.
It's getting worse too, with venues whacking five or (often) more local bands onto a bill with some has-been "name band" struggling to draw, to get bodies through the door. Times are tough and the venues cannot hit red on touring shows and pretend to stay open, but nobody wants to see a shitty musical jigsaw with each of these tossed-together bands getting 15-20 minutes of stage time.
On that Friday night in Mount Clemens, though, by some miraculous fluke, things were different. One local band — a quartet of east side kids called Kro-Magnon — was good.
Fast-forward a month and Kro-Magnon is supporting Japanese '80s hairballs Loudness at the Token Lounge and impressing us again.
So what is it about such Canton kids (age range 18-20) that'd get them lumped into the "opening band" morass at retro hard rock shows? Is it because they're from Canton? What's from Canton?
Well, for starters, they look great, a cool-as-fuck anachronism of sorts. Kitted out in bleached blue jeans, white high-top sneakers and skinny-fit T-shirts of those late-'80s, early-'90s thrash-hardcore crossover bands. Think Among the Living-era Anthrax and Lights, Camera, Revolution-era Suicidal Tendencies. Remember, these guys are 20 years old or younger. Where does anyone find clothes like that anymore? To hammer home the post-Judas Priest nostalgia, vocalist David Harrington is the spitting image of Screech from Saved by the Bell, though he carries himself like the hybrid-clone offspring of Rob Halford and OG Iron Maiden singer Paul Di'Anno.
All of which leads into the Kro-Magnon experience. Their show's "entrance" (remember those?) launches with the three musicians — guitarist Matt Wright, bassist Kyle Mikolajczyk and drummer Taylor Greenshields — kicking into the first song. Then, two roadies climb on stage wearing fun lucha libre masks and carrying a huge bag, which they set down the stage, unzip, and exit. Harrington climbs from bag, and we're off. It's dumb and ridiculous, but give 'em kudos for putting on a big arena show introduction for the 40 or so faces in the crowd — half of whom weren't watching — there to see Trixter. But that doesn't stop them giving their all, winning the few attendees over with unbridled enthusiasm. To band members, they're DTE headliners, wearing big goofy grins to back up the dream.
The band pulls out every classic rock pose imaginable —the "foot on monitor and guitar pointed at crowd" move to the "guitar behind the head" to wearing sunglasses indoors at night, but they pull it off. This band of punks knows full well that they're the anti-cool, the anti-hipster and the anti-indie. And it's fabulous, ludicrous fun. Besides, if rock isn't reacting to something, what good is it?
Then there's the music, which is heavily rooted in the classic metal of early Maiden and Dio, with punk-rock winks to Suicidal, DRI and Nuclear Assault, and bits of contemporary metal. They're devoid of the sort of meathead chugging riffery that so many dig their graves with nowadays (Soil, Disturbed, Drowning Pool etc.). Nah, Kro-Magnon brings the fun back to hard rock. And here it is: Kro-Magnon is a metal band Detroit can be proud of.
It surprises that the four band members didn't get musical coaching (and some clothing) from an older sib or parent. Mikolajczyk says they dig for their own shit and share the gems with each other.
Each other? That happened a year ago.
"Matt has used the name for a while with different lineups," the bassist says. "But the current lineup has been rocking solidly since February 2010."
The band's name comes from the Cro-Magnon man, the first early modern humans of the European Upper Paleolithic, who were, no doubt, used to rocking. Indeed, they've a song called "Kro-Magnon Man," which is all about starting fires and shit. "We are Kro-Magnon because we like to have a little mystery behind the name, and Kro-Magnon means, like, Neanderthals, or group of cave people," Mikolajczyk assures.
Because three of these guys are still in their teens, one assumes Kro-Magnon formed to get them laid. At 18, most boys think only with their schlongs, and everyone knows that chicks dig dudes in bands.
"No!" Mikolajczyk corrects. "I got into this because of my love for music and my passion to make it my life, my job."
Right. Either way, the Kro-Magnon kids treat their music seriously, approach it with love and respect. The band plays solely at east side venues for now, but could be hipster-approved ("oh, the irony!") and ready for the Stick or Smalls. Whatever — they're a far better night out than most. Besides, Kro-Magnon is the future of Detroit heavy metal, and we salute you!

One hand in the blog
From the City Slang blog files, at metrotimes.com every day:
On Saturday, June 11, the Belmont "celebrated" its last night before the doors closed for a week and the venue is now a sports bar. How sad. The Belmont, with its "wind tunnel" stage view, has been one of less reluctant places for live music in the last couple years. The final night saw some of the Belmont's fave DJs, including local vet Top Kat, close out a chapter of metro Detroit's musical history (or histrionics!).
Kid Rock plays Comerica Park on Aug. 12, with Sammy Hagar. Neat-o! Don "Doop" Duprie (he of the Inside Outlaws) says he knows that they "have to spend an outrageous amount of money to play Comerica Park and it's a hassle for their camp to make things work over there. So doing it for a second time, that's pretty cool. My only complaint is: I would like to see more local bands involved on some level. I mean, they already have the park all set up, so why not make a day of it?" Meanwhile, Sue Lott of Small Stone rockers Luder says she'll stay home and rearrange her "sock drawer."
The Insane Clown Posse hosts the 12th annual Gathering of the Juggalos at Cave-in-Rock, Ill., Aug. 11-14. Besides ICP and pretty much the entire Psychopathic Records roster, the bill features Buster Rhymes, Ice Cube and Xzibit, George Clinton, Detroit bands Downtown Brown and Critical Bill, funnyman Brian Posehn and, get ready for this, Vanilla Ice and MC Hammer. Let the rioting begin!