MadeinTYO is blowing up for a reason. In anticipation of his show this Saturday, April 1 at the Fox Theatre as part of Big Sean's 'I Decided' tour, we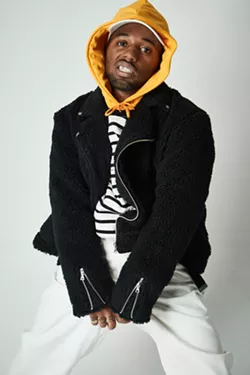 spoke with the young artist about his life, the universe, and everything.
Tickets are still available
, but don't sleep on on of the shows of the year, OK.
Metro Times
: Word came out last week that Pharrell will be doing work on your new album. How exciting is that for you?
MadeinTYO
: Pharrell is a legend. He's someone who has set trends and pushed the culture for years, and he's still doing it. I'm blessed to be able to work with him.
MT
: You lived part of your childhood in Tokyo. How do you think that affected you as a person and as an artist?
MadeinTYO
: Japanese culture is super lit. Everything, from the fashion to the food, leaves little impressions that have become part of my music.
MT
: How would you describe your style?
MadeinTYO
: Effortless.
MT
:What else can you tell us about your upcoming album?
MadeinTYO
: It's going to be crazy! So many new doors have opened. I'm gonna have some crazy features on there.
I just want to continue to grow as an artist, and I think people are gonna see that in the new music.
MT
: Have you even been to Detroit before? And if so; what sort memories do you have?
MadeinTYO
: I've been there before... we were there on The Private Club tour. The crowd showed a lotta love!
MT
: What can we expect at a MadeinTYO show?
MadeinTYO: You can expect lots of energy and to pipe the fuck up!
MT
: Lastly; how has fatherhood affected your outlook on your career?
MadeinTYO
: I'm more focused than ever and just trying to win!