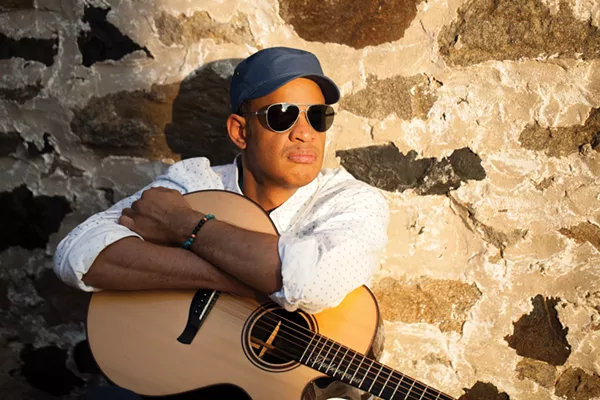 WHAT
: Special performance of genius guitarist and vocalist Raúl Midón
WHEN
: Friday, April 14
WHERE
: Jazz Cafe at Music Hall
SERIOUSLY, WHEN
: 8 p.m.
HOW MUCH
: $30, here:
http://www.musichall.org/events/Raul-Midon
Detroiters who chose to attend Raúl Midón's concert at the Music Hall's Jazz Cafe this Friday are in for a extraordinary treat. Midón's vocal and instrumental talents are breathtaking; his unique artistry transcends genre category, blending brilliant elements of Latin, jazz, flamenco and R&B.
Born blind at birth in Embudo, New Mexico, his father, an Argentinian folk dancer, introduced his four year old to the drum. As a youth, he studied guitar at school, then completed his musical training in jazz at the University of Miami, graduating in 1990. Midón began his professional career as a session singer for the likes of Shakira, Julio Iglesias, Alejandro Sanz and Jose Feliciano. After touring with Shakira, he launched his solo career.
His debut album,
State of Mind
(Manhattan/EMI, 2005) received critical acclaim and includes a guest performance by his idol, Stevie Wonder and Jason Mraz. That year, Midón made his television debut on
the Late Show with David Letterman
. He was featured in the 2009 film
Still Bill
and his music has been used in films, including including the end credit soundtrack of Spike Lee's 2004 film "She Hate Me". Midón has enjoyed critical acclaim and enthusiast endorsement from a host of top musicians he has toured and collaborated with including Bill Withers, Al Jarreau, Sting, and Ravi Coltrane.
His nine studio albums include the heralded
Synthesis
(Decca/Universal, 2009) and his just released
Bad Ass and Blind
(Mack Records/Artistry, 2017). Midón's body of work demonstrates a steady maturation, without a loss of his unmistakable energy and originality. He is bold enough to cover the broadest range of hits, from Steve Miller's "Fly Like and Eagle" to John Coltrane's jazz classic "Giant Steps." Forgive the cliche, but it's his own compositions that shine brightest.
Although Midón's albums are brilliantly engineered and worth savoring at home, his performances bring to life his true genius and personality. Don't miss the chance to experience Raúl Midón in the intimate and comfortable setting of the Jazz Cafe, this Friday evening.