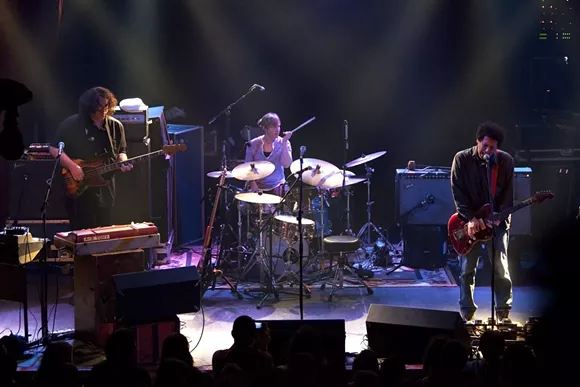 On the bill in the number three slot for day one
of the 39th annual, expensive-but-worth-it (not just for the talent, but because proceeds benefit
The Ark
) Ann Arbor Folk Fest this Friday evening, Jan. 29, is a band originally from Hoboken, NJ called
Yo La Tengo
.
They're not actually a "folk" band, as well all know. But hey, they're touring now behind their stripped-down,
Fakebook
style new album of covers (
Stuff Like That There
) which is pretty darn nifty and folk-ish, so sure it makes sense they'd play a thing like this. Dave Schramm, who played with them very early on and later on
Fakebook
, is joining in on pedal steel this tour, so you know it's going to be extra fabulous.
This is a little bit of a weird lineup. It's pimped as follows: CITY AND COLOUR/ RICHARD THOMPSON/ YO LA TENGO/ THE OH HELLOS/ NORA JANE STRUTHERS & THE PARTY LINE/ PENNY & SPARROW/ BEN DANIELS BAND. What those capitalized letters mean is that Yo La Tengo goes on after a slew of what is essentially the most boring fake-ass white people music that's ever existed since Mumford first begat his Sons — and just before
Richard Thompson
, who is an absolute genius of music. All we have to do is figure out what time to show up to the place!
Surely, there will be a mass exodus to the door after RT and before the beyond horrid music of City and Colour, which is the most banal shit ever — what the fuck is wrong with people, have you heard his music?
It makes Jackson Browne sound like Motörhead
. Anyway, as that barely bearded asshat is the headliner, we can all get back home a bit more quickly. So, there's that.
Because it's my job, I went ahead and forced myself to listen to all the bands playing this folk festival, and let me assure you this is the kind of folk music that doesn't have a single thing to do with Leadbelly or Harry Smith's
Anthology
or Odetta or even the Weavers. This music wishes it were Ben Harper or Sam Beam, but it doesn't come close.
Expect a relentless barrage of casually sweatered mustachioed mellow swill. This is the kind of music which makes you run screaming from a Starbucks after you go in there because you really have to pee and they're the only ones who'll let you use their restroom.
Oh, there is a notable exception.
Nora Jane Struthers
isn't bad at all, of course; she's making superb country rock, in fact. And while
the Oh Hellos
do that upwithpeople campfire marshmellow mouth thing really well, it's still as anemic as it is anthemic. It just begs to be a commercial for the next Chevy hybrid vehicle, lots of animated green leaves and happy smiling white people holding hands before they jump in the brightly colored vehicle of tomorrow which then goes along into a perfect forest.
As someone who caught the very tail end of earnest 1960s style coffeehouse culture in Coconut Grove, Florida in the early 1980s, I understand the need to try to update and elevate a music. As someone who's sat through hours of well-meaning people in the 1990s, from Brooklyn to East Tennessee, who did listen to Dock Boggs way too much, and whose reverent attempts to resurrect an arid Depression era sound in the current day with the most proper clawhammer banjo technique, I understand just wanting to make pretty pop songs or almost anything else instead. But this extra bland, fully apolitical, fun for the whole family and hyper ahistorical folk music, this is what happens when you entirely divorce a sound from any context aside from commerce.
So, I'll totally be at this show and cannot wait as I'm so grateful to the 39th Ann Arbor Folk Festival for bringing both Yo La Tengo and Richard Thompson to town, and we all love to participate in a benefit, and
The Ark
is truly an institution worthy of support.
Because I'm a relentless narcissist, let's watch a poorly transferred clip of video I shot at Ira and Georgia Kaplan's Hoboken apartment in 1987 I think, the duo covering "Everyday" and "Teenager In Love," a few years before they recorded
Fakebook
. The quality is awful but the performance is swell.