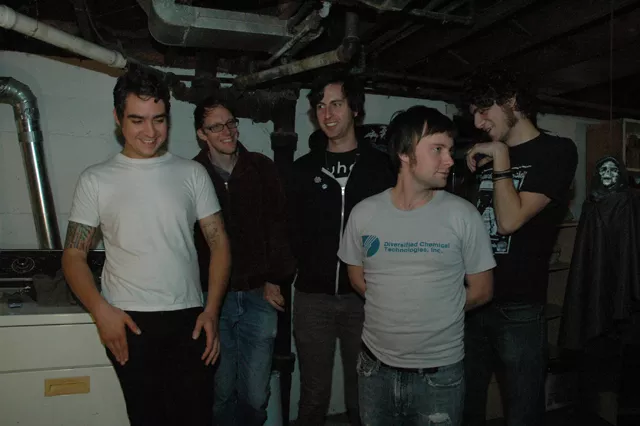 "Songwriting has to come from a moment, a feeling, like, one second," Johnny Ill snaps his fingers, "There, that's where it comes from."
There's a shot of vodka in front of Ill, next to a half-finished piece of toast topped with Nutella spread. Not that that image will be his next song, but, given his typical tune topics, it could be ...
"I don't know about you guys," Ill shrugs, looking round the dining room table at his four band members, stopping at his organist. "Pete likes jazz."
Pete Steffy nods. Art Blakey rises from the living-room stereo. We're in Pete's house, and his roommates include Scott Dunkerley, head of local label X! Records, and Jeff Else, co-owner of Corktown Cinema, the new project from the old Burton Theatre team.
You should know that X!'s notable releases include the Terrible Twos' self-titled debut and Fontana's first and final full-length album. Terrible Twos singer-guitarist Chris Campbell sits here too. He also drums for the Johnny Ill Band. Fontana guitarist Paul Derochie is next to him, also, now with Ill. There's a stack of cardboard boxes in the corner, housing vinyl albums for a band on Dunkerley's X! roster, perhaps the Johnny Ill Band's latest 7-inch "In the Wintertime," or new LPs of the Frustrations, Dunkerley's own "loud rock band," for which he plays drums.
I'm inside X! headquarters one night and Dunkerley won't be home till later. I'm spending one evening with Ill's band (which includes bassist Matt Larson and, of course, Johnny on guitar-vocals).
Four bands each share this house's basement for rehearsal space — Johnny Ill Band and the Frustrations along with jazz-punk sextet the Beekeepers and keyed-up quartet the Terrible Twos.
(Dunkerley: "Every house I live in winds up being the practice space," for bands in the X! galaxy.)
Now, the word "punk" is the elephant in the room. That's what some might expect from the Johnny Ill Band's new LP Ask All the Doctors, (out Friday, on Urinal Cake Records), since that is, ostensibly, the company his band has kept, same for Dunkerley and Campbell, each sufficiently into the perceived "punk" "scene" here, fostered by big-brother types like Human Eye's Timmy "Vulgar" Lampinen and Heroes & Villains' Jeff Fournier.
"We're not really a punk band, but we play with 'punk' bands," Steffy says, "We're part of it, but that scene has expanded a lot."
Indeed, much of Dunkerley's X!-curated 2009 compilation Shiftless Decay: New Sounds of Detroit leans more toward, if anything, psychedelic-noise-rock.
And forget that I wrote the word "punk" to describe Steffy's other band, the Beekeepers. "Beekeepers," he maintains, "is totally not a punk band ..."
"I thought of you more like a jazz band," Derochie offers.
"A punk band at heart," Campbell throws in.
"This scene's more diverse," Steffy says. "You'd be hard-pressed to find an authentic straight-up punk-sounding band."
Campbell rolls his eyes, and says, "and what does (punk-sounding) even mean?"
The Ill Band's new album is weird. Doctors is minimalist fractured-pop through charmingly atonal, and often non-rhyming. Vocals, ranging from fuzzed-out shouts to talky or melodic croons, are bolstered by tumbling drums, buzzy organs, bouncing bass and guitars effortlessly move from jangly three-chord strums to feedback death knells.
The words are blunt, amusing — quirkily phrased gripes and, at points, stuff that's strangely relatable.
"It's got pop's jauntiness, with punk's blemishes. These are "pop songs from my perspective," Ill says. Steffy calls it "extremely honest" writing, without, Campbell adds, being "overly emotional." After songs about real events and real people, friends badger him to namedrop them in the next song. It can't be forced, Ill says; it's all in "that moment," be it Nutella or washing machines, cars or the "weird sex temple" where they recorded Doctors — in truth, the temple was an eerie cabin in Chelsea that had the feel of an outpost for swinger's orgies.
But back to punk.
"There's still a sound, here," Dunkerley says at his house the next morning. "A sound that I want to document, that fits with X! Records, that I've built up to this point." Dunkerly started the label out of high school, back in 2003. "I want to continue documenting as long as it's going on. [The Frustrations] don't write to a certain genre, guitarist Colin Simon, bassist Sean Duffy and I bring different parts and put it all together, which can be odd."
Simon, who operates his own guitar and effects-pedal repair company out of Royal Oak, often brings his own sound to recordings. So with Duffy likewise utilizing various effects for his bass — and Dunkerley dipping into his unhinged jazz sensibilities — the music on the Negative Reflections LP has evolved considerably from the "straight-ahead-punk" of the band's '08 debut.
"People see the bands we play with and think we'll sound like whoever," Dunkerley says. But many in X!'s extended family, like the Ill Band's blender of Ray Davies, Jonathan Richman and Jay Reatard, or the Frustrations' psych-scorched rock, are harder to pin down. That's a positive, Dunkerley says. "We wind up fitting with hardcore bands or noise bands or rock 'n' roll ..."
Johnny Ill Band's album release show happens Friday, Dec. 16 at Jumbo's, 3736 Third St., Detroit; 313-831-8949. SROS Lords also celebrate their new 7-inch.
The Frustrations and Feelings will perform at Corktown Cinema's screening of Instrument — Ten Years with the Band: Fugazi on Thursday, Dec. 15, at PJ's Lager House, 1254 Michigan Ave., Detroit; 313-961-4668. Suggested donations will benefit the cinema.
Don't go in the basement: Johnny Ill Band: (from l.) Johnny "Ill" Garcia, Matt Larson, Chris Campbell, Pete Steffy and Paul Deroachie.