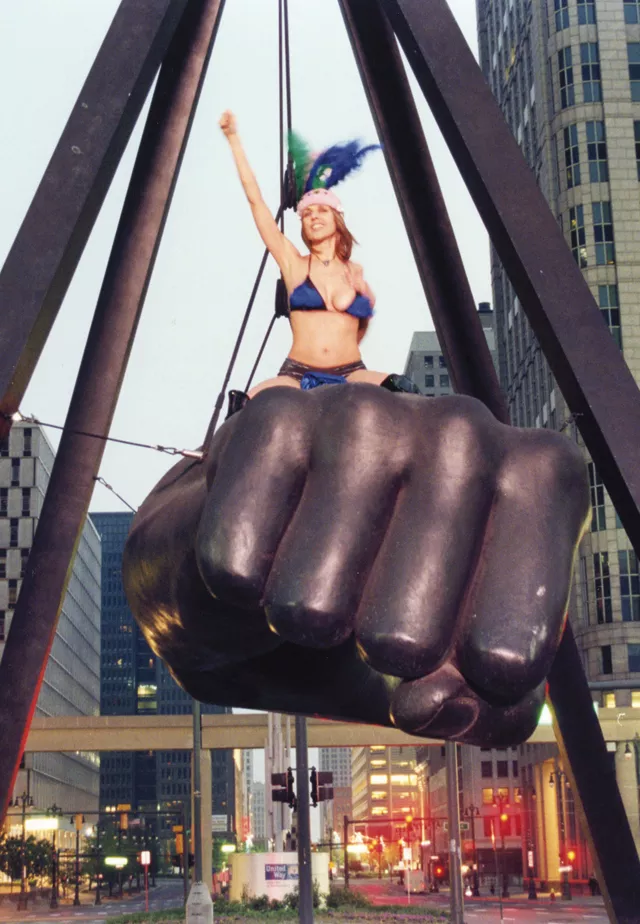 Margaret Doll Rod plays Saturday, Dec.15, at Small's, 10339 Conant, Hamtramck; 313-873-1117; sharing the bill with the Seatbelts and Circus Boy. She'll also be part of the Friday, Dec. 14, birthday celebration by promoter and ubiquitous scene presence Stirling at Corktown Tavern, 1716 Michigan Ave., Detroit; 313-964-5103.
Between 1994 and 2007, the Demolition Doll Rods were among the most exciting live rock 'n' roll bands in Detroit. The trio of singer-guitarist Margaret Doll Rod, her drummer-sister Christine (replaced by Tia Doll Rod for Christine's maternity leave as the band wound down) and guitarist (and former Gories man) Danny Kroha caused a stir in just about every dive bar they set foot in thanks to 1) some gloriously trashy garage rock and 2) the fact that they wore next to nothing.
The Doll Rods put out four albums in 13 years, the last being 2006's There is a Difference. In the mid-'90s, they opened up the second stage of the Lollapalooza tour, performing before the Cramps, the Jon Spencer Blues Explosion and hometown boy Iggy Pop. Later, when the White Stripes, the Von Bondies et al. started to have big hits in Europe, many felt that it was only a matter of time before the Doll Rods found transatlantic success themselves. After all, what more did those crazy Brits want? The Doll Rods were offering great licks and nudity.
Then, in April 2007, it was all over. Kroha posted a message on the Doll Rods' Myspace page saying, "I have decided that after 13 years of non-stop Doll Rod action, it is time for me to take a break for a while (don't really know how long). I am very proud of all we've done as a band and I want to thank everyone who has loved and supported us all these years."
Kroha went on to play with the Readies and, more recently, Danny & the Darleans. Margaret, however, has occasionally jammed with punk lads Circus Boy, but when she does step on a stage, she's usually all by her lonesome.
"When you play with other people, you're loving them and looking out for them," she says. "When you're by yourself, you're just playing and not thinking of anybody else. That's nice, but I miss them. I love playing with other people. Other people, for me, are fabulous, and they always bring such wonderful things into my life. Whatever the universe brings me, it's my responsibility and opportunity to see where the treasure is. Sometimes it's challenging but always fun."
And with the exception of a few solo shows, what has Margaret been doing since the breakup of the Demolition Doll Rods? "I've been continuing to write songs because that's what I do," Doll Rod says. "I've been going back and forth between Detroit and Italy, so I'm enjoying that part of life. Making new friends and appreciating the old ones. Missing the old ones a lot. I'm working on a new, heavier project called Pink Metal."
The singer splits her time between Detroit and Italy because of family ties in both places, and she admits that the two cultures couldn't be more different.
"I have family there and here," she says. "When I'm over there I miss Detroit a lot, and that works both ways. I write music and play guitar there. I help my husband, but nobody pays me anything. I just do what I love. Everybody says that I speak good Italian, but I still feel that I'm a monkey when I try. I can communicate and that's the most important part. I'm good at waving my hands around. There's a lot of eye beaming so that helps."
And about her husband: "He is a technical diver instructor trainer and underwater explorer, and his name is Paolo."
The wonderful dichotomy that surrounds Margaret Doll Rod is that, in person, she's incredibly self-effacing. She's humble, and she makes fun of herself at every opportunity. Yet on stage, she strips down to virtually nothing, suggesting unbelievable confidence. To her, this writer is simply overthinking things. "I'm not very good at being mindful," Doll Rod says. "Mind empty. Mind void. I like to do whatever I feel like. I don't really think about it. I know that it's sometimes challenging for people, I've realized that over the years. Going out crazy half-naked has been kind of shocking, and I never thought of it that way. I thought that the less stuff that I have on, the easier it is to get to know me. I don't carry fashion so well. God made this. You've got to love it. Here it is. I'm more than happy to share it with you."
Even when she's on her own, as she will be at Small's this weekend, the very slight Doll Rod can fill a stage better than most full bands thanks to her unpredictable and inimitable stage presence and style. She's a mass of sexual energy, a blond rock dervish. The tunes might not be as full, but they're just as trashy, and the stripped-down effect of a one-woman-band (guitar and kick drum) is actually appropriate for the music. Still, she admits that she misses her old band. "I'm trying to go see my sister, who was the drummer, as much as I can," she says. "She's in Chicago. I miss her like it hurts. I miss Danny too. I'm happy for him. I heard his band and I really like them. That was a wonderful part of my life."
Any chance of a reunion then? "I don't do a lot of thinking because I'm not so great at it," Doll Rod says. "I just want to let the universe guide me to where it wants me to be. If that's what the universe wants, then so be it. I know that we gave it our best when it was happening, so I feel good about that."
For now, Margaret Doll Rod is more than content to go the solo route, relieved to have to rely on nobody but herself. "I certainly cannot play one drum like my sister played two," she says. "Danny's got a lead guitar style that I just cherish. He's fabulous. I don't see that my solo stuff has that. But the music comes from my heart so in that way it isn't any different. Sometimes it's a little more primitive because I'm by myself so I don't have to share with anybody and make sure something is OK with them. Sometimes it's a little more primal, and about giving the last shredded pieces of my gut, when that might not have been OK with either of my band mates before. They'd be like, 'Do you really have to say that or do that,' and I'm like, 'Yeah, I do, and I have to shake my butt.' Now I can just speak with all my multiple personalities, and they tell me to go ahead and do everything."
The sweet, scatterbrained singer is keeping herself super-busy, currently finishing up two albums. "I've got the solo record almost done," she says. "I'm working on the mastering here. I'm really excited about it. Hopefully it'll come out soon. I don't have a record label. In this last year, I recorded an entire album for Pink Metal and I recorded all my latest Margaret Doll Rod stuff. I'm hoping to have it all mastered and get it together, then I'll start looking around to see if anybody wants to put it out. If not, I'll do it myself."
As for what we can expect from this weekend's show? Typically, Doll Rod hasn't given it much thought. "I don't know. I'll give it all I've got like always. That's a tricky question."
You did just fine.
Brett Callwood writes for Metro Times.
Send comments to [email protected]