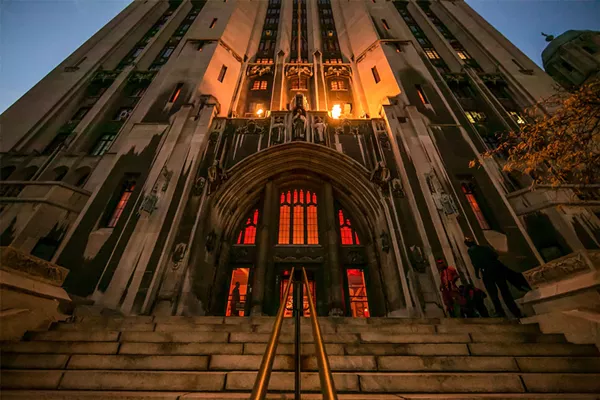 Things are looking up for the world's largest Masonic Temple.
The historic Detroit venue will get a $2 million renovation as part of a new operating agreement with AEG Presents.
Under the deal, announced Thursday, Los Angeles-based AEG Presents will also exclusively operate and book talent for the venue's 4,400-capacity Masonic Temple Theatre and the 1,586-capacity Cathedral Theatre. AEG Presents will also provide $2 million for restoration and renovations to the nearly 100-year-old building.
The deal comes after AEG has booked a number of high-profile acts at the Masonic dating back to 2013, including gigs by Lana Del Rey, Jack White, the Killers, and LCD Soundsystem, among others.
"We are thrilled to expand our relationship with the Masonic Temple and their incredible theatres which continue to play an important role in Detroit's live music scene," AEG Presents North America president Rick Mueller said in a statement. "Our financial investment will enable us to restore some of the Temple's most historic features and allow us to upgrade elements such as the sound and lighting systems to further improve the experience for our guests."
Construction of the structure, which includes more than 1,000 rooms, started in 1920 as a meeting place for Detroit's Freemason organizations, but they bit off more than they could chew. The Great Depression halted the project, and to this day its top three floors remain unfinished, which include a swimming pool and yet another theater.
As of 2014
, Detroit's Masonic Temple had just 3,3000 members, less than half of which paid membership dues — hence the need for public entertainment deals like the one with AEG Presents.
The investment from AEG Presents is in addition to the
$3.7 million renovation project
announced at the venue last year, its first major renovation since 1990. In 2013, Jack White, whose mother worked as an usher at the Masonic and who has performed there numerous times with his band the White Stripes, anonymously donated $142,000 to pay off the building's back taxes.
The Masonic Temple joins the Majestic Theatre complex as an AEG Presents investment. In May, the Majestic Theatre announced a partnership with AEG Presents for a $1 million renovation to restore the venue's exterior, upgrade its stage, and renovate the café and main concert hall.
Get our top picks for the best events in Detroit every Thursday morning.
Sign up
for our events newsletter.