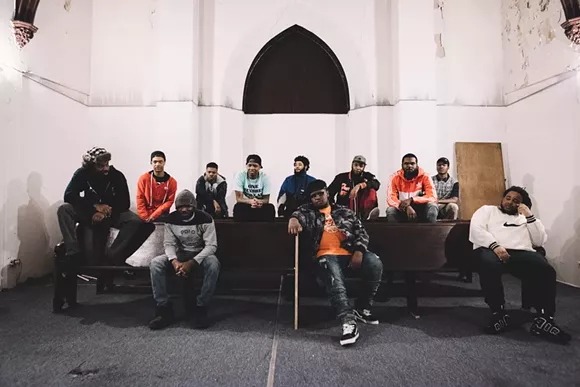 In the tradition of Detroit's own Almighty Dreadnaughtz, the Creative Minds Coalition (CMC) has emerged as one of the most talented assemblage of emcees and beat makers in the city. Hip-hop has consistently moved toward groups that are multi-talented, and diverse; CMC is most definitely those things, so Metro Times sat down with them recently to catch-up.
Metro Times: Who are the members of Creative Mind Coalition?
Nolan the Ninja: Myself, Ashton Woods, B-Nix, Phil Swish, Richy Marciano, Choice Gaines, Ace Pearl, Eli Myles, El Supreme, Brando Heat, ACMPLCE, Solomon Rich, and Nysa Terrian.
MT: How did you guys come together? And what's the story behind the name?
B-Nix: Well, it started with Ashton Woods and I meeting in high school in around 2006. I told him that I rap, and he told me that he made beats. Soon after, I brought the idea of a record label to him, and the rest was history. CMC simply stands for Creative Minds Coalition.
Ashton Woods: I wanted to put together a team of producers and songwriters that'll become a powerhouse within the industry, and consistently create culture-moving records in many genres of music (obviously, primarily hip-hop). Creative Minds Coalition is the name that we run with. We're just a group of creative-minded people that have come together for the common purpose of making great music.
Nolan the Ninja: We also refer to the camp as CLDGME at times. It's basically a movement within the collective that was started by Choice a few years back.
MT: Was the 12 Day Classic compilation the first CMC project, back in 2011?
Phil Swish: The first 12 Day Classic was released in 2010, which included 12 songs that we released on social media, when we released a song every day, from the 12th of December to the 24th. It was seemingly innovative; we were able to garner a pretty good draw from the method of our releases.
Richy Marciano: That was the first body of work we did together as a collective. It gave us an idea on how to actually work together as a team.
MT: If you just read the lyrics to "So Good," one might think it goes with a trap song, but the beat is extremely melodic. Was that by design?
B-Nix: Yes, it was by design. Thanks to Woods!
Solomon Rich: I don't think we intended to give off that vibe at all. I came into the studio and the team had already laid the foundation of the record down. I could tell those guys were genuinely having fun on this record. I saw it as an opportunity to let loose. The beat has a certain bounce to it, so I just think we all might have approached it different but nothing was done purposely.
Ashton Woods: The record is very melodic, but trap? Nah. That's hip-hop all the way. (Laughs) Honestly, that song was made around me screaming about a cup of coffee from Tim Hortons. We were in a 24-hour lock-in session and I needed a pick-me-up so I went to grab coffee for the crew. Not too long after, ACMPLCE started singing over it. I told him to cut those vocals, and I started formulating the song's content. I just told the fellas to spit they game to the ladies.
ACMPLCE: The way "So Good" came together was actually the complete opposite of the "by design" method. We were all in the studio vibing. Woods started drinking his coffee and stopped to express how good it was. I started singing "it's so good," and here we are. (Laughs)
MT: You guys have a lot of members in your crew. Did you model your crew after anyone (like Wu Tang or Odd Future), or did you guys just organically assemble this many emcees?
Nolan the Ninja: It's just an organic bond. Everyone gets along. When we're all together, it doesn't always be on some music shit. We could just be chilling, smoking, and playing Mario Kart. (Laughs)
Ashton Woods: CMC was not modeled after any other collective and was not intended to be. We came together organically over a 10-year stretch.
Brando Heat: The core of the group all grew up together or went to school with one another. And through the years, some of us tagged along because of our connection to the group members and them respecting our work and individual sounds as artists.
MT: "Fold" feels like an inspiring Detroit boom-bap cut. I feel like you guys are addressing that everyday struggle to get to that preverbal "next level." Am I correct? Also it seems we get a lot of cuts like this from Detroit emcees. Why do you think that is?
Phil Swish: A lot of people go through the same struggles. I'm young, black, and impoverished. I'm rough around the edges, but I still have a taste for the finer things in life. Our struggles don't define us, but our willingness to keep fighting through the adversities is what counts. I'm pretty sure there are plenty of people, no matter the ethnicity, gender, financial status, etc., who could understand my content as well as my team's content. We all express the same highs and lows; we just paint over different canvases.
Nolan the Ninja: Also, here's a fun fact: DeJ Loaf did background vocals on that song!
MT: How long will CMC remain a group? Is the goal for everyone to branch off into solo projects?
Eli Myles: Coalition forever. Solo projects will indeed be made, but once again, Coalition forever.
B-Nix: CMC will remain a group forever, in my opinion. The main goal is for everyone to do their own thing representing for the Coalition.
Ashton Woods: The Coalition is a label. The Coalition is forever. Everyone in the Coalition is entitled to have solo projects.
MT: What album or shows do you guys have coming up?
Brando Heat: We have the group project still in the works. Hopefully, in the summer!
Nolan the Ninja: Starting on March 23, I'll be doing weekly beat sets at Magic Stick. I'll also be performing in Lansing on April 8 for the Capital City Film Festival. Aside from that, I'm mastering my next album and brainstorming the CMC project with everyone. Throughout the year, there'll definitely be several solo projects dropping from the camp. Like Richy and Swish!
Richy Marciano: I'm working on a trilogy of EPs titled RiskItAllRichy, and more.
Phil Swish: I'll be going to SXSW and New York throughout the rest of the month to work on some things. And of course, I'm definitely prepping my next release.
MT: Detroit has this line cut right down the middle between trap and boom-bap emcees. There are the artists who just want a feature on WorldStar, and others who are getting validation and "looks" from Hip-Hop DX, Complex, and Fader. How do you guys feel about both hip-hop scenes in Detroit?
ACMPLCE: Both scenes are needed in my opinion.
Solo: I respect any skilled artist who is genuine and true to themselves. I feel like the balance in Detroit music is needed. For different type of people, there are different types of artist who speak directly to them.
El Supreme: In my opinion, there's a thin line between J Dilla and Blade Icewood in Detroit's hip-hop/rap scene. There is room for it all, because it puts a light on the city to let the world know that Detroit is still a solid contender when it comes to hip-hop/rap. I do feel like the hip-hop aspect gets overlooked by "trap rappers" because people have gotten accustomed to that particular sound but there's so much more to offer. Nonetheless, it's a lane for both and they both benefit the city.
Eli Myles: I feel like both styles of Detroit music are heading in the right direction.
Choice Gaines: It's all love from me. One day we're going to bridge that gap and make the city music scene the superpower that it has potential to be.