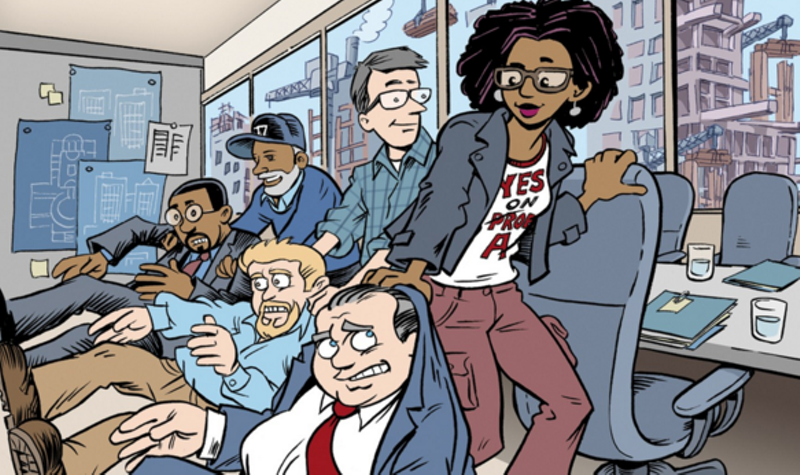 Remember last year's election? Detroit voters were asked whether they'd like a law mandating that when big developers get public subsidies, the people should have a say in that development. While community benefits agreements have been increasingly common since the 1990s, a community benefits
law
, one that presented thresholds at which negotiations would have to take place, would be a first for a big city.
Actually, Detroit voters were offered two competing community-benefits ordinances to vote for, with one narrowly winning out.
In fact,
when we covered the issue back in October
, we noted that some people felt that Proposal B was a stalking horse to defeat Proposal A, which was worded more strongly so as to require developer-community negotiations, as opposed to developer-council talks. Proposal B left the negotiating power largely in the hands of the city, and wouldn't produce a binding contract between the community and the developer.
As Linda Campbell, Detroit project director for the Building Movement Project, told us:
The way we activists look at it, [Proposal B] is a reaction to Proposal A. As far as we can tell, Prop B didn't come on the scene until after we had done the hard work of gathering the petition signatures and moving to put our proposal on the ballot. Then we heard stirrings in city council of a competing ordinance.

That competing ordinance, backed by developers, trade unions, and most major media, scared enough people into believing that Proposal A was a "shakedown tax" that would "stop Detroit's job growth in its tracks."
Now turn your eyes to the city of St. Louis, where
two competing community benefits bills are vying for support
. Roughly speaking, the analogous situation breaks down like this: The bill supported by Alderwoman Megan Ellyia Green is Detroit's Proposal A, the bill introduced by Board of Aldermen President Lewis Reed is Proposal B.
Just to see how much of a replay this battle is, consider this:
Campbell had said Proposal A aimed to produce "a legally binding agreement between the community and the developer," and that Proposal B wasn't really a CBA ordinance "because it negates some of the core elements of a CBA by transferring power and decision-making to city council, the planning director, and the administration. That's not what a CBA does or is."
And Wayne State University assistant professor Eric Williams had complained, "There's not a single thing under proposal B that can't happen now," Williams says.
Now read this quote from the
St. Louis American
story:
Instead of giving community members a seat at the table to have input of what they would like to see, it puts everything in the hands of the alderpeople who are already doing this. It's what we already have.