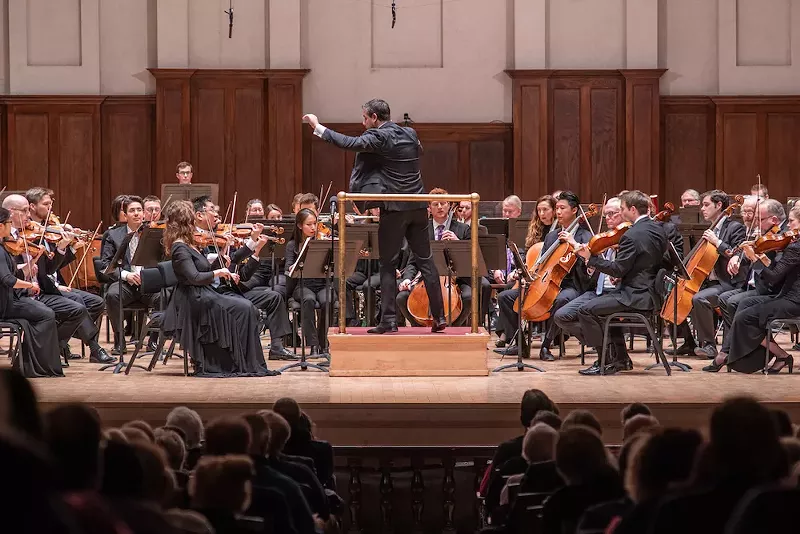 Here's your chance to visit the Detroit Symphony Orchestra for the low.
On 313 Day, the DSO will be offering tickets at $3.13 when purchased on March 13 to celebrate the city's famous area code. The promotion only applies to select performances including RESPECT: A Tribute to Aretha Franklin, Leila Josefowicz & Mendelssohn's Symphony No. 3, Hadelich & Stravinsky, and more.
And yes, $3.13 is the total price, as any additional fees will be waived.
Tickets must be purchased between 12 a.m. and 11:59 p.m. on Monday, March 13 online at dso.org/313day, by phone at 313-756-5111, or in person at Orchestra Hall's box office. When buying online, you must enter the promotional code which will appear on the URL above from March 9. At the box office, just mention the "313 day promotion."
The full list of concerts available for this promotion is below:
Christian McBride's New Jawn: March 24 at 8 p.m.

Hadelich & Stravinsky: April 27 at 7:30 p.m., April 28 at 10:45 a.m., April 29 at 8 p.m.

Leila Josefowicz & Mendelssohn's Symphony No. 3: May 19 at 8 p.m. and May 20 at 8 p.m.

Earth Day is Every Day: May 20 at 10 a.m. (General Admission)

Young Person's Guide to the Orchestra: May 20 at 11 a.m.

Respect: A Tribute to Aretha Franklin: May 26 at 8 p.m. (limited availability)

Coming soon: Metro Times Daily newsletter. We'll send you a handful of interesting Detroit stories every morning. Subscribe now to not miss a thing.

Follow us: Google News | NewsBreak | Reddit | Instagram | Facebook | Twitter