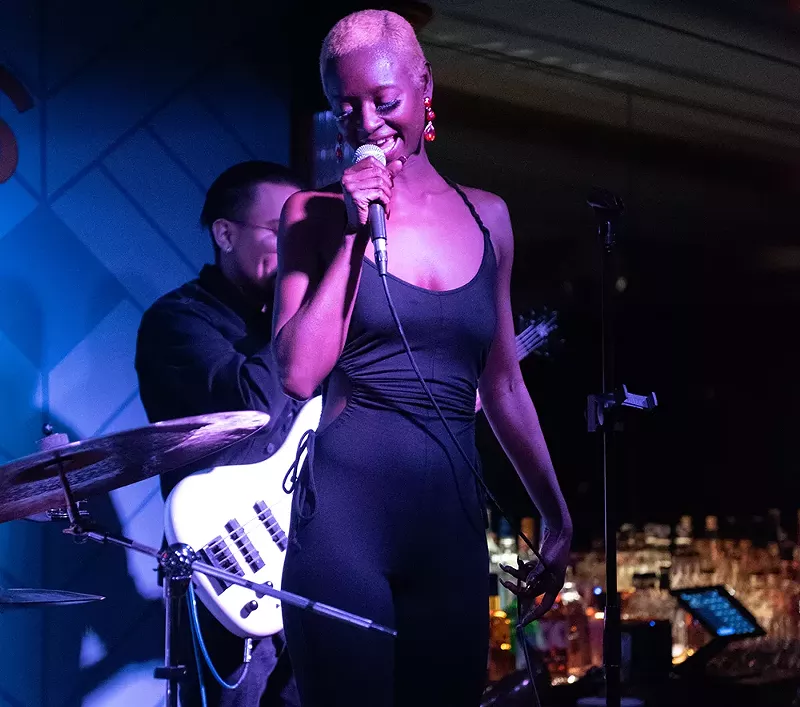 Dominique Mary Davis is halfway through her set at Willis Show Bar in Detroit's Midtown on a recent cold winter night. She smiles, she sings, and she laughs. She then begins to talk to the crowd about a former love interest.
"You know how you date somebody you know you shouldn't be dating, but do it anyway?" she says. "That's what this song 'Dangerous Man' is about."
Her small talk is cute and overwhelmingly likable. There's an easy energy and commonality in her stage presence that draws the audience in. Davis released "Dangerous Man" more than a year ago, and it has become one of her most popular and requested songs.
"It's about a guy I was in a situationship with that really just wasn't supposed to be there, but it still was enticing because it was one of those, 'it felt right but it felt wrong,' and all that," she says days later, sitting in an Hamtramck apartment. "I had to write about him. I write about all my experiences, so he had to get a song and it just happened to be everybody's favorite song. He was a great guy, he taught me a few things, but it was very short-lived and it was very unnecessary," she adds through a laugh.
Davis was born in Columbia, South Carolina, but moved to Hamtramck when she was three. Her musical influences came from all directions; her mother loved gospel and R&B, and her father was a heavy neo soul fan. She says she fell in love with singing around the same time she learned to read and write.
"I had my revelation early, I knew this is what I was meant to be," she says. "I'm here to sing, I'm here to write music, I'm here to connect through music."
Hamtramck has also made an impact on her music and played a significant role in her development.
"I've had the opportunity to experience the world's music right here," she says. "Growing up when we did, talent shows at the school, they were multicultural shows. You got to listen to what the Bengali kids were doing, I had my crowd, and then you got to listen to what Bosnian kids were doing, you got to see the dances, taste the food. It gave me sonically a wider range of what sounds good."
Davis graduated from high school in 2014, and later enrolled at Wayne State University, majoring in business. She happily picked up singing gigs on the side and as time went by, school credits took a backseat to open mics, singing covers, and the overall effort she was putting into music. She was offered stage time at different events for Eastern Market, she performed at a Democratic Party Jefferson-Jackson Dinner, and even sang the national anthem for newly sworn-in American citizens at Hamtramck's Polish National Alliance Hall. By 2017, she decided it was time to start recording and releasing music.
"It started naturally," she says. "I knew a friend that maybe knew how to record and had a little set-up. We were in the back of my apartment, super hot, and we were sweating bullets, but we made a few tracks and I put them on SoundCloud."
She released the Troubled Waters EP in 2017 as more of a way to get her feet wet within the recording music process. In 2020 she followed it up with the soulful Elements, a seven-song musical odyssey that encompasses all the transparent parts of her spirit, perspective, and her experiences.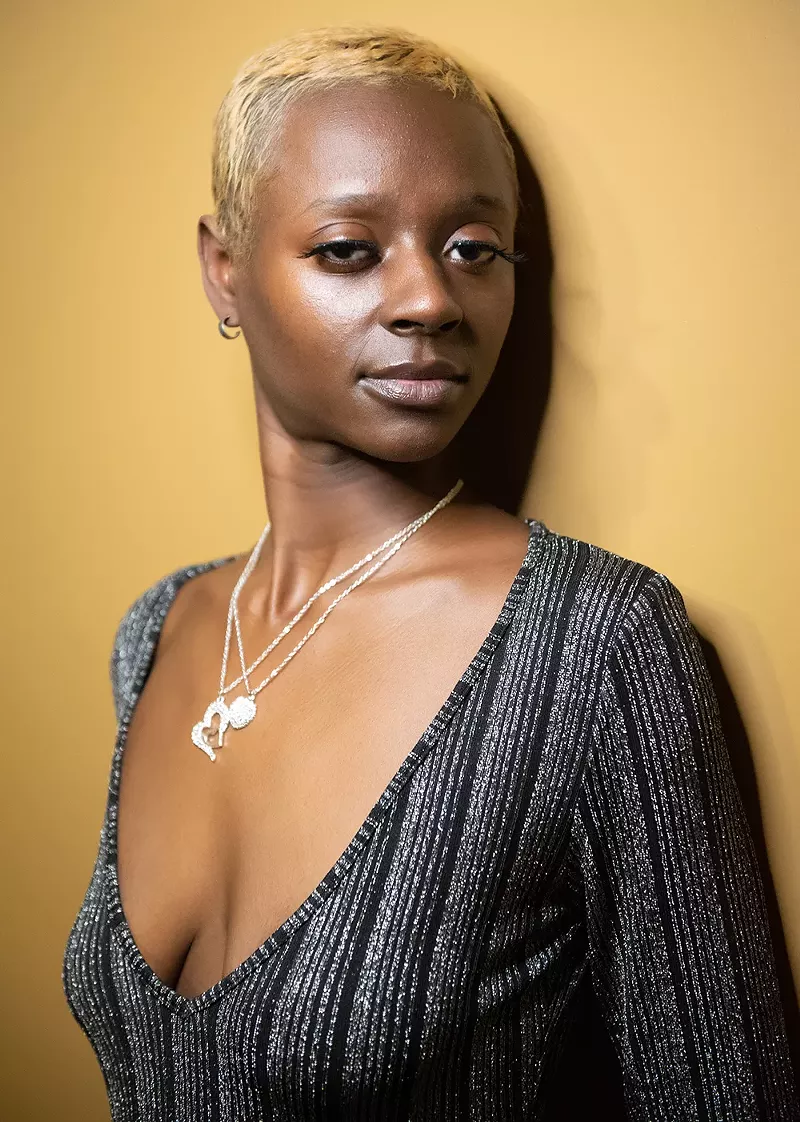 "A motherless child/ I'm too good for this 9 to 5/ I'm better than wanting to die/ I'm over so over his cries/ I don't know if they are my friends or/Are they just playing me," she sings in the opening track, "Scorpio Sun."
"Elements is a pandemic baby," she says. "It's about the elements of how I came to be. The first song 'Scorpio Sun'; that's my sign. 'Libra Moon,' 'Leo Rising' — there's a song about my family on there. I'm literally giving everyone their own little shoutout: the way I love, the way I move, the way I see, just the elements."
Her next project was Rooted, a very concise but powerful four-track EP in which Davis musically continues her self-exploration. Her flow and singing live in a unique space between SZA and India.Arie. "Wants + Needs" is her declaration of what she wants from love and in "Control," her flow is more poetically hip-hop. "Needed something from my soul/ something that I can pack up with me and go somewhere," she sings.
"Rooted is a beautiful project," she says. "It's my musical experience of opening my root chakra. It's spiritual. We have seven chakras. My experience is understanding how to root myself. It also talks about the guy that made me want to figure out where I'm rooted and what's going on. My favorite song is 'Headphones.' It's my ode to music. It's really just me [saying] that is always going to be this right here. At the end of the day, I'm rooted for music."
As Davis continues to emerge as a woman, so does her style, approach, and aspirations. The things she wants from music are constantly evolving because she's committed herself to a spiritual path of self-enlightenment. She promises she's going to go back to Wayne State to get her business degree, because she wants to fully comprehend and be in control of all aspects of her career on and behind the mic. As she grows as a person, so does her music.
"I'm more mature, I understand patience a lot more than I did before," she says. "I have been able to let go of wanting everything to be perfect because it isn't. This Dom is able to adapt faster than she used to. This Dom is more passionate about the sound more than anything. At any point that it becomes more about anything else than the music, this Dom wants no parts."
You can catch Dominique Mary Davis perform at 10 p.m. on Saturday, Feb. 11 at Billy's Lounge; 1437 Wealthy St. SE, Grand Rapids; 616-459-5757; billyslounge.com; tickets are $10. She is also scheduled to perform Friday, Feb. 24 (time TBA) at Tuxedo Bar 11745 Woodward Ave., Highland Park; 11745tuxedo.com; no cover.
Coming soon: Metro Times Daily newsletter. We'll send you a handful of interesting Detroit stories every morning. Subscribe now to not miss a thing.

Follow us: Google News | NewsBreak | Reddit | Instagram | Facebook | Twitter