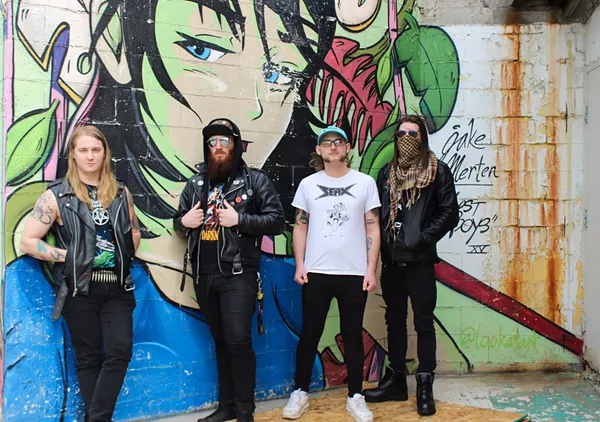 Space is the place for stupidly fast riffing, triumphant guitar harmonies, inhuman shrieks, and shirtless headbanging as far as Detroit sci-fi themed thrash-metal band
Euphoria
is concerned.
Formed in early 2016, the band has already self-released its first full-length album and toured the Midwest and East Coast. This week they'll debut a new EP on their new label home, U.K.-based
Evil Eye Records
, while also raising money for an upcoming European tour to start later this month.
Featuring Justin Kelter on vocals, Bubba Colonna IV on guitar, Louie Badalament on drums and George Ford on bass, the band hits the technical marks of progressive thrash metal greats, like Voivod and the more recent Vektor, with plenty of fun nods to the big four of mid-'80s American thrash metal. (If Metallica's
Hardwired...
and Megadeth's
Dystopia
played like over-hyped "return-to-form" letdowns, look here instead).
Badalament
and Ford also used to play in the awesome, punk-flavored death metal group Axe Ripper.
On Saturday, Nov. 11, Euphoria releases its new EP
The Omega Void
as a limited-run cassette with a show at New Dodge Lounge, where Badalament's been working as a bartender and booker since the band got started. Evil Eye is also putting out a double CD for the band that will include a re-release of debut full-length
Operation: Genesis
and the new EP in one package. A second full-length is in the works for Evil Eye to release next year.
Like Genesis, the new four-song EP was recorded by Vince Williams at Mount Doom Studios in Warren. The first record sounded great, and the production seems even a little cleaner this time around, with Kelter's blackened screams pushed to the front and coming through loud and clear. The band also experiments with new instrumentation on a couple of shorter instrumentals.
"We wanted to continue playing our style of sci-fi thrash while experimenting with a few new things we weren't able to with Operation: Genesis," Badalament says.
Conceptually, Kelter calls
The Omega Void
"a celestial record of our universe and all that exists within and beyond," "the mathematical representation of reality, "a realm of infinite omnipotence," and "algorithmic programs that (are) responsible for all creation." Hell yeah!
Saturday's gig is the band's last before a nine-day run in Europe with Italian thrash metal band
Game Over
, with stops in Holland, Belgium, France, the Czech Republic, and Germany, starting on Nov. 19. The trip is the first European tour for anyone in the band.
To celebrate the occasion and help make some emergency fund cash, the band is also holding a raffle with lots of prize giveaways, including rock, metal, and punk releases on CD and vinyl, as well as some
seriously rad looking new T-shirts
designed by cover artist Brian Thuringer.
Badalament says he is "beyond stoked to play new places, see new things, and make new friends abroad."
Euphoria's EP release show and European tour fundraiser is Saturday, Nov. 11, at New Dodge Lounge, 8850 Joseph Campau St., Hamtramck; Doors at 8 p.m.; with Shit Life, Stacked Deck, S.U.B., and How I Quit Christ; Cover is $10; 21 and older welcome.