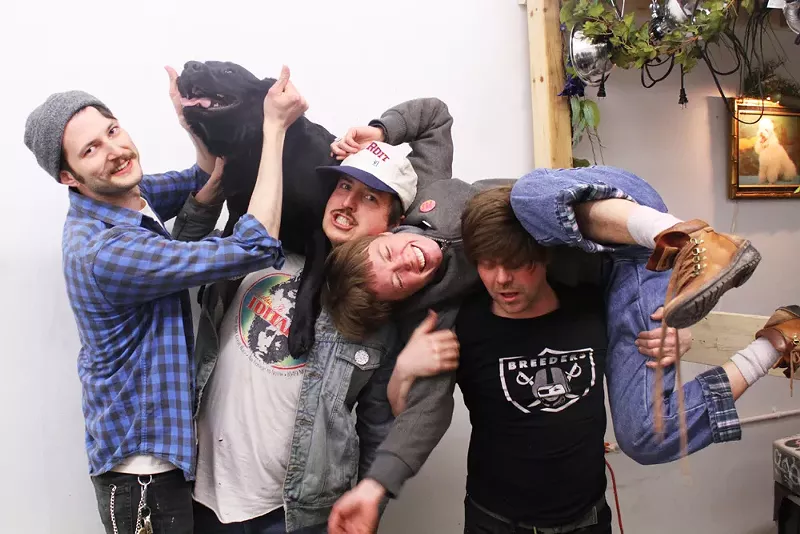 Teener is having a conversation with you — that is, if you're listening close enough.
There's a hellstorm's amount of distortion, decimating drums, gnarly tones, and flamethrower vocals, but the intensity of the instrumentation is statement onto itself, along with the lyrics' unapologetic provocations and paradigm-puncturing indictments of the patriarchy, or any other outdated puritanical lingerings of a chauvinistic status quo, all of it designed to be maximal in ferocity so as to mimic something like dynamite to a rock quarry. Something should be — has to be — jarred loose.
"I feel like I turn into something on stage," says lead singer Ollie Dodt. "A lot of it is about vulnerability for me. I call myself an intimacy whore; I love just being able to be an exhibitionist, to do and be whatever I want to do or be in that moment. I can be my emotions. And on stage, no one can interrupt you. [I also want] to give other people permission to be themselves."
Ollie, who's fronting their first band, identifies as non-binary and prefers they/them pronouns. They are joined by guitarist Jeremy Damaske, drummer Shayne O'Keefe, and bassist Brach Goodman, who they have been friends with for several years. Jeremy's local music scene tenure stretches back more than 10 years, to the spacey post-rock band the Summer Pledge, which led to the formation of a hardcore punk trio in the mid-2010s that included Shayne called Touch. Brach, meanwhile, is Teener's bassist, but also an artist, graphic designer, and co-founder of the DIY art space KO Studio Gallery in Hamtramck.
Ollie first started performing poetry in spring 2017, at first in a non-musical format. Around that time they bumped into Jeremy in Woodbridge, who had just completed a few songs with Brach and Shayne, and had a first show coming up soon. "I always knew that I wanted to perform, but I thought it might be something that happened later in my life," says Ollie. "But, now it did, and I did two songs with them for that first show."
"We have really great chemistry," they say, "which is such a gift."
At one time or another, each band member had spent time sharing a living space, so they had already begun developing a family-like rapport. Also, Jeremy and Shayne have been friends and musical collaborators since they were teenagers. But with how busy each of their lives had gotten, Ollie says the band's first few rehearsals were essentially just a voluminous excuse to spend quality (albeit creative and exertive) time together.
"We're amazed by how this whole adventure has been, and I think we know that we're doing this for fun, and because we really love it," Ollie says. "And because we love each other so much — I think that translates or is somehow communicated to other people that are around."
Ollie says that Shayne, particularly, wanted to push toward something explorative. Or, paraphrased by Ollie: "'I want to make weird shit that nobody has made before...' And I said: 'Yeah. Same!'"
"I really like it when bands take you on a ride, a real emotional ride, like you're peaking at one point and then they drop you back down to Earth," Ollie says. "And I'm always pushing toward, 'OK, what's the next transition going to be?' Because we can do whatever we want!"
If you were in a hurry to stick a reductive label on Teener, you might say "punk," or "noise-rock." And you can encounter the dauntless, aggressive, cathartic fits typically found in the DNA of punk on the band's first batch of released recordings, Siclical Trash. But during a Teener live set, the way the band breaks free, or just feels like something's getting broken, whether it's a conventional norm or an inhibition or a formula.
"It's really important for me to be able to act authentically, in order to give people permission to be themselves," Ollie says. "I'm almost willing to throw myself under the bus in order to be entertaining because it totally freaks me out, the idea of not being entertaining. For a long time I wanted to be a performer, but I didn't know where the access point was." Once they found it, Ollie was "going to make sure that I could make people feel the same way I do when I see someone perform so strongly."
Teener is one among several punk rock outfits (along with W.O.M.B., Girl Fight, Free Bleeders) that are through with mincing words and who frankly don't give a fuck about making music with mass appeal. Ollie was engaged in activism efforts when they joined Teener, and says they appreciate the opportunity allowed to the band to address issues from a platform, because even a rock club stage can still be a platform. What you also see at a Teener show is a channeling of energies, and that can be an energy of anxiety, or of empowerment.
"Things were intense," says Ollie. "When this opportunity to join (the band) came along, I was also plunged into gender transition. I'm non-binary, and was, at that time, just discovering that about myself. That was a painful process to be going through, and realizing that I could see myself in this way that I wasn't able to see before; that changed how I saw the whole world around me. It was just amazing. But I was also so pissed off, all the time, and so I needed Teener. ... Teener is the first example of a functional family that I've been in."
Teener will be heard. This isn't the typical trope of a rock band that's consciously preoccupied with looking or sounding cool. While Ollie admits to initially getting sick with nerves before their first shows, they now assess the biggest anxiety to be over what they'll say between songs. Because the conversation never stops.
Meanwhile, Teener just laid down three new tracks at High Bias Studios with Chris Koltay. The intent is to get a seven-inch vinyl release together later this year.
Teener opens for the Coathangers and Big Bite on Thursday, April 11 at UFO Factory, 2110 Trumbull St., Detroit; ufofactory.com. Doors are at 7 p.m.; tickets are $17 (18+ only).


Get our top picks for the best events in Detroit every Thursday morning. Sign up for our events newsletter.