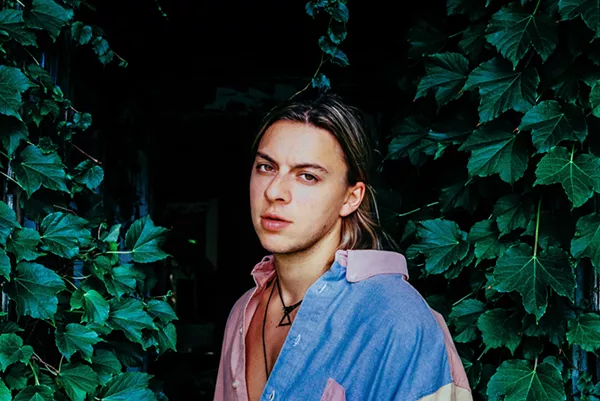 Whether you like it or not, it's become clear in the last few years that Detroit has become an incubator for aspiring artists, musicians, and entrepreneurs. Maher Hachem, who goes by Munch, could easily pass for all three.
Hachem, who is the first-generation son of Lebanese and German parents, says he moved to Detroit from Ann Arbor in 2017 in hopes of an environment that would allow him to fully dedicate himself to his creative pursuits. Since then, the 24-year-old has founded his own events and media company, Big Pink Media, and completed his third studio album,
The World Around Me
, out Friday.
"This project is inspired by the places I've been since I dropped my last album," says Hachem, who grew up just outside of Detroit in West Bloomfield. That list spans Amsterdam, Belgium, Paris, Berlin, Greece, and Lebanon, all of which Hachem says had a strong influence in the production of his new album. While Hachem's lyrics in
The World Around Me
stay mostly in the realm of romance and partying, his worldly influence can be found in the record's genre-bending production and occasional nods to the beauty of his surroundings.
"My music is super-fusion hip-hop, it's not just generic rapping over a beat," says Hachem. "I try to bring different sounds from different genres." Although he's been making hip-hop music for more than seven years, Hachem says he's also been influenced by reggae, indie rock, and electronic music. The rapper drew on some of his close friends to help with the colorful production of his six-song EP, including local producers, Nuntheless and Jonah Baseball. The collaborations yielded a varied but cohesive body of work that ooze the same upbeat positivity that matches Hachem's personality.
As someone who is usually found sporting a big smile, it's not a surprise that Hachem also uses his music as a vehicle for spreading a positive message. As a part of his branding, the rapper screen-printed a mirror-image of the words "Love Yourself" on his T-shirts instead of opting for a more overt merch option. Hachem designed and screen-printed the shirts himself, which he sells at shows and online. He's also partnered with Wolverine Support Network, an organization that offers support and spreads awareness about mental illness. "I want to have something with a message and an impact and I want to be hands on with it in the creative process," he says. "It's meant to be a message about mental health and promote positivity in people's lives… or at least bring up a dialogue."
With his hands dipped in a few of Detroit's bourgeoning creative scenes, Hachem says he's felt extremely welcome in the city. "There's been no ill intentions, it's been so organic out here," says Hachem. "The people I've met are so willing to get in the room and see what happens."
Munch's
The World Around Me
is available on all streaming services. More information is available at
munch-music.com
.

Get our top picks for the best events in Detroit every Thursday morning. Sign up for our events newsletter.