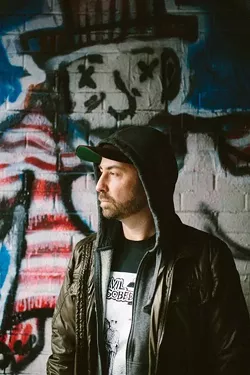 It's a local affair for rapper Danny Brown and longtime producer Dabrye.

Brown recently revealed that the follow-up to his Atrocity Exhibition LP is in the works. And, Danny's toiling away on other projects too.

Most recently, he's featured on Dabrye's latest track, "The Appetite." Alongside Brown, rappers Rock Marciano and Quelle Chris lend themselves to the John Carpenter-esque song.

Dabrye's first album in 11 years, Three/Three, is slated for a February 2018 release on Ann Arbor label Ghostly International. The record will be paired with a special treat — a reissue of his back catalog.
Listen to the slasher-flick worthy "The Appetite" below: