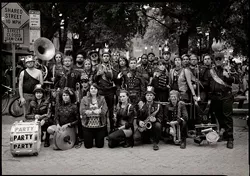 If you've attended the Blowout Festival in the last three years, then you've likely seen and heard the Detroit Party Marching Band, even if you didn't know the name of the band pushing horns into your face. In 2010, attendees at that festival started noticing a brass band that would show up between scheduled groups and just start playing, there and then, among the crowd. They just turned up and played unannounced and, in the process, increased the carnival vibe tenfold.
Now, the appearances are less of a surprise. Come Blowout, we know that the Detroit Party Marching Band will be making its way into each and every venue, ready to blast out a rendition of "When the Saints Go Marching In." The band members whoop and holler when they're not playing, and the uniforms (old English D and all) resemble a thrift store version of the old-school brass band pomp and circumstance. There's nothing rigid about these guys. As the name suggests, they're here to party.
The band came to be following a trip to Mardi Gras by brother-and-sister combo John and Molly Notarianni. "It was a really magical experience and we were inspired by the city, brass bands and culture," says cymbal player Molly. "We thought that this should exist in Detroit, and it took on a life of its own."
"There was one point when we were at Mardi Gras and we saw a guy riding a bike down the street while playing a tuba," adds trumpet guy John. "And we're like, 'That's the coolest thing I've ever seen in my life.' We were thinking it would be so much fun, crazy and wild, to do parades through the city."
Inspired, the guys came back to Detroit and assembled an early version of what would become the Detroit Party Marching Band. The first performance was at the Bronx Bar. "There was no one there," says John. "We went in and we played two songs, and they kind of sounded terrible. There were eight of us, and we thought it was the coolest thing ever. A week or two later was Blowout."
Blowout marks the moment when things really got interesting for the band, because they were basically forcing themselves upon a trapped audience. Literally "trapped" in some cases, as the band would be playing in a small room between the crowd and the exit — there was no way out until they were done. But the festival crowd largely took to them from day one. "We had no idea what was going to happen," John says. "We were just like, 'We're going to go out and we're going to try and play some places, and we don't know if we're going to get in anywhere, and we don't know if anyone is going to like us.' We just went down and stormed into the Belmont and played, and it was outrageous. We played all night at four or five different places, and we played on the party bus that was touring around. We got such a thrill out of it and it seemed like the people seeing us got such a thrill out of it. It worked better than we ever imagined it could."
It certainly did work. The party marched on from there, with this band leading the way. It should be a surprise to nobody that the guys in the Detroit Party Marching Band can finish off a sentence that begins with, "This one time at band camp," without taking a breath. In fact, they host their own band camp. "This one time at band camp, we drank a huge bottle of tequila, while eating Takis, in between shots," says trombonist Stephen Bublitz. "None of us woke up feeling very good the next day. That same time at band camp, I tried to go to sleep in a tent, but people were lighting off fireworks and drinking whiskey 'til 5 a.m."
"We actually actively don't bring our instruments to band camp," says trombonist James Hartrick. "We spend a lot of time together, with our instruments, when we do weekly practices. We do maybe two to three gigs a month, which can range anywhere from four to eight hours. The majority of the time we spend together is playing music in high-stress situations. So at band camp, we don't have to do that."
John is happy to admit that the band's ambitions don't extend far beyond putting on a great show and playing great music. They don't think they'll be carving a career out of marching and blowing horns any time soon. "I think one of the things that we decided early on was that nobody was going to make money doing this," he says. "We play gigs where we get paid, and all of that money goes right back into the band. For us to travel is incredibly expensive. We're constantly breaking instruments that need repairs. For us to find a practice space that we can comfortably fit in, we have to pay for that. It's like a part-time job for anybody to really wrangle all of it. So we sort of carved out this amazingly, functional democratic, disassociated leadership structure where everybody sort of has a stake and people take responsibilities for small parts of the band. And it all comes together."
When a band is as haphazard as the Detroit Party Marching Band (on the surface, at least), it's inevitable that they'll fall on their collective asses from time to time. "Part of our band lore is some really terrible failures, that we all now laugh about sometimes," Bublitz says. "At Mardi Gras, we were playing for this group of crust punks. When we showed up, the communication with them was really bad, they weren't responding, they were giving mixed messages and mixed information. When we played for them, they were so unreasonable to us that our anger united us again. We got angry and we charged into the crowd, a bunch of times. We played, we knocked them over and we did all sorts of stuff. Then at the end, it was like, 'Alright, cool, let's play someplace else,' and everyone was back on the same page. It's like those nature videos, when the dolphins are swarming the fish, and this big pod just cut through, circling back up and cut through and we just kept circling the group up and cut 'em through."
The band has figured out that, if you're going to parade unannounced down the street with brass instruments in the early hours, you'd better make friends with the cops. But they had no such luck when they parked the bus and started playing at an art gallery in Buffalo, N.Y., across the street from a police station. Bublitz: "The cop said, 'You pull the bus up next to my precinct? Why don't you just kick me in the balls?'"
This weekend, the Detroit Party Marching Band plays at Small's in Hamtramck. As is their way, they'll be in among the crowd and in your face, rather than up on the stage. If you haven't seen them yet, get out there and check them out. There's really nothing else like it in Detroit. And, crust punks — you've been served.
The Detroit Party Marching Band plays Small's on Saturday, Oct. 5, with Black Bear Combo and Elemental Meaning; 10338 Conant St., Hamtramck; 313-873-1117.
Brett Callwood is a staff writer for Metro Times. Send comments to [email protected]