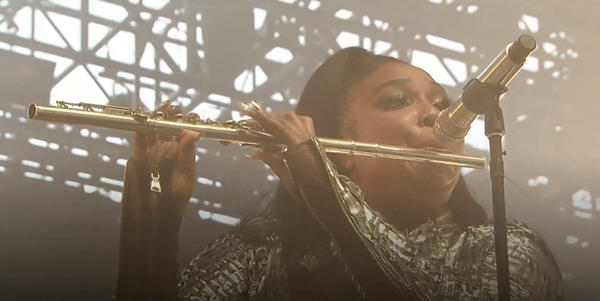 Lizzo cannot be stopped. Not even when her debut set at this weekend's Coachella Valley Music and Arts Festival was riddled with technical difficulties.

For the uninitiated, Lizzo — a Detroit native, powerhouse vocalist, flutist, and body-positivity advocate — is having a big moment. Leading up to the release of her major label debut, 'Cuz I Love You (due out April 19), the 30-year-old has been on an electrifying, twerk-heavy press circuit which has resulted in viral cover songs (Lady Gaga and Bradley Cooper's "Shallow" is pretty solid), flute solos, and intimate storytelling. To set it all off, she also turned the other cheek, both of them, in a Playboy spread last month.

Keeping with her ass-thetic — and while wearing a cheeky, metallic one-piece — Lizzo's unstoppable booty power carried the singer through her Coachella set on Sunday night, which was plagued with sound issues starting as early as two songs in. The sound abruptly cut out during "Worship," forcing the singer to endure glitches as she live-sampled Aretha Franklin's "Respect." And it didn't stop there.

"It's my first time playing Coachella, so ain't nothing gonna fuck my time up, bitch!" she said. "I need everyone over here to get their technical shit together 'cuz when I'm headlining next time, bitch, I'm gonna need my motherfucking ears to work."

Throughout her 11-song set, Lizzo chugged Patrón straight from the bottle and navigated countless instances of tracks dropping out, sometimes multiple times in a single song. However, never once did the soul-rapper appear to be tripped up by the recurring mishaps. Instead, she maintained her vocal tenacity and a roll-with-the-punches attitude, all while twerking and taking time to preach her message of body positivity as a "big, fat, black bitch."
They'll look back on @lizzo's #coachella set as a masterclass for how to power through every technical and audio mishap possible like a boss and still put on an incredible performance. Respect. Someone owes her a *major* apology

— cameron adams (@cameron_adams) April 15, 2019
Instead of clapping back, Lizzo let her ass do all the clapping. When it came to her set closer, Lizzo invoked the upbeat power of "Juice" — the lead single from her forthcoming record — which was, unsurprisingly, not without technical bullshit. The sound, which dropped out once again, this time during the song's final run (a moment some could argue as being crucial for a Coachella freshman), forced Lizzo to rely on her improvisational a cappella skills.
"I hope the sound doesn't come back!" she said, before hitting the final notes without music.
Watch Lizzo's enduring set below:
Stay on top of Detroit news and views. Sign up for our weekly issue
newsletter
delivered each Wednesday.