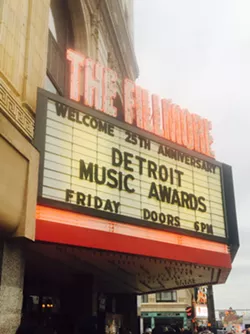 There's only one way to describe the Detroit Music Awards to someone who has never been before: beautiful, organized chaos. It's truly a night for Detroit's music industry members to see each other, try some tasty cocktails, and celebrate the best music that Detroit has to offer.
The evening started out with a huge performance led by the Motor City All Stars. This band covered every great song and artists that wheeled out of Detroit, including tracks by The Supremes, Smokey Robinson, Bob Seger, Madonna, Eminem, and The White Stripes. Their performance ended with a fitting tribute to Prince with a rendition of "Purple Rain." The added touch of light-up sticks provided to the audience was a fun added touch.
The night was filled with many other fun performances. Folk artist Jill Jack led a sing-a-long with the Detroit's Women's Project, and she was giving off major Jenny Lewis/Joni Mitchell vibes. Singer-songwriter Victoria Reed gave an ethereal performance that was a nice change of pace from the fast-paced show. And a tribute to the late Glenn Frey was fitting and emotional for any fan of the Eagles and rock music.
Current
The Voice
contestant Laith Al-Saadi (go, Team Adam) won two awards during the show for Outstanding Blues Artist and Instrumentalist. A very excited Detroit Techno Militia took home the award for Outstanding Electronic/Dance Group, and Jack White won Outstanding National Single with "The Black Bat Licorice."
Kid Rock, who unfortunately
couldn't make the show
, was awarded with Outstanding National Album for
First Kiss.
He was set to receive a distinguished artist award, as well, but that will now be awarded in 2017.
The Detroit Music Awards may have gone off with multiple hiccups (I can't tell you how many bands were at the bar when they found out they won an award), but the spirit and aesthetic of Detroit was prevalent in the air. Everyone was there to have a good time — and boy, did they do just that.
Check out some photos from the rocking event
here!