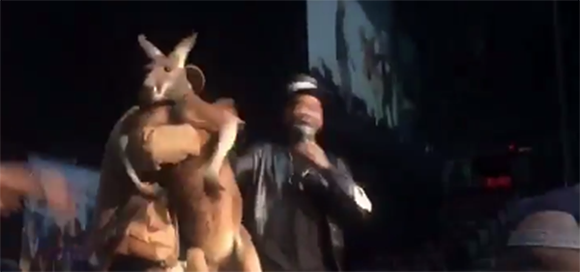 Updated 7:50 a.m., Tuesday, April 4:
Comedian Mike Epps has apologized for bringing a kangaroo onstage. In
a video
posted to
TMZ
, Epps said he would donate to the kangaroo-preservation foundation
Viva!
When asked if he thought the kangaroo should be taken away from the owner, Epps said he didn't think the kangaroo should be brought out for entertainment.
Originally posted 6:29 a.m. Monday, April 3:
Last week,
a video
of a man walking a kangaroo on a leash in Detroit's University District went viral.
MLive
later reported the kangaroo belonged to Javon Stacks of
Exotic Zoo
, an traveling educational animal show.
Seemingly to capitalize on the viral sensation, the kangaroo was brought onstage during comedian Mike Epps' show at the Joe Louis Arena in Detroit on Friday. And far be it for us to anthropomorphize an animal, but the kangaroo didn't seem too happy about it.
Videos posted to Twitter show an animal that appears to be frightened, held in a bear hug while Epps tugs on its leash as music blares. In two videos, the kangaroo appears to lash out in a panic, causing Epps to run to the other side of the stage:
Did y'all see how the Kangaroo swung on the nigga & Mike Epps ran back😭😭😩 pic.twitter.com/mTmgBEtroi

— Bri Baby (@imBRIANA_) April 1, 2017
Here's another video:
Whyyyy did they bring the kangaroo on stage at Mike Epps show 😩😭. I love Detroit pic.twitter.com/DoqNu4jcf6

— Amber ♍ (@_AmNico) April 1, 2017
World Animal News
took to Twitter
to condemn Epps, writing "Animals are NOT entertainment!"
We reached out to Stacks for comment, and will update this post when he does.
Updated 12:30 p.m., Monday, April 3:
PETA Senior Vice President Lisa Lange has released the following statement:
Traumatic situations can be fatal to kangaroos — who are not hardy animals — and this individual was subjected to a great deal of stress by being dragged in front of a boisterous crowd and forced to "dance." PETA hopes the U.S. Department of Agriculture will conduct an immediate investigation and that the backlash over this stunt will remind all comedians that there's nothing funny about cruelty to animals.