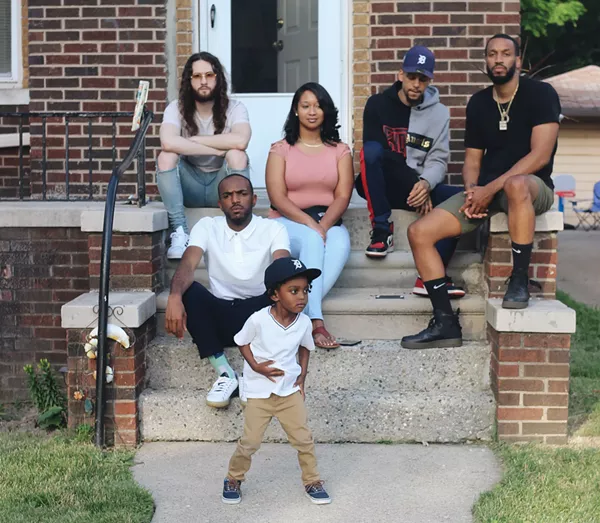 Brewing in Detroit's underground scene for the past few years, a new hip-hop collective, APX (pronounced "Apex") is living up to its name by reaching new heights as nationally renowned rappers. The group's star-studded roster of artists — including Earlly Mac, Supakaine and Prada Leary — is setting them up to break the mold set by Detroit street-rap groups before them, and send a message of self-love and unity while they're at it.
Originally founded by Joe Robinson, Earl Taylor (Earlly Mac), and Brad Powell (Icepic), APX is the product of a long line of Detroit hip-hop artists collaborating and mentoring each other throughout the years. It all started one day in 2009, when then 18-year-old Robinson was working at the clothing store Spectacles in downtown Detroit. Robinson was given the assignment of producing an event that would bring more people to the store. A lover of music, Robinson had the idea of bringing local artists in for an intimate concert. On the day of the assignment, Robinson ran into Taylor on his lunch break. He'd never met him before but knew of his music and asked him if he wanted to perform at the event. Shortly after, Taylor asked Robinson to come down to Capitol Park Records, the studio where he had been recording.
It just so happened that Capitol Park was the hub for Detroit hip-hop music of that era. "I went there and everybody was there," says Robinson. "Zeno, Big Sean, Street Lord Juan... This place was like the X-Men mansion, like the school for gifted youngsters. Everybody was pretty much incubated there when it comes to music."
Taylor grew up with Big Sean and was already entrenched in the Detroit hip-hop scene, working on records with Powell and hanging out at Capitol Park, which was owned by Detroit rapper Street Lord Juan. "Juan is legendary," says Powell. "He built a really nice foundation for us by building that studio and the ability to have free rein to do whatever really. Probably the most prominent Detroit artists at that time were getting their sound together in that building."
This spiderweb of circumstance led Robinson, Taylor, and Powell to being in the same room on the same day and Taylor asking Robinson to be his manager. "I guess the universe conspired in my favor, and I said yes," says Robinson. The seeds for APX were planted.
Robinson, who had no previous experience in management or the music industry, said the beginning of his journey with Taylor was rocky, but being exposed to Big Sean's team helped him shape his management style. "That relationship actually helped me out a lot," says Robinson, "because I learned a lot of what I know from being around Big Sean and his camp and what he had going on." The APX operation quickly grew from Earlly Mac and Icepic — whose first collaboration, "Something Crazy," was released in 2014 — to adding Supakaine, WS Kharri, and Prada Leary, bringing the studio to a core group of artists.
"All those guys got involved very organically, and it was just like gravity," says Robinson. "It wasn't like I put calls out like, 'Hey, I'm looking for artists'... it's totally non-traditional, nothing in my life ever happens like 1, 2, 3."
Since forming, APX has garnered a list of accomplishments, including releasing two full-length LPs by Supakaine, a 2015 tour with J Dilla's legendary Slum Village group, Earlly Mac's "Do it Again" collaboration with Big Sean, and Icepic's placement on a Torey Lanez record. However, while past Detroit success stories like Doughboyz Cashout and D12 have made a name for themselves by rapping about street life and gang violence, APX hopes to spin a different narrative.
As the members of APX rise, they say they aim to bring Detroit's urban community with them by spreading a message of self-love and financial education, starting with their collaborative record, Big Friends, released on June 30. Every single member of APX, along with a few of their friends, came together for this record, which preaches the importance of owning land and creating your own future — the album's artwork heeds the warning: "Buy more land 'cause God ain't making no more."
Robinson says the record addresses the issue of gentrification that has been plaguing Detroit in the past few years, especially in the downtown, Midtown, Corktown, and Southwest Detroit neighborhoods. "Those neighborhoods are being gentrified and pushing African Americans out to the edge," says Robinson. "Our message says: Buy land in your community. Own the soil that you live on and own the air above it, because people are trying to move you out. But if you buy the land, you'll have the power to build your own community. That way, you're not leaving it up to anybody else to control your welfare and economic growth."
For Taylor, the issue is one of financial literacy. His goal in everything he does, including music, is to help educate others on how to build a future for themselves. "There's been a financial deficit within the urban community, specifically the black community in Detroit," says Taylor, "and we're all about turning that around." Taylor says Big Friends provides guidance on how to grow personal wealth and which activities to steer away from.
There's a lyric on the album, "the whole team caught charges / I'm tryna do some larger shit," which Taylor says is a commentary on the "drug infestation of the '80s to '90s."
"A lot of guys from the inner city ran drugs trying to make it out, do something for their family," says Taylor. "A lot of people didn't succeed, but some did."
Taylor suggests an alternative to unstable, get-rich-quick schemes: "Flip Mo.'" The title of one of the songs on Big Friends, "Flip Mo'" emphasizes the potential success of investing in homes or businesses and flipping them for financial gain. But beyond flipping houses and staying away from foul play, Taylor says the true key to success is self-love. "I want people to understand self-love," he says. "If you give yourself real, true self-love, you give yourself everything. And that's what I want to deliver."
APX and Big Mearl Records will host their Big Friends event on Saturday, June 30; Bullock Green Hdwe Co., 2556 Michigan Ave., Detroit; Doors at 9 p.m. Tickets are $15-$40 and available here.