This Sunday, Nov. 20 see
the premiere of a music documentary called Nothin' But Music at the Token Lounge
; Doors at 7 p.m.; 28949 Joy Rd. Westland; admission is $5.
First time filmmakers Eric Harabadian and Lisa Hagopian host the world premiere for their debut full-length documentary shot in and around Detroit. Live entertainment will be provided by some of the key musicians who appear in the film. The movie demonstrates the creativity and perseverance it takes to have a life-long, full-time career spent entirely dedicated to music.
The film devotes extra time to musicians Benny 'Jet' Speer (who's been at it for 40 years) and blues guitarist Howard Glazer. Additional insights are provided by garage icon Question Mark, flutist Alexander Zonjic , poet-activist John Sinclair, singer Eliza Neals, and others. We spoke with the filmmakers about their work.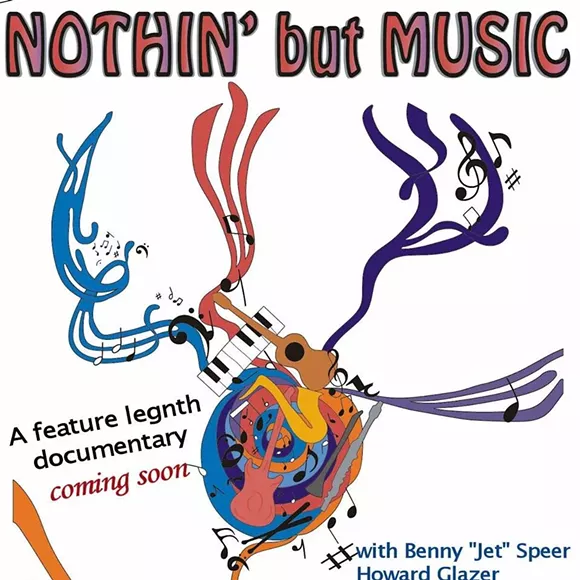 Metro Times
: So, tell us how you decided to make a film in the first place?
Eric Harabadian
: Back in 2007 my wife Lisa and I were working on another film project with some other partners. For various reasons that didn't work out, and we decided to move on to something else. But one of the people we interviewed for that previous project was Benny Speer from legendary Detroit band Benny and the Jets. He was such a colorful and informative person that we thought it might be interesting to build some kind of film project around him. Benny has pursued music as a sole career since he was in high school in the early '70s. To my knowledge, that's all he's ever done! He's weathered over 40 years of musical trends, fashions, fluctuating economic times, etc. and has still managed to earn a credible living doing strictly music. Being a "part-time musician" myself I thought that warranted further investigation. Expanding on that idea we wanted to include other musicians as well.
Lisa Hagopia
n: We wanted to spotlight a female perspective too so we included Eliza Neals and Jessica Hernandez.
MT
: Why did you feel this film had to be made?
Eric Harabadian
: I've watched a lot of documentaries that focus on major stars or retrospective pieces on an artist's career. But I haven't seen a whole lot of films depicting artists in the present day pursuing their craft and the intricacies in making that happen.
Lisa Harabadian
: We thought it was important to show that anyone can follow their dreams—specifically have a career as a musician—and show that there are various paths people take to have that career.

MT
: How do you explain it to, say, someone you're standing in line next to at the post office?
Eric Harabadian
: "Nothin' but Music" is a feature length documentary that focuses on the creativity and perseverance it takes to sustain a lifelong career doing nothing but music; no day job to fall back on.
MT
: What experience did you have in film before?
Lisa Harabadian
: Film club in junior high and a few film and video classes over the years. I also took photography classes at Michigan State.
Eric Harabadian
: We both worked on a video show called "The Arts Uncovered" for Time Warner Cable and have done some promotional videos for artists and businesses as well.
MT
: What did you take away from the process?
Eric Harabadian
: Making this film really opened my eyes to the tenacity and dedication it takes to be a full-time musician. As a musician myself I've always been dedicated but, let's just say, interviewing these people has prompted me to raise my game.
Lisa Harabadian
: To persevere—whether it's pursuing a career as a musician or making a film. And also circumstances will happen, which will change from your original idea, so just go with the flow.
MT
: What's the coolest thing that you had to leave out of the movie, for length or other reasons?
Eric Harabadian
: Maybe some extended performance segments from some of the featured artists in the film. I don't know how cool this is, but we had a humorous encounter with a drunk guy while we were trying to interview someone in front of the former Wayne Road Pub.
MT
: What is your favorite personal part of the documentary?
Eric Harabadian
: We started working on the film in 2010. One of the first interviews we did was with Benny and his family in their living room at his house. His 10 year old grandson Dominic is in the background acting like a typical goofy kid. Fast forward five years later to, now 15 year old Dominic, playing guitar on gigs with his grandfather.
MT
: What feedback on the film have you gotten so far—I imagine some of the participants have seen the final cut?
Eric Harabadian
: The response has been very positive. We were recently on the "Rock and Roll Lawyer Show" and radio host Sheldon Kay said "There is no other film out there like it!"
MT
: What's next for the project—have you entered it in any competitions or festivals?
Eric Harabadian
: We've entered about ten festivals so far; no word yet. We'd also like to pitch our film to PBS as well.
MT
: What's your next film going to be?
Eric Harabadian
: We're not sure right now. We've been so involved in the production and marketing of this one. But I'm pretty sure it will be something of a human interest nature.
MT
: Anything else at all you want to say?
Eric Harabadian
: Thank you so much for this opportunity and we hope folks out there will support our film and support local and regional live music. And check us out at
www.vision561.com
or
www.facebook.com/nothinbutmusicmovie
.